Posts Tagged 'architecture'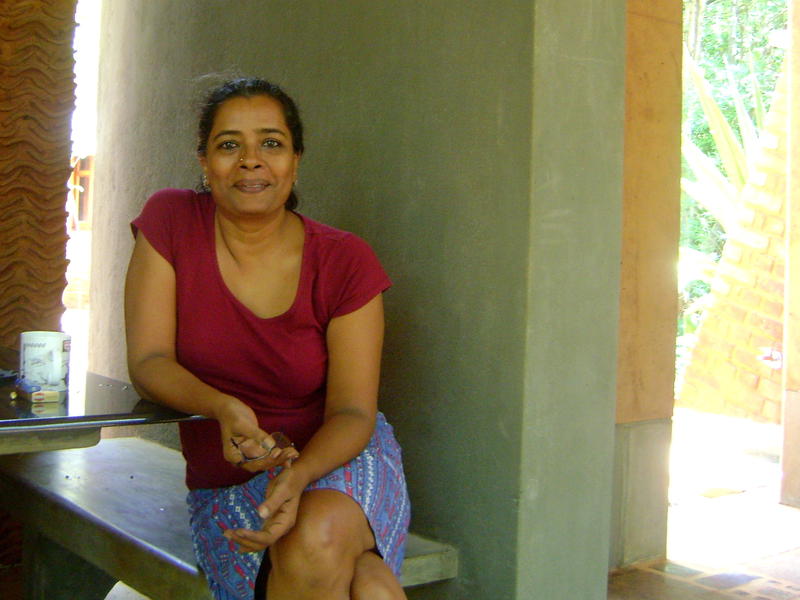 In conversation with Suhasini Ayer, we get to know about how she chose Architecture as a subject to study, what brought her to Auroville, her upcoming project Humanscapes, young architects and the future of India and Auroville in terms of architecture.

Mr. Rajendra Kumar P, an expert on GST from Chennai shared his insights at Unity Pavillion.

Internship and discovering this beautiful place are two of the many reasons many interns and volunteers come here and spend time at Mitra youth hostel where they get to meet a lot of architectural as well as designer students. In conversation with few of the interns, we get to know more about their life in Auroville.

We did of VOX POP on water shortage in Auroville., trying to find out the level of awareness amongst the population.
Most are aware that we are facing sever water scarcity, and they do perform small steps to conserve water in their houses,
Somebody said. "…humanity tends not to look at the conservation until it is a disaster …"

FAMC informs Trustees and Executives, that timely submission of balance sheets is critical for Auroville and deeply affects our relationship with the Auroville Foundation and the Government of India in general.
On Saturday 8th of July Damien passed away in the morning in Canberra, Australia surrounded by his sons Misha, Ry and Peter. Our love and sympathy go out to Damien's family and Paula,
Today at 5pm at New Colors (Edayanchavady)we are invited to attend A Grand Opening of "The Mother Kindergarten" (A real kindergarten in a garden)
The Proskills Cooking Program La Cuisine – Season 2 Auroville one year Introduction to Cooking for the youths of Auroville (15 to 25). Introduction presentation will be Thursday the 13th of July in PTDC kitchen at 2:30 pm
Absence of love and fellow-feeling is not necessary for nearness to the Divine; on the contrary , a sense of closeness and oneness with others is apart of the divine consciousness into which the sadhak enters by nearness to the Divine and the feeling of oneness with the Divine. …In this yoga the feeling of unity with others, love, universal joy and Ananda are an essential part of the liberation and perfection which are the aim of the sadhana.
SRI AUROBINDO, On Yoga. II, tome I. part II, 8. 

The Working Committtee informs us on new Governing Board members, saying that they
have been informed that the following persons have been nominated as members of the Governing Board of the Auroville Foundation:
1. Dr. Prema Nandkumar
2. Prof. Sachindanand Mohanty
3. Dr. Anirban Ganguly
4. Dr. Nirima Oza
The notification of the Government of India dated June 29, 2017. The term of office is 4 years.
Rainbow Swan Gymnastics Studio Invites interested children – girls aged 5 1/2 to 7, boys 6 to 12 To attend the audition for the 2017-18 school year on Saturday, July 15th, in New Creation Gymnasium.
Kala Kendra Bharat Nivas – Pavilion of India In collaboration with Dustudio Auroville & Leaf (Landscape and Environment Advancement Foundation) Presents Tracing Narratives Tracing landscape narratives in India A traveling exhibition From 07 – 23 July, 2017 9 am till 5 pm daily . Opening on Friday 7th at 5pm.
You are invited to attend A Grand Opening of "The Mother Kindergarten" (A real kindergarten in a garden) At New Colors (Edayanchavady) On Monday, July 10th, 2017 From 5 pm.
Beyond words, above thoughts the flame of an intense aspiration must always burn, steady and bright. My love and blessings are with you.
The Mother


In the very early hours of morning 6th of June our Ethiopian friend and brother Tekeste B.G. Kidan Zerhanes quietly left his body in his flat in Courage, with his great-nephew at his side
Funeral will take place on .Friday, 8.30am, at Adventure's burial grounds.~ follow the flowers
Thank you, Tekeste, for your crucial persistence and drive.
The Auroville Council and the Working Committee inform us on daily operations at Entry Service
Water Group says : " So saving water is critical. It is NOT the time to plant anything new. It is NOT the time to refill your massive swimming pools. It is NOT the time to water the roads, as much as it helps to keep the dust down. It is NOT the time to water your lawns, or keep your ornamental gardens lush and green. It IS the time to prioritize your water usage, and have honest conversations within your communities about water usage in communal spaces. It IS the time to save water in every possible way, and to encourage respectfully others in the community to do the same."
We know the Divine and become the Divine, because we are That already in our secret nature.
Sri Aurobindo, The Synthesis of Yoga
Poppo Pingel is a celebrated architect, who came to Auroville in 1968 for the inauguration as the German delegate. In this interview, Pingel talks about his passion for archeology that stayed with him throughout his life, but found an outlet in Auroville. He describes his various findings from his very first excavation attempt to his recent discoveries as well as the challenges that accompanied them. Additionally, he discusses the archeological park he established (which is situated on Crown Road between Solar Kitchen and Visitors Centre) and explains why he chose to create a 'park' instead of a conventional historical site.

RAS shares with us following:
Total 243 registered residents have participated in the online and manual voting. The quorum has been reached.
Answers count:
YES – 196
NO – 47
Result: The new Method of Town Planning  is ratified.  81% of 243 voters approve Proposed Restructure of Town Planning in Auroville.
On May 22, Residents' Assembly Service member, Inge Rieck, announced her resignation from the Service, to pursue other projects within the community.
May 12, 2017, Stephanie announced her resignation from the Funds and Asset Management Committee (FAMC).
The Matrimandir Team informs us that Matrimandir will be closed to visitors for urgent renovation and repair works from 5.6.2017 to 5.7.2017. Matrimandir reopens for visitors concentration from 6.7.2017.
The Visitors Centre Cafeteria and the Dosa Corner will be closed from Monday 29th of May to Friday 2nd of June included for a well deserved break and some maintenance work.
Darkali Fitness Track is closed from 29th May till 3rd June.
Tanto Auroville Main road will be closed from Monday 29 May till further notice .Their ten years old oven needs to be redone .Tanto ECR will stay open during all this period.
La Piscine will be closed for the Teams' annual Tour from Thursday June 1st, and they will re-open on Monday June 5th at 12 noon.
The heart is in direct communion with the human soul, and when the heart speaks, even with the resistance of the head, something inside you changes; your heart opens another heart, and true love is possible.
Don Miguel Ruiz