Posts Tagged 'architecture'
In the very early hours of morning 6th of June our Ethiopian friend and brother Tekeste B.G. Kidan Zerhanes quietly left his body in his flat in Courage, with his great-nephew at his side
Funeral will take place on .Friday, 8.30am, at Adventure's burial grounds.~ follow the flowers
Thank you, Tekeste, for your crucial persistence and drive.
The Auroville Council and the Working Committee inform us on daily operations at Entry Service
Water Group says : " So saving water is critical. It is NOT the time to plant anything new. It is NOT the time to refill your massive swimming pools. It is NOT the time to water the roads, as much as it helps to keep the dust down. It is NOT the time to water your lawns, or keep your ornamental gardens lush and green. It IS the time to prioritize your water usage, and have honest conversations within your communities about water usage in communal spaces. It IS the time to save water in every possible way, and to encourage respectfully others in the community to do the same."
We know the Divine and become the Divine, because we are That already in our secret nature.
Sri Aurobindo, The Synthesis of Yoga
Poppo Pingel is a celebrated architect, who came to Auroville in 1968 for the inauguration as the German delegate. In this interview, Pingel talks about his passion for archeology that stayed with him throughout his life, but found an outlet in Auroville. He describes his various findings from his very first excavation attempt to his recent discoveries as well as the challenges that accompanied them. Additionally, he discusses the archeological park he established (which is situated on Crown Road between Solar Kitchen and Visitors Centre) and explains why he chose to create a 'park' instead of a conventional historical site.

RAS shares with us following:
Total 243 registered residents have participated in the online and manual voting. The quorum has been reached.
Answers count:
YES – 196
NO – 47
Result: The new Method of Town Planning  is ratified.  81% of 243 voters approve Proposed Restructure of Town Planning in Auroville.
On May 22, Residents' Assembly Service member, Inge Rieck, announced her resignation from the Service, to pursue other projects within the community.
May 12, 2017, Stephanie announced her resignation from the Funds and Asset Management Committee (FAMC).
The Matrimandir Team informs us that Matrimandir will be closed to visitors for urgent renovation and repair works from 5.6.2017 to 5.7.2017. Matrimandir reopens for visitors concentration from 6.7.2017.
The Visitors Centre Cafeteria and the Dosa Corner will be closed from Monday 29th of May to Friday 2nd of June included for a well deserved break and some maintenance work.
Darkali Fitness Track is closed from 29th May till 3rd June.
Tanto Auroville Main road will be closed from Monday 29 May till further notice .Their ten years old oven needs to be redone .Tanto ECR will stay open during all this period.
La Piscine will be closed for the Teams' annual Tour from Thursday June 1st, and they will re-open on Monday June 5th at 12 noon.
The heart is in direct communion with the human soul, and when the heart speaks, even with the resistance of the head, something inside you changes; your heart opens another heart, and true love is possible.
Don Miguel Ruiz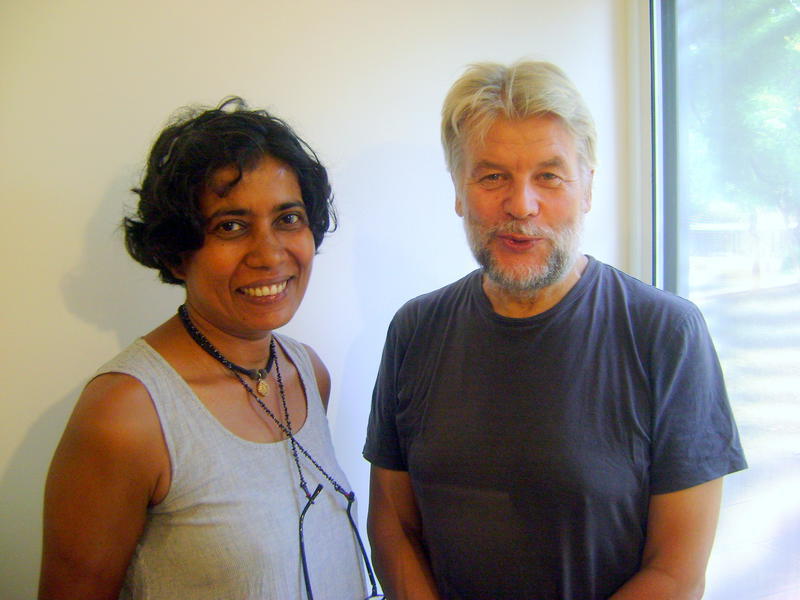 We were hosting Uma and Torkil this morning in our studio, and the talk was on PETRA. What is Petra, where it came from, where is aiming….
Out of Retreat in 2015 many (working) groups has emerged, and one of them was Integral Entrepreneurship Lab, from which group Petra was born. The group is growing, expanding, merging … because their member feels the need that Auroville moves from urban village toward sustainable township, offering enough support for the human resources to join.
Petra ( a working name, homage to late Petra) would not only be a gateway or filter, but also a place where economy should become a catalyst to turn things around, and develop the city of Dawn; it aspires to be a meeting pong, borderline with holistical approach with inbuilt possibilities and opportunities for residents and visitors alike.

In today's news we are featuring short phone interview with Mawite from Auro Annam Farm inviting us to "beat the heat" with music and food at Kipaak Cafe at Auro Annam this weekend 11th, 12th and 13th from 7.30pm onward. They are hosting Soul&Beats band from Bangalore.
This month the community will be invited to vote on a proposed new approach to planning in Auroville. The proposal introduces two key changes to Auroville's planning: a restructured Town Development Council (TDC)/l'Avenir and the introduction of a set of Planning Principles, intended to guide planning in Auroville.
Residents will be invited to vote on the proposal over a two-week period running May 13 – May 27. Residents will be able to vote online for the entire two-week period and on paper at the Pour Tous Distribution Centre and the Solar Kitchen between 11am – 2pm on May 27.
Today the 11th of May, at 4:30pm at Unity Pavilion General Meeting on Entry Policy .
 Nature Camp Group informs us that all those who are leaving tonight to the 2nd Nature Capm at Kodai Kanal need to bring their luggage today 11th at 4 pm so that it can be loaded safely and efficiently.
News and Notes will have SUMMER BREAK 2017: no publication on the 20th May and 27th May. Restarts on 3rd of June. Printing&Delivery Team would like to go on a short tour – FS# #103821. Please mention: "Staff Tour 2017" – Any amount helps!
Sweet Mother, How can one increase one's receptivity? Receptivity is proportional to self-giving.
2nd March 1966, The Mother's answer to young Captain

In today's news we are featuring an excerpt of interview with Partha who invites us to an opening of new – Neem Tree Eatery on Wednesday, 10th of May at 6pm at the entrance of Mahalakshmi Park, just behind the library.
full interview with Partha you can hear here : http://www.aurovilleradio.org/affordable-healty-eatery/
On Thursday the 11th of May, at 4:30pm at Unity Pavilion we are invited to a postponed General Meeting on Entry Policy.
RAD on restructuring TDC/L'Avenir d' Auroville starts on 13th of May.
Consciousness is a reality inherent in existence. It is there even when it is not active on the surface, but silent and immobile; it is there even when it is invisible on the surface, not reacting on outward things or sensible to them, but withdrawn and either active or inactive within; it is there even when it seems to us to be quite absent and the being to our view unconscious and inanimate.
SABCL
Vol 22 page 234
On Wednesday 10th of May at 6pm we are invited to the entrance of Mahalakshmi Park to witness official opening of new – The Neem Tree Eatery in Auroville.
In short interview with Partha, one of the project holders,  we find out that the main inspiration behind the project was to offer mainly aurovilians healthy affordable place to eat. Project holders Partha, Min and Mahavir who cherish good home made meals,  has decided to offer food from different parts of India.
In first months the Neem Tree Eatery will run between 6pm to 10pm, offering extra time for late comers, or those who like to attend cultural events in the evening. At the moment they can tend around 50 to 60 people,
Desing of the building was done by Partha's wife Sonali(an AV architect) along with Min, keep it simple and beautiful taking in account the sustainability by use of recycled material.
For the opening Partha promises us, and invite at the same time to taste some of the Indiand snacks and juices.
International Workers' Day, also known as Labour Day is a celebration of labourers and the working classes . The date was chosen for International Workers' Day by the Second International, a pan-national organization of socialist and communist political parties, to commemorate the Haymarket affair, which occurred in Chicago on 4 May 1886.
The first May Day celebration in India was organised in Madras (now Chennai) by the Labour Kisan Party of Hindustan on 1 May 1923.
The International Workingmen's Association took up the demand for an eight-hour day at its convention in Geneva in August 1866, declaring "The legal limitation of the working day is a preliminary condition without which all further attempts at improvements and emancipation of the working class must prove abortive"
May 5, 6 and 7 at 7:30 pm CRIPA Garden (behind CRIPA), Kalabhumi.The Auroville Theatre Group presents ALL MY SONS By Arthur Miller; cast:Swar, Jill, Shilpi, Vinu Karthick, Nishant Saini, Ahmed, Myrta, Manjula Selvam, Satyendra Kumar, Satish T.
"The existence of poverty is the proof of an unjust & ill-organised society, and
our public charities are but the first tardy awakening in the conscience of a robber."
Sri Aurobindo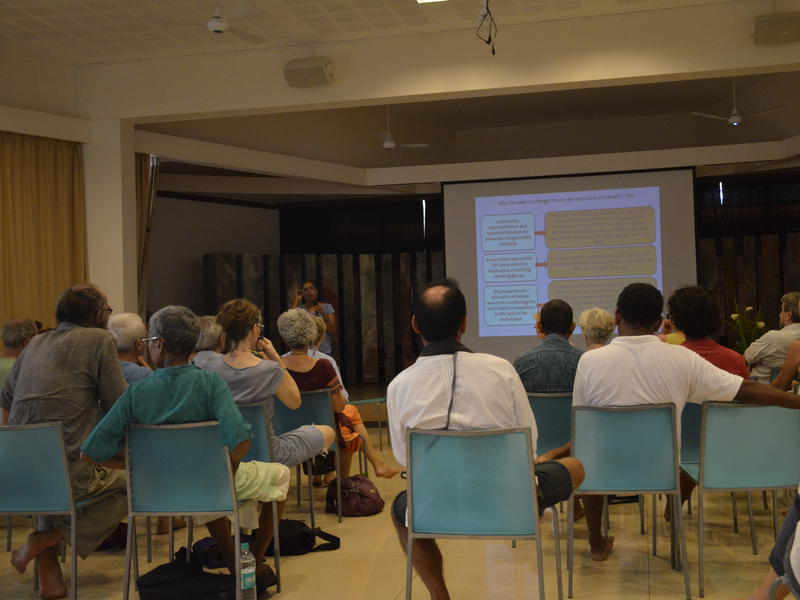 Therre was a general meeting held on Monday April 24 in Unity Pavilion which was a continuation of last months general meeting where the core group came up with fulfilling the task of restructuring Town Planning & Development Council (TDC)/L'Avenir d'Auroville. Last year, the Auroville council was asked to facilitate a process to restructure the TDC, the core group working on this comprised of Martin, Jesse, Sauro, Pashi, Shama, Suhasini, Mamta, Elvira, Lionel and Christiane. This meeting was a preparation for a Resident Assembly Decision-making Event (RAD) May 13 – June 10. The team proposed a revised structure of TDC and asked for the opinions of people present in the meeting on the same. A lot of healthy debate and constructive insights were offered by the members of the community attending the presentation. The feedbacks and comments for last month's meeting were also shared. Involvement of youths was an important point in the discussion. Meeting ended up on a positive note.
Follow the links for earlier meetings:
http://www.aurovilleradio.org/restructuring-tdc/
http://www.aurovilleradio.org/how-can-we-restructure-the-tdc/