Posts Tagged 'Mantra'
It all begins with a conversation of improvised rhythms between Arnab and Gino at Sangam Hall, Savitri Bhavan.
Arnab B. Chowdhury shares a few thoughts, rhythms and motifs from his training programme – 'Know Your Rhythm' that helps participants discover musicality, their own sense of rhythm.
Through immersive exercises in a spirit of self-culture and joy, 'Know Your Rhythm' creates conditions for participants to experienc Aha! Moments both as individual and a member of the collective. He believes that these Aha! Moments are like opening windows towards Transformation.
In Auroville, 'Know Your Rhythm' (KYR) has been presented to a variety of audiences such as teachers from different schools of Auroville, Tamil Nadu government officials at Sustainable Livelihood Institute, Dakshina Chanting Group, young participants of Swadharma semester programme.
KYR was held as a Pre-Congress Seminar for therapists and medical practitioners at the 14th World Congress for Music Therapy at Vienna (2014) and presented as a research project at the 4th Conference of International Association for Music and Medicine at Beijing (2016).
Arnab is a composer-musician-trainer and a third generation from a family of Indian Classical musicians based out of Sri Aurobindo Ashram. He grew up and studied at the Ashram School and his programme is inspired by Integral Education and the paradigms of Music.

On the 14th August 2017 the kids of Deepanam school performed three short presentations as an offering to Sri Aurobindo for his 145th birthday.
The Light group children offered a history of Sri Aurobindo's life.
The Faith group performed the story of Savitri.
And the Peace group enacted the scene between Krishna and Arjuna along with the recitation of sacred sanskrit mantras.
All performances were well thought out and especially amazing 🙂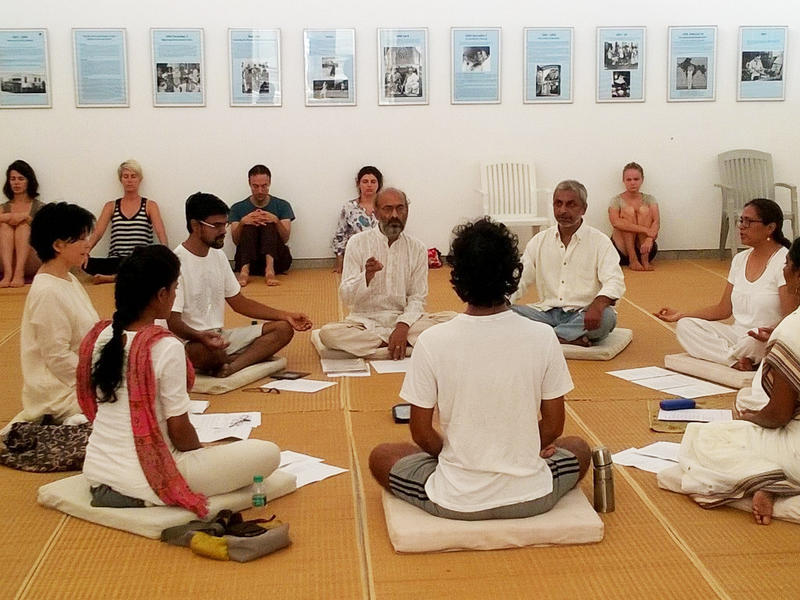 On the occasion of the third International Yoga Day (June 21st 2017), the Dakshina chanting group of Auroville brings you some sonic excerpts of their hour long Sanskrit shloka chants from Savitri Bhavan, Auroville, 7-8 AM.
Let's enrich ourselves and intensely aspire in the Light of Integral Yoga as we listen to Sri Aurobindo's Gayatri mantra and mantras dedicated to The Divine Mother — Devi Stuti and Aum Anandamayi and the beej mantra.
Om Namo Bhagavatey Sri Aravindaya.
Dakshina Chanting Group of Auroville received 12 weeks of 'Know Your Rhythm' training programme from Arnab B. Chowdhury before we went onto this special chanting session.
members of the Dakshina chanting group:
Aravind, Bom, Di, Hemant, Meera, Mona, Renu, Siddhartha and Arnab
Here are some sonic excerpts (3:22 minutes) from the Vedas, Bhagavad Gita and specific Mantras dedicated to Sri Aurobindo and the Divine Mother
Tharan's hand picked list of few of his favorite "dancable" songs
tracklist
Bassjackers & Jay Hardway – Dinosaur
Bingo Players – Devotion
Call Me Mr. Gong
Calvin Harris feat.John Newman-Blame
DVBBS – Raveheart
DVBBS &Borgeous-Tsunami
Firebeatz & Jay Hardway – Home
W&W – The One
Martin Garrix & Tiesto – The Only Way Is Up
Martin Garrix – Animals

The Working Committee invites all Auroville residents to meet Mr. Chunkath, a new Auroville Foundation Secretary on Tuesday June 21st at 4 pm at the Unity Pavilion.
UN Interantional Yoga Day on 21st of June – "Yoga unites us with the Universal flow and connects us with our own personal rhythms. The discipline of yoga enhances our ability to respond to subtle cues that promote wellness. Peace becomes the natural environment of our relationships and our world," said Douglass Stewart, Cofounder of the Solstice in Times Square: Mind Over Madness . Celebrating in AV at Town Hall open stage in the morning from 6 to 7.45.
From 9am to 12 at Savitri Bhavan – an Introduciton to Integral Yoga by Ashes Joshi
From 5pm to 6pm at SAWCHU Yoga demonstration by students of Arulvazhi Education Centre
Above all the complication of so-called human wisdom there is the luminous simplicity of the Divine Grace ready to act if we allow it to act. Life could be quite simple and easy if man's mind did not introduce in it so many useless complications.
The Words of The Mother, Vol.14

Peaceful Sunday early evening. Amphitheater at Matrimandir with Joy and Jivatman leading the chanting of Om Namo Bhagavate – The Mother's mantra. Some guests, some aurovilians, birds….

Saturday, 7th of May at 5pm at Cinema Paradiso The French Pavilion Presents "Engineer in the land of the Pharaohs" A Talk (in French only) by Pierre Veillat
On Sunday, 8th of May at 6pm at Amphitheater of Matrimandir Mother's mantra "Om Namo Bhagavaté"with Joy and Jivatman (guitar) to guide the chanting.
CIRHU is inviting us to a very playful and practical game: "dream the Dream".. They will place 12 boxes at Town Hall with topics – UNENDING EDUCATION, CREATIVE CULTURE, INTEGRAL PLANNING AND DEVELOPMENT, INNOVATIVE ARCHITECTURE, ENVIRONMENTAL CARE, NEW ENERGIES, ORGANIC FARMINGANDHEALTHYFOOD,SUSTAINABLE REGIONAL DEVELOPMENT, INTEGRAL HEALT, FRATERNAL ECONOMY, COMMUNICATION OF THE FUTURE, TRANSFORMATIONAL NETWORKING.
You were created to perceive the beauty of creation and to live your life in love.
Don Miguel Ruiz
"When you wish upon a star
Makes no difference who you are
Anything your heart desires
Will come to you."
– Jiminy Cricket
In 2016, the forecast calls for the greatest number of Eta Aquarid meteors to light up the predawn darkness on May 5 and 6. It should be a good year for this shower, with the May 6 new moon guaranteeing deliciously dark skies for the 2016 Eta Aquarids. This shower favors the Southern Hemisphere, ranking as one of the finest showers of the year. At mid-northern latitudes, these meteors don't fall so abundantly, though mid-northern meteor watchers will catch some, too, and might be lucky enough to catch an earthgrazer – a bright, long-lasting meteor that travels horizontally across the sky – before dawn. The Eta Aquarids are mainly a predawn shower. Follow the links below to learn more about the Eta Aquarid meteor shower.

World Laughter Day still on today at SLI from 10am to 11am, we are featuring short excerpt of interview with Fif and Lourdes.
Sunday, 8th of May at 6pm at Amphitheater of Matrimandir singing of Mother's mantra "Om Namo Bhagavaté"with Joy and Jivatman .
Wednesday 4th of May -at 2 pm at Auroville Botanical Gardens Kira, their German Volunteer, will take us into the world of natural colours.
Wideness and calmness are the foundation of the yogic consciousness and the best condition for inner growth and experience. If a wide calm can be established in the physical consciousness, occupying and filling the very body and all its cells, that can become the basis for its transformation; in fact, without this wideness and calmness the transformation is hardly possible.
Sri Aruobindo
 Letters on Yoga II , III