Posts Tagged 'Meditation'
On the 19th September 2017 at the Unity Pavillion, CAT (Create Auroville Together) invited Deepti to give a presentation on "Sri Aurobindo's perspective on the Universal Mother". It was such a beautiful and alive sharing, really felt and enjoyed by all present.
Acceptance, Surrender, the Sunlit Path.

24 giorni in India: il libro racconta il viaggio di Valentina Garozzo che lo scorso anno, dal Gange fino ad Auroville, ha fatto viaggiare la propria anima: qua da noi si e' fermata due settimane, scoprendo una nuova energia che le ha fatto cambiare driezione nella vita. Desiderosa di condividere il proprio percorso, ha deciso di pubblicare il proprio diario di viaggio, uscito nell'agosto 2016 e disponibile ad essere acquistato online. Per ogni copia venduta, Valentina ha deciso di donare 1 Euro alla campagna "Green Acres for Auroville", "perche' Auroville e' esempio di sviluppo consapevole per tutta l'umanita'".
In visita in questi giorni ad Auroville, si e' raccontata ai nostri microfoni.
https://www.amazon.in/GIORNI-INDIA-Diario-viaggio-interiore-ebook/dp/B01KJ01YN2?_encoding=UTF8&%2Aversion%2A=1&%2Aentries%2A=0&portal-device-attributes=desktop

Some of my favorite songs
tracklist
Dunya Salam – 1 Giant Leap
Una Mattina – Einaudi
Wayfaring Stranger – Jamie Woon
My Culture – 1 Giant Leap
Sonnentanz – Will Heart
Way down we go – Kaleo
Small things – Ben Howard
Rythm inside – Loic Nottet
Million eyes – Loic Nottet
Lesson for the lover – Usher
Human – Rags'n'bones
Samurai – Kurt Ellin
Tout ce temps – Zaho & Idir
Meditation – …
Partir – Ben l'Oncle Soul
La Farce – Ludiane Pivoine
Le passe – Tal
Do I wanna know – Katerine Duska
Simple Man – Shinedown
Why this Kolaveri di – Dhanush Anirudh
Hasta Siempre Commandante – Buena Vista Social Club

From the chapter titled Auroville and now chapters 15 through 17, book 5, of the Ringing Cedars.
Discovering one of the core subjects of the ringing cedars – Science of Imagery. Anastasia recalls to Vladimir through dialogue the most powerful weapon produced by living substances much greater that man made weapons. Discover Love, the past, the future, Egypt, betrayal and blackmail, death and Paradise.
Anastasia is considered to be a surviving member of an ancient Vedic culture, whose powers and knowledge far exceed anything known today. She is the inspiration for the Ringing Cedars Series. According to Megré's account, she was born in 1969, in the Western Siberian taiga (boreal forests) not far from the city of Surgut on the river Ob.
She says these powers are natural to Mankind and in these books she describes exactly how they may be regained by any one of us.
Most of all she is a beautiful mystery—one who is changing the landscape of metaphysical thought with her foresight and innate wisdom.
* * * * * * * * *
"Through thought along it's possible to grow a flower on the moon, create an atmosphere capable of supporting human live, plant a garden there, and find one's self with one's beloved in that garden in the flexh."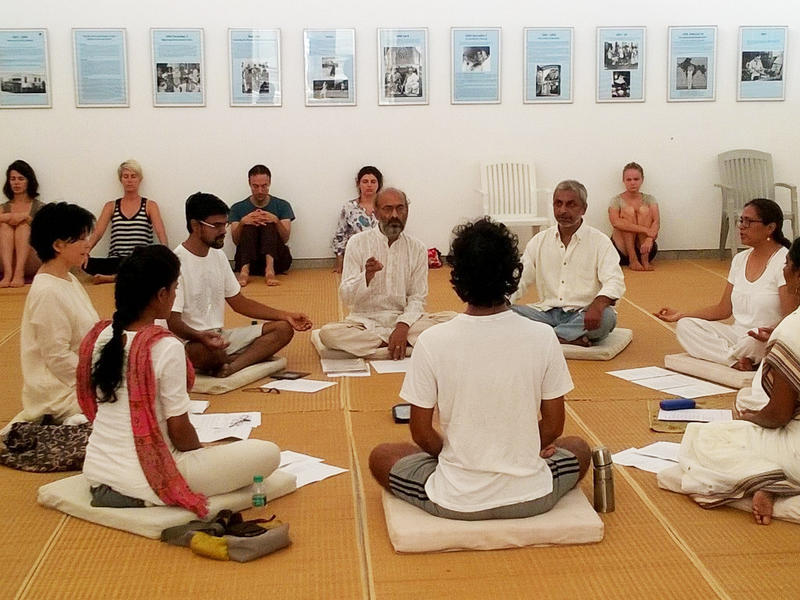 On the occasion of the third International Yoga Day (June 21st 2017), the Dakshina chanting group of Auroville brings you some sonic excerpts of their hour long Sanskrit shloka chants from Savitri Bhavan, Auroville, 7-8 AM.
Let's enrich ourselves and intensely aspire in the Light of Integral Yoga as we listen to Sri Aurobindo's Gayatri mantra and mantras dedicated to The Divine Mother — Devi Stuti and Aum Anandamayi and the beej mantra.
Om Namo Bhagavatey Sri Aravindaya.
Dakshina Chanting Group of Auroville received 12 weeks of 'Know Your Rhythm' training programme from Arnab B. Chowdhury before we went onto this special chanting session.
members of the Dakshina chanting group:
Aravind, Bom, Di, Hemant, Meera, Mona, Renu, Siddhartha and Arnab
Here are some sonic excerpts (3:22 minutes) from the Vedas, Bhagavad Gita and specific Mantras dedicated to Sri Aurobindo and the Divine Mother
On 21st April, in unity Pavillion last session of CAT14 was held and it was all about creating harmony. Russian Bells were used to demonstrate how harmony can be developed among various individuals and that too with minimal efforts, all you need is balancing between receiving and giving. Vera with her Russian bells showed us how with just a bit of practice the sound vibrations can be harmonised.
The 2 hour of ringing bells session was so soothing and relaxing, people meditated with the sounds. They shared the joy of sound and silence and to tune with others' vibrations.
With the music, CAT 14 ended leaving everyone present there totally spaced out, still feeling the vibrations passing through them.