Posts Tagged 'Tamil'
AR Rahman, who hails from Tamil Nadu, is known to be one of the world's greatest music producers. This playlist features a wide variety of songs by him but all possess his signature harmonious melodies.
Tracklist
Jiya Jale – Berklee Ensemble (Cover)
Dil Se – Berklee Ensemble (Cover
Khwaja Khwaja
Roja (Cover)
Ranjhanaa (Cover)
Kaise Mujhe
Tere Bina
Masakalli

A collaboration of Ilaignarkal Education Center and Mohanam Cultural Center, brought together the Tamil New Year celebration in Auroville hosted by Visitor Center.
The Ilaignarkal Education Center is involved with teaching and bringing together the Tamil workers of Auroville. The Mohanam Cultural Center experiment with making different sorts of instruments (mainly percussion, string and wind instruments) out of local material.
Almost like a harvest festival many seasonal fruits and vegetables were presented in honor of the Tamil New Year. Astrological predictions were announced as what the coming year would bring. Live traditional Tamil music and dance enhanced the event.

Mr. Lakshminarayanan shares his views about various aspects of the upcoming local body, panchayat elections for neighboring villages of Auroville. He emphasis on the power a voter has, as member of the graham sabha and educates of the new amendments in seat reservation. He informs about 50% seats being reserved for women in the upcoming elections and points out as a good sign. He believes Women as administrators can do a much better job and is feeling rather optimistic about the upcoming elections. The panchayat elections play a major role in Auroville life as well, as Auroville is surrounded by at least 7-8 local Panchayat bodies and hence, elected officials will play a crucial role in maintaining and even strengthening the relations with the local villagers. Sustainable Livlihood institute SLI , is doing a commendable job in bridging the information gap between the villagers and Auroville and is playing an important role in guiding the locals to a better lifestyle and providing better means of livelihood.

Past Sunday Sree Mahaleeswarar Temple in Irumbai hosted Auro Amsathvani Group to give dance performance. Six girls – P. Swarna Poorani, N. Shalini, S.Sharmi, M. Domian, M. Roshani and N. Harini shared with the numerous audience classical dance program of Bharat Natiyam Dance. The event started with official address of present dignitaries from the villages and from Auroville who have lit the oil lamps. The dance performance started with the prayer song to Lord Ganesha….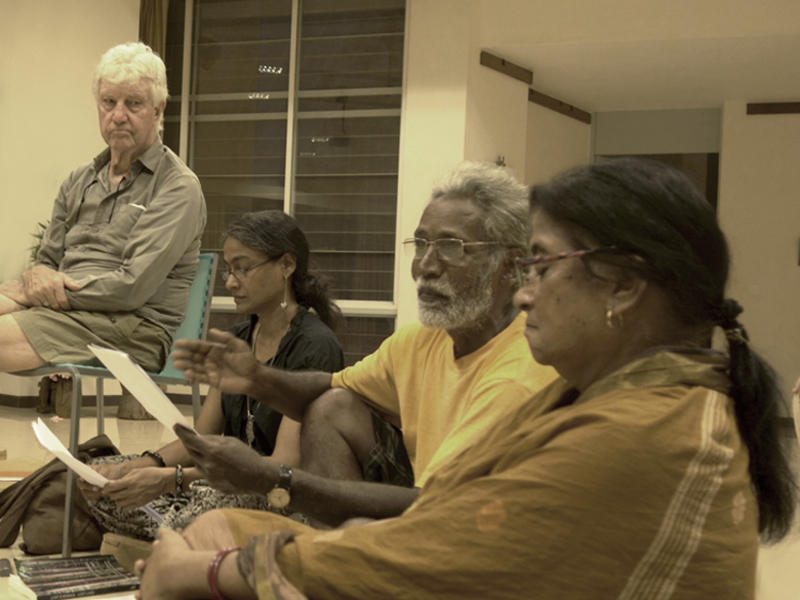 Tuesday 22 March, 2016
Unity Pavilion, Auroville
As a part of the World Poetry Movement, Unity Pavilion presents A Poem for Refugees for all those who have been misplaced, having to leave their Motherland because of wars and human suffering.
This is a multi-cultural and multi-lingual gathering where poets, musicians and friends share their heartfelt stories and sending peace and love to those in need.
Auroville Sisters Concert at Visitor's Centre
18th March, 2016
A beautiful concert with a brand new selection songs performed by AV Sisters in Russian, Tamil, French and English.
Auroville Sisters: Swaha, Vera and Shakti
The band: Holger, Francoise, Robert and Ashaman