Posts Tagged 'films'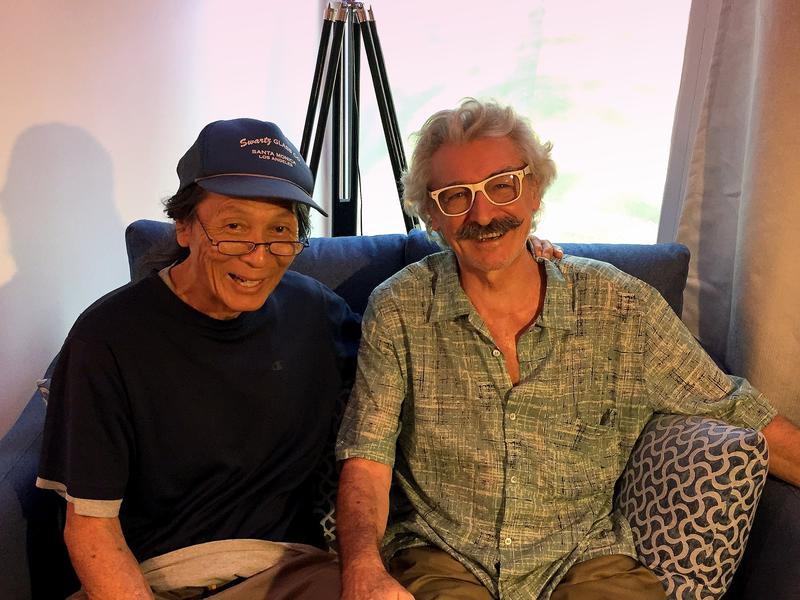 5th edition of Auroville Film Festival is almost here! Starting on 16th of Decmeber will mark the 50th Auroville Anniversary(in February 2018) as being the first cultural event to celebrate the occasion.
Marco and Tlaloc share with us some of the details of the festival, which took full two years of preparations. They are still in need for some volunteers in various areas.
And once again, the city in Town Hall area will have that spirit of festival festivity which brings the community together either be watching the movies, enjoying music and food, and company of each other.
http://filmfestival.auroville.org/category/news/
#Auroville50
In this episode of The Auroville Film Festival, we talk to Tlaloc who is a part of the main team of AVFF. He moved to Auroville from Miami in the 70s and has been a part of various activities and projects in and around Auroville ever since. We discuss many aspects of the Auroville Film Festival including food, music and all the art installations, as well as the new advancements in the crowd funding process.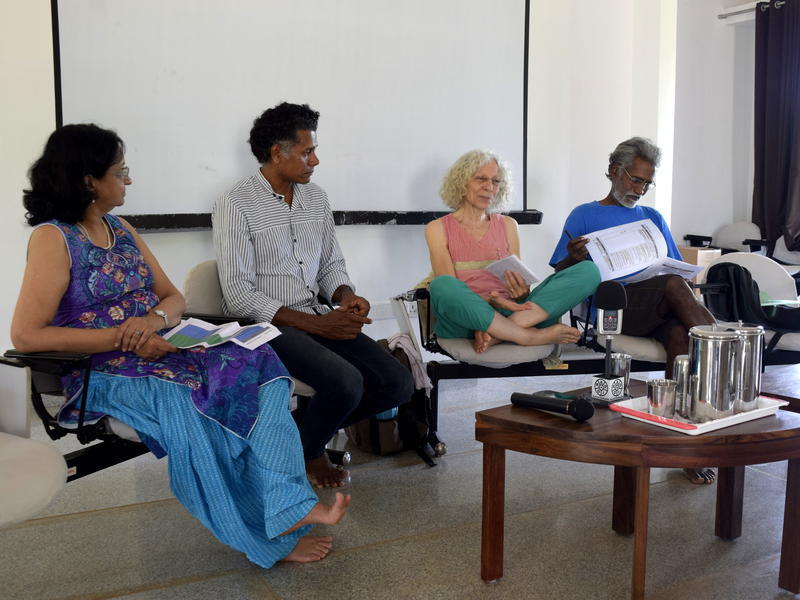 The panel consisted of Jill, Mala, Raman and Sasikant and the discussion covered movies from the previous day as well as the movies screened in the morning. The topics covered through the films ranged from the Israel-Palestine conflict and its representation, the preservation of language as well as the commitment to Satyagraha.
With so many art installations (which are keep appearing), every day live music and entertainment, with food and drinks this year Auroville Film Festival 13 again could be put at the side of those real international festivals around the world. Yesterday in the evening we had a chance to hear Flute Duet by Dorothy and Yun Sung, followed by father and son due of Yam and Aran. Daniele, despite her gentle voice and touch on guitar excited gathered, but Aloe and Tara, accompanied with Jana and Martin thrilled the crowd with their excellent voices.
daily screenings of films in different categories are going on on three locations at Town Hall – Conference Room , Cinema Paradiso, and in the evening outdoor screen
Whole day event of the Africa House-Pavilion of African Culture at Unity Pavilion in International Zone was dedicated to Ethiopia. After simple, yet very delicious, and spicy dinner cooked – supervised by Haimanot Alemu and Taher, community had a chance to learn a bit about Ethiopia. Vani on the behalf of AVI team which organized last year AVI Meeting in Addis Ababa shortly introduced the conference. Evening was concluded by one of Haimanot's film on personal relationships, and invitation to a Shakespeare's play 12th night (7.12. Bharat Nivas)
RAS reminds us that It is time to select a new Lavenir / Town Development Council team. They are asking all of us to read the draft and take this opportunity to give our constructive feedback. We have two weeks (till 31st May 2012) to submit feedback by email to raservice@auroville.org.in with a copy to studygroup@auroville.org.in. Mr. Doshi is coming to visit Auroville from 28th to 30th of May, and he expressed his desire to meet the community of Auroville at large in order to discuss how to proceed with the planning work in Auroville.
The guiding law of spiritual experience can only come by an opening of human consciousness to the Divine Consciousness; there must be the power to receive in us the working and command and dynamic presence of the Divine Shakti and surrender ourselves to her control; it is that surrender and that control which bring the guidance.The Synthesis of Yoga,
Sir Aurobindo
In today's news we feature interview with Renu on yesterday's sharing of L'Avenir. We need to inform the WC and/or LMTF before the publication of any mail, message, petition on this topic in order to vet if any information confidential in nature that may be detrimental to the proposed exchange is not contained therein. As every 12 Th of each month of 2012 , the women circle meets at Unity Pavilion
at 5 p.m. Breathing exercises to the Pachamama . Paneurrytmic , Eternity Game and everything you can bring to the Circle .Everybody Welcome
Make me entirely transparent so that my consciousness may unite with Thine. I aspire to place at Thy feet all the riches of this world.
The Mother
We are all invited to A Gathering of the Residents on Thursday, April 5th, between 5pm-7.30pm at the Kalabhumi Amphitheatre. Deepanam School is inviting the community to a short Musical Evening on Friday the 6th April at 7 pm in the school, The children of age Dolphins and Rainbow-Horses are going to present the songs which they are practicing with Jivatman and Joy since the beginning of the year. Tomorrow at 8pm at Visitor Centre Bboys from Germany will share ALL IS ONE performance and rap for peace with Mohanam Sound Crew with the community
One single spark of Thy sublime light, one single drop of Thy divine love,
can transform this suffering into an ocean of delight. The Mother
Prayers and Meditations
"It's the kind of speech no eye can see. Kabir says: Listen to the word spoken in every body"