Category Archives:
Social Development
Brief interview with attendees of the General Meeting held at Unity Pavilion on Monday the 24th of April. The topic was to discuss a proposal to restructure the Town Development Council. Some of the comments made were that ""we need more collaboration in order to develop Auroville together"; "we need more involvement by residents in these meetings";" and "we could submit our questions prior to the meeting"". Generally everybody agrees that "overall, these meetings and the way they are prepared show a good attempt in moving towards the development of Auroville".
This morning we had Raju of Auroville Vehicle Service , and his year and half old daughter Yamuna visiting us in the studio. Raju is the man standing behind AV Vehicle Service, and he talks about all that they do, and initiatives he is involved in. Passionate about transport and Auroville community they have started AV Vehicle Service in 2001 providing different ways of help to the member of the community, long term guest and AV workers regarding vehicles, and driving incenses, insurances .... They are liason between the community and Pondicherry and Tamil Nadu Transport Department. Unfurtunately new law will impose on foreign members of the community with an option to obtain a driving licensee according to the validity of the visa. Raju talks about Accessible Bus which after a year of operating does run on a plus, providing transport to members and visitors  to Pondicherry  and SriMa Beach. Shortly we talked also about the new parking shed coming up at the Town Hall, which will give space to 30 official rental cycles ... Raju is looking ahead with the community and its needs in the vision along with care about our environment ...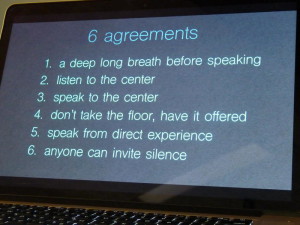 CAT presented the 2nd sharing this year with Jean Francois Noubel titled "Now What". It was an interesting meet where the focus was on an invisible architecture structure "The Six Agreements" and the implementation and evolution of such architectures here in Auroville.
Collectif Bam, un groupe de 'open-source' designers dans le but de créer des produits innovants et des artefacts porteurs potentiels de réduction de l'impact sur l'environnement. Mais, quel est l'impact environnemental de ces nouvelles formes de consommation? https://www.facebook.com/search/top/?q=collectif%20bam
This week, on Thursday 16th of March at 10.30am SAIIER Conference Room interesting presentation awaits us on Auroville Women's Health Survey. Paula Murphy along with Michel Mussies who have designed and executed the survey, will be presenting it.
Paula , who is a midwife by her profession, shares with us some insights, thoughts on the survey. in which almost 300 women from Auroville and the bioregion participated.
What does it means to be woman right here, right now? How do we address sexual education in our schools? Do women feel safe here or how do they take care of their safety?
Many topics, many issues touching a healthy life of a woman ....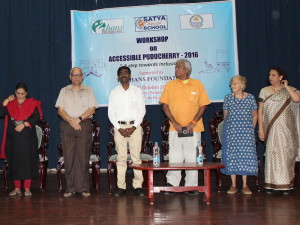 Satya Special School organized a Workshop on "ACCESSIBLE PUDUCHERRY – A STEP TOWARDS AN INCLUSION" on 21st October 2016 at Convention cum Cultural Center, Pondicherry University (A Central Univeristy). Department of Social Work has taken a profound initiative by hosting the event.

India has an estimated 70 million disabled people. Most of them remain confined to their homes due to complete lack of accessible infrastructure. Any attempt to travel, enter buildings, parks, shops etc can be impossible, unsafe or humiliating. They, therefore remain unseen, unheard, unaccounted and are rightly called – an invisible minority.
Accessibility has been one of the most neglected issues in the disability sector in India and is probably one of the crucial factors that can free up the potential and availability of opportunities for disabled people.

The Disability Act (Equal Opportunities, Protection of Rights and Full Participation) was passed by the Indian Parliament in 1995. The Act mandates non-discrimination in transportation and the built environment. However, there has not been much progress so far on these aspects, in India.

Access and Accessible refer to the freedom of choice to enter approach, communicate or make use of a situation or environment without assistance and undue difficulties.
Keeping the above, the following objectives were focused at the workshop:

1. Create awareness on accessibility among various stake-holders
2. Current status on accessibility in Puducherry
3. Road map towards an inclusive Puducherry

And the distinguished Speakers for Accessibility workshop are:

Dr. Chdambaram for the topic 'Accessibility in Educational institutions - Pondicherry University' ; Mr. Alkahj for 'African Perspective on Accessibility - CIAI Pondicherry' ; Mr. Sudhakar for 'Accessibility Aids and its Importance - Mobility India'; Dr. Srinivas Murthy for 'Accessibility for persons with mental disability' ; Ms. Susmita for Accessible Auroville and Dr. Gulam for 'Accessibility in Developed countries' - Pondicherry university