Category Archives:
Social Development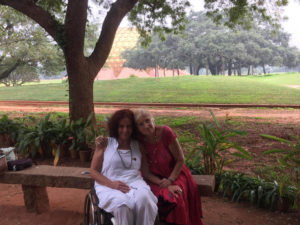 Patrizia Saccá is a paralympic table tennis champion who overcame her disabilities by becoming a champion. She describes her visit to Auroville in Italian translated to English by her friend, Susmita. She is in awe of the Matrimandir and recalls her visit to the inner chamber with the help of Susmita, who is a pioneer of the Accessible Auroville project. She describes in vivid detail how the peaceful atmosphere made her feel, and the reason that she keeps going back to relive the experience. The interview is conducted outside the Matrimandir, the place that inspires Patrizia.
They also discuss the concept of human unity, which they feel goes beyond goes caste and color to include people with disabilities. Susmita and she remind us that we are, above all, human beings and we deserve to feel equally loved and respected. They shed light upon the importance of the issue of accessibility and are confident that a new step for the City That The Earth Needs is making Auroville fully accessible at all fronts. Patrizia also shares with us the secret behind her success and positivity in life.

Gli ascoltatori Italiani possono ascoltare l'intervista con Patrizia Saccá tradotta da Susmita in Ingese. Patrizia Saccá e' un'atleta paraolimpica che sta visitando Auroville.
Sophia is on a mission to treat every dog that she comes across in and around Auroville that is suffering from scabies or maggot wounds. It is her love for animals that drives her everyday to raise awareness about how the diseases are quite treatable. Usually, these diseases go unnoticed and the dog eventually dies.

While Sophia goes around trying to help raise awareness and treat such dogs on her own, anyone who is interested in joining her endeavour is more than welcome to contact her : +91 9566173799
Brief interview with attendees of the General Meeting held at Unity Pavilion on Monday the 24th of April. The topic was to discuss a proposal to restructure the Town Development Council. Some of the comments made were that ""we need more collaboration in order to develop Auroville together"; "we need more involvement by residents in these meetings";" and "we could submit our questions prior to the meeting"". Generally everybody agrees that "overall, these meetings and the way they are prepared show a good attempt in moving towards the development of Auroville".
Yesterday's Information Meeting of Auroville Safety & Security Team at SAWCHU, Bharat Nivas, Pavilion of India was not well attended from the side of community.
Current AV Safety&Security Team , consisting of Samuel, Indra, Srijita, Mattheiu, Peter, Carlos, and the guards, which took its place about year and a half ago, shared intensively with us what are they going through, changes they have implemented in their work, obstacles, scope of work, and future plans. In all they also emphasized the importance of prevention rather than intervention. In this aspect collaboration with the community is of utmost importance. They would like to have wider interaction with the members of the community from sharing of information to the appropriate attitude of each of the member of the community. Just for an example - in past year 90% of thefts occurred due to the fact that people leaved the doors unlocked!

Eco Femme began in 2010 and aims to promote cloth pads amongst women by raising more awareness. In this interview, Kathy talks about the hazards of using plastic sanitary pads, the taboos that surround menstruation, and the need to make the switch.

Find out more about Eco Femme at
https://ecofemme.org/
Collectif Bam, un groupe de 'open-source' designers dans le but de créer des produits innovants et des artefacts porteurs potentiels de réduction de l'impact sur l'environnement. Mais, quel est l'impact environnemental de ces nouvelles formes de consommation? https://www.facebook.com/search/top/?q=collectif%20bam