Category Archives:
Social Development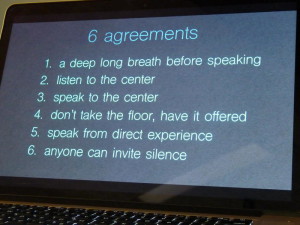 CAT presented the 2nd sharing this year with Jean Francois Noubel titled "Now What". It was an interesting meet where the focus was on an invisible architecture structure "The Six Agreements" and the implementation and evolution of such architectures here in Auroville.

International Youth Day was celebrated here in Auroville for two days - Friday 12th and Saturday 13th at Unity Pavilion. Both days filled with joy , grace, and lots of positivity. Main actors of the events were members of Youth Link. On Firday they have presented themselves, their scope of work, goals, hopes.
Sturday passed in more cheerful way with different stalls, acts, conversations, music .....
through busy chatter Chandana managed to catch some of the participants for short interviews.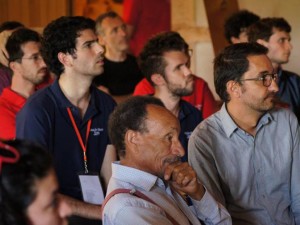 En visite a Auroville Samuel nous confie ses impressions Samuel met un point d'honneur à se sentir bien au travail. « La façon de concevoir sa vie et l'esprit dans lequel nous faisons notre travail sont intimement liés. Et partout il doit y avoir de la joie » Cette convivialité entre collègues se nourrit selon lui de rencontres en dehors du travail. Se retrouver régulièrement à des forums, des conférences, ou des meetings entretient une bonne collaboration une fois revenus dans les bureaux. Et pas question de hiérarchie : ici on parle plutôt de sociocratie ou d'holocratie. Une organisation qui ne serait ni tout à fait horizontale, ni tout à fait pyramidale. Ce qui est important, c'est que chacun sache pourquoi il est là. Pour Samuel, cette conception du travail ne souffre pas de serment exclusif à un seul employeur : avoir plusieurs jobs, c'est aussi avoir plus de missions. Comme ses camarades, Samuel a beaucoup voyagé, il a vu d'autres modes de fonctionnement, il a intégré la protection de son environnement. « Ma vie a plus de sens avec les autres, et nous pouvons construire ensemble un monde plus juste ». Sa génération, affirme-t-il, ne se réalise pas dans la foi en une idéologie, mais davantage dans la mise en place d'actions, ici, près de chez soi. Etre solidaire aujourd'hui, c'est incarner ses valeurs.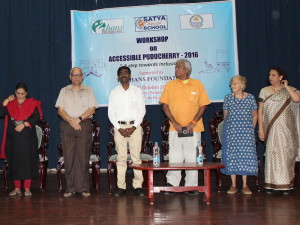 Satya Special School organized a Workshop on "ACCESSIBLE PUDUCHERRY – A STEP TOWARDS AN INCLUSION" on 21st October 2016 at Convention cum Cultural Center, Pondicherry University (A Central Univeristy). Department of Social Work has taken a profound initiative by hosting the event.

India has an estimated 70 million disabled people. Most of them remain confined to their homes due to complete lack of accessible infrastructure. Any attempt to travel, enter buildings, parks, shops etc can be impossible, unsafe or humiliating. They, therefore remain unseen, unheard, unaccounted and are rightly called – an invisible minority.
Accessibility has been one of the most neglected issues in the disability sector in India and is probably one of the crucial factors that can free up the potential and availability of opportunities for disabled people.

The Disability Act (Equal Opportunities, Protection of Rights and Full Participation) was passed by the Indian Parliament in 1995. The Act mandates non-discrimination in transportation and the built environment. However, there has not been much progress so far on these aspects, in India.

Access and Accessible refer to the freedom of choice to enter approach, communicate or make use of a situation or environment without assistance and undue difficulties.
Keeping the above, the following objectives were focused at the workshop:

1. Create awareness on accessibility among various stake-holders
2. Current status on accessibility in Puducherry
3. Road map towards an inclusive Puducherry

And the distinguished Speakers for Accessibility workshop are:

Dr. Chdambaram for the topic 'Accessibility in Educational institutions - Pondicherry University' ; Mr. Alkahj for 'African Perspective on Accessibility - CIAI Pondicherry' ; Mr. Sudhakar for 'Accessibility Aids and its Importance - Mobility India'; Dr. Srinivas Murthy for 'Accessibility for persons with mental disability' ; Ms. Susmita for Accessible Auroville and Dr. Gulam for 'Accessibility in Developed countries' - Pondicherry university
As part of the regular discussions at CHIRU at Auroville Town Hall, Giacomo  has taken a lead in organizing a talk on 'war and peace'. This concept has to be much discussed and addressed in the present global era. Leo Tolstoy has written a piece on 'war and peace' which is very relevant in the present situation and people should learn living in peace than in war. Giacomo  has stated that 'peace means unity and there can be no peace without partnership and harmony. Andrea has discussed on various wars that took place in history mainly during the 14th to 19th century. He said that Wars have been a part of human life since history and the usage of atomic bombs during the second world war have shaped the world into a nuclear driven nation-states and threaten a happy society. Ego, Arrogance, Supremacy and Conflict between two main super powers have disturbed the innocent societies of the world. The speakers at the discussion have also discussed on the number of atomic bombs exploded during 1945-1998, it was 2053 and USA tops the list with a nuclear explosion of 1032 times. The main reason for these explosions was not to wage a real war but to create 'deterrence' and showcase the strength of their military to their opponents and the weaker nations. Finally, Aryamani concluded the discussion by saying that Auroville and the International Zone of the Auroville can take a pioneer role in promoting the Unity and Peace among individuals and nations. "We don't realize wars when we live in peace"
Unltd Tamil Nadu was founded by Gijs Spoor in Auroville as a space to search and support exceptional individuals committed to solving problems through their entrepreneurial skills. Essentially it seeks to encourage social entrepreneurs aiming to address the various challenges presented in Auroville and beyond in Tamil Nadu. On 16th March, 2016 they had a Peer Learning Session along with an evaluation meeting wherein presentations were made by the different social startups associated with this initiative.

Supporting approximately 15-20 projects a year, Unltd Tamil Nadu emphasises on peer connection and a sense of community in their approach. Fostering growth through 'changemakers', they provide a sense of security to those looking to work outside of a conventional framework and embrace experimentation and ideation as their core.

We met Gijs, Victor and Shiva at Auromode and discussed with them the feedback that they received at the evaluation meeting, their vision for the future as well as the challenges faced in terms of the connotations attached in Auroville to commercial activity. They also talked to us about a Pre-Incubation Programme that aims at involving youth searching for alternative career options.

You can access more information about them on their website:
http://unltdtamilnadu.org/