Category Archives:
Social Development
10th edition of Auroville Marathon - Run for the Joy of Runnig was about to end. Crowded with happy, yet tired faces of runners, loudspeakers heard from far announcing the arriving runners.... In between we caught Ananad, one of the core organizers who shared with us some facts and figures - this year was around 400 to 500 more runners than previous year, 3150 registered, and 2800 bibs were picked up; from Auroville 52, and from bioregion 250 runners participated; apart from 20 members of core organizing team also 500 people volunteer for different tasks needed to be look up if marathon should be successful. As Annand mentioned since 3rd Auroville Marathon 5000 to 6000 breakfasts are prepared every year for that occasion . Design - logo for the T-shirt this year was designed by an Auroville student, and T-shirts are in white, and blue, with the Mother symbol, representing different tasks of volunteers for the marathon. Out of almost a quarter of Auroville population who volunteered Kalsang shared some impressions, emphasizing that is always a privilege to volunteer at the occasion. Kalsang this year had a group of boys from TCV school who are currently in Auroville as exchange students, and they also shared some impressions. On the way out, toward Visitor's Centre three participants share their thoughts on Auroville Marathon, mostly stating that is fresh, and well maintained marathon. Novelty to this year marathon is the point, that it falls in the month of raising funds to purchase land, which still does not belong to Auroville.
On the 8th of September, AVAG organized a women's festival that was attended by hundreds of women from the villages. The pompous event showcased these talented women in a new light. They danced away to glory, sang melodiously, acted like professional movie stars as well. Their talent was lauded by the community members and the event was a platform to showcase their hidden talents. The festival was organised by the women and the second half of the festival would be conducted in October. The event was attended by Mallika Sarabhai as the women danced away to various dance forms that are central to Tamil Nadu. The festival threw light on how empowered these women are and their various talents as well.
VOX POP: it is about taking up any existing issue and collecting opinion from the people about the issue.
This Vox Pop is all about the round about in Auroville near the solar kitchen, and the problems faced by the people while riding and walking across the round about.
We also have the official voice bite from the architect Jan, who has shared his ideas and views from his experience.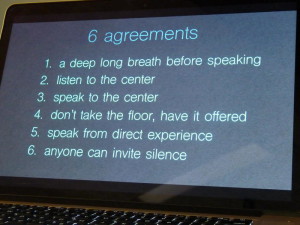 CAT presented the 2nd sharing this year with Jean Francois Noubel titled "Now What". It was an interesting meet where the focus was on an invisible architecture structure "The Six Agreements" and the implementation and evolution of such architectures here in Auroville.

International Youth Day was celebrated here in Auroville for two days - Friday 12th and Saturday 13th at Unity Pavilion. Both days filled with joy , grace, and lots of positivity. Main actors of the events were members of Youth Link. On Firday they have presented themselves, their scope of work, goals, hopes.
Sturday passed in more cheerful way with different stalls, acts, conversations, music .....
through busy chatter Chandana managed to catch some of the participants for short interviews.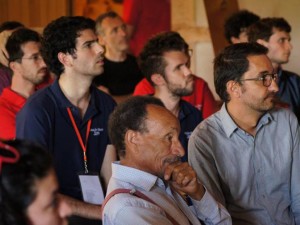 En visite a Auroville Samuel nous confie ses impressions Samuel met un point d'honneur à se sentir bien au travail. « La façon de concevoir sa vie et l'esprit dans lequel nous faisons notre travail sont intimement liés. Et partout il doit y avoir de la joie » Cette convivialité entre collègues se nourrit selon lui de rencontres en dehors du travail. Se retrouver régulièrement à des forums, des conférences, ou des meetings entretient une bonne collaboration une fois revenus dans les bureaux. Et pas question de hiérarchie : ici on parle plutôt de sociocratie ou d'holocratie. Une organisation qui ne serait ni tout à fait horizontale, ni tout à fait pyramidale. Ce qui est important, c'est que chacun sache pourquoi il est là. Pour Samuel, cette conception du travail ne souffre pas de serment exclusif à un seul employeur : avoir plusieurs jobs, c'est aussi avoir plus de missions. Comme ses camarades, Samuel a beaucoup voyagé, il a vu d'autres modes de fonctionnement, il a intégré la protection de son environnement. « Ma vie a plus de sens avec les autres, et nous pouvons construire ensemble un monde plus juste ». Sa génération, affirme-t-il, ne se réalise pas dans la foi en une idéologie, mais davantage dans la mise en place d'actions, ici, près de chez soi. Etre solidaire aujourd'hui, c'est incarner ses valeurs.