Category Archives:
Social Development
On the 8th of September, AVAG organized a women's festival that was attended by hundreds of women from the villages. The pompous event showcased these talented women in a new light. They danced away to glory, sang melodiously, acted like professional movie stars as well. Their talent was lauded by the community members and the event was a platform to showcase their hidden talents. The festival was organised by the women and the second half of the festival would be conducted in October. The event was attended by Mallika Sarabhai as the women danced away to various dance forms that are central to Tamil Nadu. The festival threw light on how empowered these women are and their various talents as well.
VOX POP: it is about taking up any existing issue and collecting opinion from the people about the issue.
This Vox Pop is all about the round about in Auroville near the solar kitchen, and the problems faced by the people while riding and walking across the round about.
We also have the official voice bite from the architect Jan, who has shared his ideas and views from his experience.
Rod revisits the topic of change in Auroville, in this hour long conversation we touch the topics of; Ideology, Town Planning, Economy, International Zone, Growth, Statistics, Working Groups, after the Retreat (?) ... and the urgent need for critical thinking in Auroville. He reminds us of the COP21 agreements events furthered in (April and May 2016) to combat Global Climate Change and suggests the occasion to mark change in Auroville.

International Youth Day was celebrated here in Auroville for two days - Friday 12th and Saturday 13th at Unity Pavilion. Both days filled with joy , grace, and lots of positivity. Main actors of the events were members of Youth Link. On Firday they have presented themselves, their scope of work, goals, hopes.
Sturday passed in more cheerful way with different stalls, acts, conversations, music .....
through busy chatter Chandana managed to catch some of the participants for short interviews.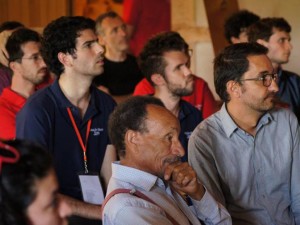 En visite a Auroville Samuel nous confie ses impressions Samuel met un point d'honneur à se sentir bien au travail. « La façon de concevoir sa vie et l'esprit dans lequel nous faisons notre travail sont intimement liés. Et partout il doit y avoir de la joie » Cette convivialité entre collègues se nourrit selon lui de rencontres en dehors du travail. Se retrouver régulièrement à des forums, des conférences, ou des meetings entretient une bonne collaboration une fois revenus dans les bureaux. Et pas question de hiérarchie : ici on parle plutôt de sociocratie ou d'holocratie. Une organisation qui ne serait ni tout à fait horizontale, ni tout à fait pyramidale. Ce qui est important, c'est que chacun sache pourquoi il est là. Pour Samuel, cette conception du travail ne souffre pas de serment exclusif à un seul employeur : avoir plusieurs jobs, c'est aussi avoir plus de missions. Comme ses camarades, Samuel a beaucoup voyagé, il a vu d'autres modes de fonctionnement, il a intégré la protection de son environnement. « Ma vie a plus de sens avec les autres, et nous pouvons construire ensemble un monde plus juste ». Sa génération, affirme-t-il, ne se réalise pas dans la foi en une idéologie, mais davantage dans la mise en place d'actions, ici, près de chez soi. Etre solidaire aujourd'hui, c'est incarner ses valeurs.
The Pondicherry Equestrian Challenge (PEC) 2016 has been organized for two weeks at the RED EARTH RIDING SCHOOL, Auroville. Many riders from Bangalore, Chennai, Cuddalore, Tirupur, Pondicherry and Auroville have participated in the wonderful event. The local residents and guests and visitors of Auroville enjoyed the Jumping Challenge at this PEC 2016. Events like these make youth energized says a visitor. Parents should make sure of making their children involve in various sports and extra curricular activities which helps their growth in an inclusive manner rather than forcing them to stick to books alone. Books provide knowledge and wisdom and activities like these promotes holistic development. Cash prizes were given to the winners in three categories. CAT A: 135 Cms, CAT B: 120 Cms and CAT C: 110 Cms. The interesting thing about these competitions was that students of grade 8 have taken part. Therefore, there were various levels of competitions depending on the height of their strengths. Programs like these should be encouraged by governments and the civil societies to develop a spirit for Equestrian culture, says Sri, a resident of Auroville. Some photos courtesy by https://www.facebook.com/pondicherryarun