Category Archives:
Social Development

Eco Femme began in 2010 and aims to promote cloth pads amongst women by raising more awareness. In this interview, Kathy talks about the hazards of using plastic sanitary pads, the taboos that surround menstruation, and the need to make the switch.

Find out more about Eco Femme at
https://ecofemme.org/
Collectif Bam, un groupe de 'open-source' designers dans le but de créer des produits innovants et des artefacts porteurs potentiels de réduction de l'impact sur l'environnement. Mais, quel est l'impact environnemental de ces nouvelles formes de consommation? https://www.facebook.com/search/top/?q=collectif%20bam
This week, on Thursday 16th of March at 10.30am SAIIER Conference Room interesting presentation awaits us on Auroville Women's Health Survey. Paula Murphy along with Michel Mussies who have designed and executed the survey, will be presenting it.
Paula , who is a midwife by her profession, shares with us some insights, thoughts on the survey. in which almost 300 women from Auroville and the bioregion participated.
What does it means to be woman right here, right now? How do we address sexual education in our schools? Do women feel safe here or how do they take care of their safety?
Many topics, many issues touching a healthy life of a woman ....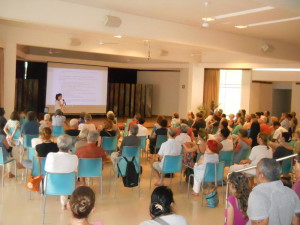 Should we open Auroville's doors and allow people to find out for themselves if the 'city of dawn' is their community; or should we assume the responsibility to select candidates carefully? How can we avoid the Entry Service to be closed for such a long time? Do New Comers feel under scrutiny during the one year process? What can we do to involve more Tamil New Comers and Aurovillians to these meetings? Auroville Radio asks participants of the meeting to express their view.
CIRHU started "Aurovillian Conversations", a series of weekly reflections between students, volunteers, newcomers and interested people with Aurovillians and friends of Auroville with experience in specific fields of knowledge.
This week Michael shared his passionate outlook and ideas on the building of sustainable communities based on the joy of impermanence. He spoke with a clarity of vision which all appreciated, it felt like a fresh breeze on a hot summer's day.
10th edition of Auroville Marathon - Run for the Joy of Runnig was about to end. Crowded with happy, yet tired faces of runners, loudspeakers heard from far announcing the arriving runners.... In between we caught Ananad, one of the core organizers who shared with us some facts and figures - this year was around 400 to 500 more runners than previous year, 3150 registered, and 2800 bibs were picked up; from Auroville 52, and from bioregion 250 runners participated; apart from 20 members of core organizing team also 500 people volunteer for different tasks needed to be look up if marathon should be successful. As Annand mentioned since 3rd Auroville Marathon 5000 to 6000 breakfasts are prepared every year for that occasion . Design - logo for the T-shirt this year was designed by an Auroville student, and T-shirts are in white, and blue, with the Mother symbol, representing different tasks of volunteers for the marathon. Out of almost a quarter of Auroville population who volunteered Kalsang shared some impressions, emphasizing that is always a privilege to volunteer at the occasion. Kalsang this year had a group of boys from TCV school who are currently in Auroville as exchange students, and they also shared some impressions. On the way out, toward Visitor's Centre three participants share their thoughts on Auroville Marathon, mostly stating that is fresh, and well maintained marathon. Novelty to this year marathon is the point, that it falls in the month of raising funds to purchase land, which still does not belong to Auroville.