Category Archives:
Social Development
Sigrid and Jasmine share their stories of involvement in the Acres For Auroville (A4A)  fund raising campaign, and their involvement in Green Acres - a project to which they are passionately, actively dedicated. They call it a sister campaign. Both of them acknowledge the importance of the Green Belt in the Master Plan of Auroville for the purpose of protecting  and securing our natural resources, and to further develop the city as a real example of sustainability according to the Mother's vision. As they say; the Time is NOW! to purchase the remaining plots of the land which do not yet belong to Auroville. Private developers are actively  endangering the integrity of the city with their speculative way of purchasing land and building exclusively to satisfy their own greed for profit. More important, Sigrid and Jasmine see the collaborative fundraising campaigns of  A4A and Green Acres as tools to bring people together, to work together, and  to bring human unity. For 7th of February of this year they are planning an interactive communicative event at the Unity Pavilion, which they call  Landing Auroville. There will be movies and music, and things for people to see and do. Everyone is invited! The organizers see this gathering as a celebration of the sacredness of the land itself. http://www.colaap.org/ http://www.colaap.org/green-acres/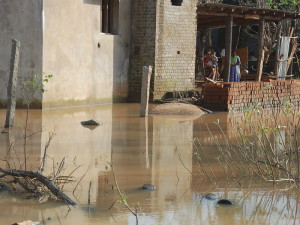 Help is still very much needed into the affected villages

Anita, Aurovillan from North India, is a woman with a big heart and all the energy to move things. People like her are very much needed in our region right now. ''We are in a natural disaster'' she says, ''but we are not in the disaster areas set up by the government, like Chennai''. So the villages around Auroville which had been flooded have few hope to get any support if not from Aurovillans. But there are lots of houses damaged or even destroyed, waste water entered drinking water taps, insects are increasing rapidly and, as Anita warns, there is a high epidemic risk right now. During the rainy season, the most heavily affected people had to live in public halls like village schools. Now, the majority of them went back into their houses – and had to face all the damage and the stink around. ''We are entering in a new phase of disaster help'', Anita says: to clean up, and to prevent the outbreak of more illnesses. For this purpose, every day, sometimes every hour counts.

Auroville has set up a help fund for affected villagers which coordinates material and financial support. Donations are very welcome.

How to donate:

In Auroville:

Financial service account no. 251220
FOR TRANSFERS FROM INDIAN BANKS
AUROVILLE MAINTENANCE
ACCOUNT NUMBER – 163101000118
ICICI BANK AUROVILLE
Ifscode – ICIC0001631
Description – FLOOD RELIEF
FOR TRANSFERS FROM ABROAD
STATE BANK OF INDIA AUROVILLE TOWNSHIP
Purpose: FLOOD RELIEF
Branch Code - 03160
Swift Code - SBININBB474
Account - AUROVILLE UNITY FUND
Account Number 10237876508
Auroville belongs to auroville and no one else. People who make this place worth it, not only for themselves but also for people who visit auroville everyday. Rj Mantra (a 5 times best RJ of India winner by RAPA and PROMAX Awards), speaks to people in Auroville and finds out what makes this place tick.
In  our  interview with Aryadeep we walk through the history of Auroville lands; a story which is tightly connected to his own path.He quotes quotes The Mother, who has said; "if people won't buy the land, lots of complexity will arise....land is important for unified harmonious existence...." Aryadeep is actively involved in the fund raising campaign for Acres For Auroville - A4A. Soon after joining Auroville he became aware that various plots, various pieces of land did not belong to Auroville. He has felt that if the integrity of the land which belongs to the city is eroded and full of gaps, the force of Auroville could be compromised, reduced. Because of this he decided that the land would be his area of work. For years, it was Aryadeep who kept the whole thing going through the quiet period when he had to stand at his post all alone. Through the interview we hear about the crucial and important moments in the past when things happened to protect Auroville land.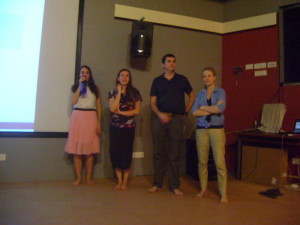 Yesterday afternoon at MMC, Town Hall we heard the final presentation of ten students of Queens Universtiy for Urban and Regional Planning, Canada. Dedicated and thorough work of students - prior coming to Auroville, and on site, has resulted a practical guideline for framework which could be implemented in many areas of community affairs. Framework does involve community participation on different levels depending on issue. Surveys and workshop done before formulating decisions or planning would help to reduce apathy, and disappointment of community, while empowering it Students of Queens University with Professor Ajay Agarwal gave to the community a practical tool which could help us to step forward in our decision making processes and planning.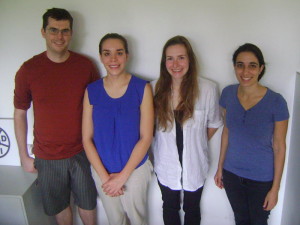 Out of ten students of Queens University for Urban and Regional Planning Social Studies from Canada Caroline, Joanna and Michael shares with us their observation on the topic of the community participation in planning, Depending on the project,  level of engagement can vary from low (just being informed) to high (participate in decision taking). In yesterday's workshop where they were aiming to envision what sort of community features people want to see in Residential Zone 1 and 2      13 different themes came up. At final presentation on Saturday 12th between 4pm to 6pm at Multi Media Center students will present to the community outcome of their research, surveys and workshop. But in general they observe a high wish to participate, lots of creativity, and high level of experimenting.