Category Archives:
Environment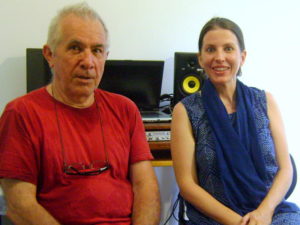 Few days back working groups announced the water crisis, and pleaded the community to be careful in usage of our water. This morning we hosted Tom and Ing-Marie from Water group with updates, and currents situation on water . Tom in details explains where do we get our water from, and what would be the steps in extreme situation or crisis, in which we are headed if there would be no rainfall in near future. Ing-Maries shares some tips on how to save water, with emphasis that those, and more, are available on the web page of Water Group. The group sees future of our water in rain harvesting. Still, situation is severe, and it will take an awareness, and committed acts of each of us to face water crisis.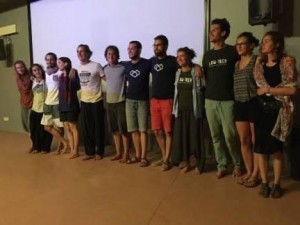 What is the Low-Tech Lab? Is it another business brand using trends such as "sustainable" and "environment friendly" to sell a product, or is this an innovative movement that wants to change the approach to global development?
Considering key words such as "do it yourself", "local manufacturing", "low environmental impact", "economic", "repairable", and "for all", how sustainable and environment friendly are some innovative inventions such as solar panels?
While working on technical solutions, how much do we ease our impact on the environment? Has Low-Tech Lab considered focusing on educating people to be more in tunes with nature?
A brief interview with Clement and Camille from Low-Tech Lab, and Mitia from Joy of Impermanence (Auroville).

http://lowtechlab.org/en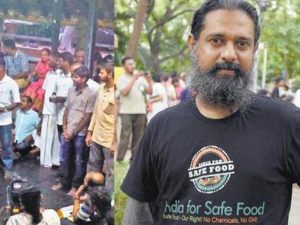 An interactive session with Mr. Anathoo at Sustainable Livelihood Institute (SLI)
- An activist with deep commitment towards sustainability and involved in setting up several amazing ventures related to organic farming including ReStore (www.restore.org.in),OFM (www.ofmtn.in) and Tula (tula.org.in), an orgnaic cotton initiative. He has also been recently involved with the anti-GM Mustard campaign as well as the force behind organising the National Seed Savers & Diversity Festival at Anna University, Chennai.
Mr. Anathoo clearly states how commercialization of the agriculture industry is literally poisoning our food and our lives. In his talk in SLI, he presented with some serious facts and figures clearly pointing out the trend the agriculture industry in adopting by allowing practices like genetically modifies seeds which is a great fraud to our nutritional needs but also encourages the culture of heavy fertilizer and pesticide use. He stresses on the urgency on the consumers to become aware and start demanding for standardized and organic produce which is not only healthy to human but also keep the natural cycle of cultivation in check which supports the entire biosphere connected to producing and harvesting crops.
Photographer Karthik Subramaniam discusses the politics of photographing politics followed by Arun Vijay Mathavan at an event in Pondicherry's Pondy Art Venue on Rue Suffren. A short question and answer session is also presented.
Meet Dr. Kumar, in Auroville since 1995, and became Aurovillian since 2008. He is a genius voluntary veterinary doctor in Auroville. So what is the difference between an ordinary doctor and Dr. Kumar, his passion to reach the animal, "not to bring the animal to the clinic, it is stressful for the animal, I like to reach the animal" - Dr Kumar. He is designing a unique veterinary services with a 'Mobile Clininc' and terms himself as "Vet on Wheels". Dr. Kumar has performed thousands of neuter surgery on dogs in Auroville and Within the bio-region, for the strays in the villages on a cost-to-cost basis. He has invented and mastered a new technique for this surgery, which involves least incision, only 1 injection process, 3 layers of skin stitching and helps the animal revive and be normal within the same day, unlike the general practice which immobilse the animal to intensive care for 3-4 days atleast. Auroville is natural catalyst for pioneering and innovative minds which carries with itself also the spirit to serve, meeting Dr. Kumar gives the same feeling. Every project or proposal requires support and encouragement from the society on the whole, Dr. Kumar wants to realize the dream of providing best animal care in Auroville and is looking for resources and understanding from the community. To contact Dr. Kumar you can call on mobile no. - +919443203092. More we share, More we care.