Posts Tagged 'singing'
Auroville women celebrate International Women's Day by hosting traditional music, dance and 'kolam' (chalk art) competitions at Swachu Building at Bharat Nivas on 18 March 2017.
The United Nations theme for International Women's Day 2017, focuses on "Women in the Changing World of Work: Planet 50-50 by 2030". While the women in cities were occupied in either organizing or participating in various conferences and meetings, Women at Auroville have celebrated the day by promoting the local culture in three forms viz., music, dance, art by spreading the theme of gender equality and women civic participation in the society.
Grace, Usha and Mathi from Auroville have taken a lead role in organizing various cultural activities which includes music and dance competitions and also performances.
Bregette (from Hollande) has been at Auroville and serving at Matrimandir for five years now and in talking to the Auroville Radio she expressed her excitement of being part of this community in rendering various services mainly to the 'art and culture'.
Mayawati, from La Farm has been the instructor for the 'kolam' art competition. Many young girls, students and women participated and filled the floor of the building with amusing and colorful art.
Djelan on midi-guitar, accompained by Suresh on drums, created an infectious beat which inspired people to dance and lose themselves in the music.
The various effects connected with the midi-guitar of Djelan enabled him to replicate the sounds of trombone, sax, and even flute, giving the feel of a full band playing.
The singer guitarist songwriter changed styles from soothing Bossa Nova to more spicy latino beats, and ended with Indian and Arabic flavours.
Djelan: vocal & midi-guitar
Suresh: drums
Set in the imaginary City of Neotopia, the play tells a story of a government frustrated by their city's lack of growth. In an attempt to identify the main obstacles to the city's progress, a group of politicians invite in a team of foreign consultants to identify the problem.
After an exhaustive study, the consultants conclude that the main obstacle to the city's growth is the citizens, recommending the introduction of a new kind of citizen – Citizen One. Free from the inconvenience of emotion and opinion, Citizen One promises to get things moving again, but things do not go as planned.
Photographs by Marco Saroldi here
—-
The Office of Progress has been made aware of the presence of a subversive theatrical production.
DO NOT WATCH THIS PERFORMANCE
SUBVERSIVE MATERIAL TITLE: CITIZEN ONE
Citizens are advised to avoid this performance at the following coordinates:
WHEN: 8pm, SATURDAY MARCH 4
WHERE: KALABHUMI AMPHITHEATRE
You are at risk of being reprogrammed.
GRAPHIC MATERIAL WARNING!
This post also contains attached graphic material.
Do not look at it, do not listen!
Lovers rock is a style of reggae music noted for its romantic sound and content. While love songs had been an important part of reggae since the late 1960s, the style was given a greater focus and a name in London in the mid-1970s.[1] Despite the name, lovers rock is not a rock subgenre or related to it.
tracklist
Garnett Silk- Oh Me Oh My- Love Bump Riddim
Beres Hammond – Smile For Me
Gregory Isaacs – Cool Down The Pace
Freddie McGregor- Stop Loving You- Far East Riddim
Jackie Robinson – Have A Little Faith
Janet Kay Carrol Thompson & Louisa Marks
Bob Marley ft Lauryn Hill – Turn your lights down low.
Cocoa Tea & Cutty Ranks – Waiting In Vain
Ce'cile Promise – relationship riddim
Freddie McGregor- Stop Loving You
Buju Banton & Wayne Wonder – I Don't Know Why
Pinchers – Never Hurt Her
Queen Ifrica -When Love Comes Knocking
Frankie Paul You are my everything.
Sanchez – I'm Never Gonna Fall In Love Again
Maxi Priest – Believe In Love
Lukie D wanting you more
Alaine-Love…Loud & Clear (Relationship Riddim)
Romain Virgo – Stay With Me
Wyre featuring Alaine – Nakupenda Pia

A lot of people danced and enjoined the Ziia and the Swing Mates exhibition in Solitude Farm last Friday 23rd Feb. A concert of modern swing and blues very well played.
Dhani & co. played a very nice concert in Unity Pavillon to raise fund for Auroville land.
Dhani vocal and guitar, Dhani's father bass and vocals, Peter drum and Matt Littlewood saxophone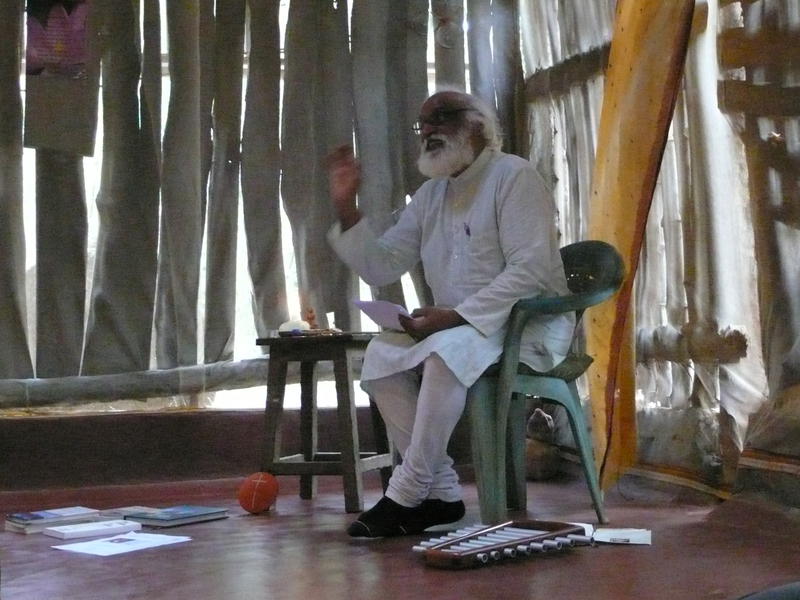 Prof. Schdev Kumar presents the songs of the great 15th century poet-sage in original and in English translations, with commentary on his Bhakti Yoga.

Mein Huun Yusuf Aur Yeh Hai Mera Bhai, a play by Aasaktha, Pune.
Playwright Amir Nizar Zuabi, directed by Mahit Takalkar.
One of the last performances within remembering Veenapani month long festival at Adishkati last night touched one of painful moments of human history, and as one Palestinian poet points out: These tears that we shed, should be for those still breathing.
Story of three – Yusuf, Ali and Nada remembering 1948 when the British mandate ended in Palestine, and the Un was voting on who will control what part of the land… Love story between Ali and Nada, and friendship between mentally challenged Yusuf and Ali, who , as we find out in the end, is responsible for Yusuf's condition.
Powerfull story, amazing acting
Cast:
Ipshita Chakrabory, Ashish Mehta, Iftenda Joshi, Ajeet Singh Palawart, Ninad Mahajani, Mrinmayee Godbole, Sandeep Shikhar, Jayesh Newi, Arpeetta Chogardare, Sagar Deshmuukh, Tejaswini Barve, Alap Vaidya, Hirhsikeeh Pujari, Vinayak Lele.