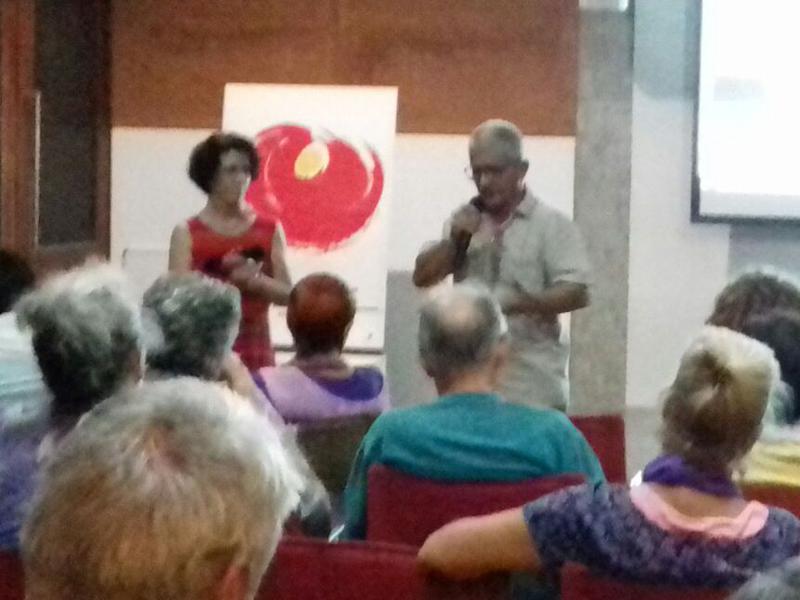 Last night at Bhumika Hall, Bharat Nivas was a special screening of short films: : "A Sacred Message from Colbian Indigenous Tribe"", presented by German Zuluaga from Colombia in Spanish with translation by Stella Rodriguez . Mr.German Zuluaga, visiting guest, has started a Multicultural Community in Sierra Nevada 5 years ago in an abandoned settlement. He started exchanging products and services with the Koggies from a village 5 km away. He wanted to help them to keep their Sacred way of living ,and unexpectedly he has found his own spiritual path.
After the presentation, and screening was a session of questions and answers.
Numerous audience was united in the thought, that that special tribe, which live exclusively spritual life, should be preserved, and kept in peace for the benefit of the future of whole planet.

Often mistaken for reggae or reggae en espanol, reggaeton is a younger genre which originated in the clubs of San Juan, Puerto Rico in 1991. It became known as "underground" music. DJ Playero and DJ Nelson were inspired by hip hop and Latin American music to produce "riddims," the first reggaeton tracks. As Caribbean and African-American music gained momentum in Puerto Rico, reggae rap in Spanish marked the beginning of the Boricua underground and was a creative outlet for many young people.
In this musical edition we travel from first tracks, all the way to Gasolina, and a bit beyond, featuring DJ Players, Playero, Don Omar, Rakim Y Kenny, Ivy Queen….

tracklist
Street Mix Dj Playero
Blanco – Sigan Bailando
Maicol y Manuel Le gente sabe
Daddy Yankee Te ves bien
Ruben Sam – Miss Goody Goody
O.G. Black – La predilecta
Buru Fat Z – Pedaleando
Street Mix 2 Dj Playero
Mexicano – No Voy A Parar
Todas Las Tiernas – Yipi Yo
Daddy Yankee -Donde mi no vengas
Falo – Tirame el ritmo
K.I.D. – Yo canto y soy sexy
Daddy Yankee – Suena
Rakim Y Kenny – Si la ves
Don Omar – Dale
Hector Y Tito – Baila Morena
Daddy Yankee – Gasolina
Nejo & Dalmata – Algo Musical ft. Arcangel
Don Omar – Pobre Diabla
Angel y Khris, Ven Bailalo
Baby Ranks, Daddy Yankee, Hector el Bambino – Mayor Que Yo
Daddy Yankee – Ella me levanto
Zion – Zun Da Da
Calle Ciega – Mi Cachorrita
Ivy Queen Yo quiero saber

Que sienten los huespedes de Auroville cuando visitan el parque de la Unidad del Matrimandir? Que experiencia vivencian cuando ingresan a la camara de concentracion?
Mientras cenamos entre amigos en un restaurante local, entrevistamos a Jimena, una Argentina. Aqui les compartimos esta entrevista informal, que surgio espontaneamente.

Una breve relajacion de 30 minutos, guiada por Rosa, explorando la percepcion del cuerpo desde un nivel de conciencia mas profundo.

Anandi presents Auroville, featured by the local radio in Casa Plena, San Cristóbal de las Casas, Chiapas – Mexico.
With thanks to www.SanCrisTV.com – La televisión cultural, alternativa e independiente en San Cristóbal de Las Casas, Chiapas, Mexico for sharing the interview with the Auroville Radio.
This program was recorded by Daniel in December 2005, exactly one year after the Tsunami struck the Auroville's beach communities.
Sri Ma, Repos, Quiet and other settlements were devastated by the killer wave but luckily no residents of Auroville or guests were injured. In the nearby villages the fate was very different: many villagers lost their life and almost all the villages along the cost lost boats and fishing nets.
In this interviews you'll hear the voices of Aurovilians from Israel, US, Argentina, France, UK, The Netherland and India.
Theater scholar and professor and actress, Roxana Pineda, from Cuba played a number of roles to weave her solo performance of Piel Des Violetas. It is inspired by Ophelia, one of William Shakespeare's most famous characters, and expresses a flow of consciousness, almost like a meditation. Roxana's performance was powerful and intense and certainly not to be missed. We hope to give you a flavor of Piel Des Violetas through this audio recording.
Extract from Tantidhatri brochure: 'Passages belonging to Ophelia or that refer to this character have been extracted from Hamlet (by Shakespeare) to weave a complete and defined story. The performance develops through associations and a flow of consciousness in an almost dream-like structure, where events, presented in a non-realistic way, follow the logic of an intimate meditation that occurs after things have happened. Yet, the sensation of present time is given by a new plot and a particular poetic vision, belonging to the performance itself.' More information about Tantidhatri International Women's Performing Arts Festival: tantidhatrifestival.blogspot.in/p/11th.html