Posts Tagged 'Auroville Radio'
Marlenka shares how and why she came to Auroville and her meeting with The Mother. She reveals what made her stay, and the activities she participated in during her time here. Having been affiliated with AurovilleRadio almost since its birth, on the Radio's 13th birthday she discusses her experience of working here.
Auroville has evolved through the years and Marlenka tells us the changes she thinks are most prominent. On the occasion of Auroville's 50th anniversary celebration in Delhi, she explains where Auroville should head next. She treasures the city and talks about what she loves about it the most, and what it means for her to be a true Aurovilian.

Interesting dance performance Bhu/ Earth has been "born" yesterday at Kalarigram , Udayam , Edayanchavadi road as a result of intensive collaborative process of many for over 16 months. Although depicting ancient martial art of Kalaripayattu through a story of young troubled, and angry many, elements of contemporary dance were strongly present. All skillful, and mature dancers (and actors) are also disciples of Kalaripayattu, and we have seen their graceful virtuousity, expressing their deepest emotions and philosophical, spiritual outlook on life, our planet ….universe through dance, and amazing sound either be by percussion or voice ….
Direction and choreography: Philippe Light design: Ashwin Sound design: Suresh With: Thierry, Nikhil, Swaroop, Suresh, Madhu, Prakash Special thanks to: Barbara and Ritam, Lakshmanji, Lavanya and Kalarigram, Aurelio and Swaram, Christophe and Cripa, Jean, Joy, Tapas and Bharat Nivas, Claude and french Pavillon, Krishna , Nilen and Auroville art service, Orly and Well paper, Miriam and Auroville Radio, Kali and Sebastien, Kalou and Eluciole Circus, Savitry and new creation, Last School video students, Vinay, Lalit and french alliance Pondicherry
link to interview made with Philippe, Thierry and Nikhil prior to performance
https://www.aurovilleradio.org/beautiful-synergy/
The jazz band that played on the 25th January in Solitude farm was amazing. The sound of the Matt Littlewood Trio was the perfect accompaniment to the incredible virtuosity of Maarten Visser's saxophone. More than 100 people attended to this gorgeous performance in the middle of the jungle, while a bunch of volunteers were serving delicious meals and fresh drinks.
Maarten Visser – Saxophone
Matt Littlewood – Piano
Holger Jetter – BassSreenath
Srinivasan – Drums
Tracklist song
1) Blue bossa (Kenny Dorham)
2) Dolphin dance (Herbie Hancock)
3) The days of wine and roses (Henry Mancini)
4) Estate (Bruno Martino)
5) Stella by starlight (Miles Davis)
6) Well, you needn't (Thelonious Monk)
7) Song for my father (Horace Silver)
8/9) There will never be another you – All blues (Miles Davis)

In this OTC; an interview with Andrea by Rai Radio 3 in Italy on the recent emergency FM Setup in Cuddalore that we had the chance and honor to give a hand in setting up. You will hear about how the RAS adapted its schedule not overlap with the yearly Youth Center Christmas Fair, and how units contribute products as well (unlike our architects-old story) to the many requests, and an update on our Fund Drive effort, where we have already begun purchasing some of the essential equipment and we still have a way to go in order to achieve our target 850,000 or 13,000 US $
More on Cuddalore FM: This event received a lot of attention and coverage in newspapers, magazines, regional and national Indian TV channels …and also abroad… yesterday the Italian National Cultural channel (RADIO 3) has dedicated a 7 minutes segment to the emergency radio station set up in Cuddalore. http://www.radio.rai.it/podcast/A46040581.mp3
Fund Drive: We have already begun to purchase needed equipment; a new mixing table has been purchased, a pair of professional headphones have arrived and a new computer! The work load in general is growing at the Auroville Radio. The above situation further highlighted the need for an enlarged and committed radio team, which can only happen by providing a basic support for its members.
Please visit https://www.aurovilleradio.org/donate for information on how to contribute by credit card. For transfers within Auroville our account number is #251369
Vinu Karthick is a talented actor who studied in Chennai. In this program Vinu discusses the impact Andrea Tazzari (Auroville Radio) and Jill Navarre (Theatre Centre) have had on his life and his career. An interview with Director Jill Navarre follows in which she discusses the essential characteristics of an actor and how Vinu shines in a variety of demanding theatre roles. He can be seen on stage in the upcoming role of Tom in Tennessee William's The Glass Menagerie (Dec. 2015)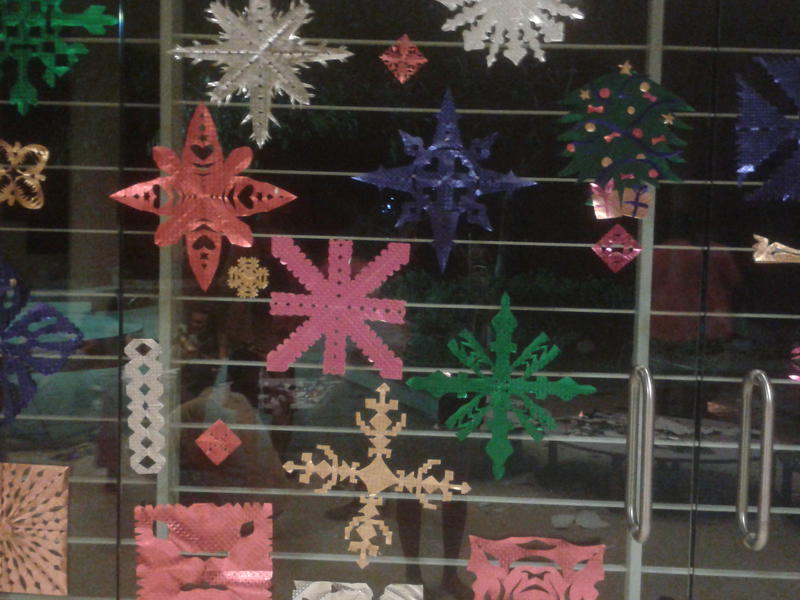 On Christmas eve, 2014; a bunch of rosy eyed children and their still a child at heart parents stepped in at the Unity Pavilion to celebrate the festival of Christmas with friends and strangers and foes and flora, and embraced the mellow evening in all its festive spirit.
Aurovilians, Volunteers and enthusiastic guests sat around the round tables, with the median age ranging from 3 years to 60; as they cut shiny maroon and cobalt and aubergine and golden sheets of paper in the form of snowflakes. These snowflakes were then perched gently onto the transparent wall of glass, so that all the passersby could see them from outside as though they were actual flakes of snow, poised in mid air; pausing their act of snowing and reveling in the charm of the christmas season. The wall was looked as enchantingly colourful as the other segments of the Unity Pavilion, symbolizing the harmony and merger of all the different colours of the rainbow spectrum, as they amalgamate and merge into a soulful, pure, calm and divine white. Such was the spirit among the people there as they shared hot ginger punch, popcorn, chocolate cookies, bell pepper toast, and endless cups of love. Kids and adults alike, hopping around the christmas tree; decorating it with paper ornaments, and whispering secret wishes in Santa's ears.
The atmosphere was soothed by the soulful voices of the choir comprising of a few volunteers and the amazing people taking care of the Unity Pavilion, who made this beautiful get together possible. With christmas carols being sung in French, English, German; and a special spin-off on a carol for the Matrimandir in French by a lovely family; the entire crowd was in a Christmas trance.
Trumpets, harmonium, piano and the guitar; and the melodious voices of the ladies; everyone there couldn't help singing along. This program records the experiences of Duka, Shakti, Abha; oh yes, Santa; and kids Aditi and Aruna; who were among the many breathing the air full of christmas amore.
And special carols to be heard as well! So stay tuned!
Roland et Renu font le point sur la collecte de fonds – à ce jour plus de la moitié du montant a été versé- C'est un sentiment merveilleux que celui de nous voir soutenu de tous les coins de la planète ainsi que par notre communauté ici à Auroville- Nous avons dix jours de plus à pour atteindre notre objectif.
Les fonds ainsi recueillis couvriront l'ensemble des charges annuelles de la radio tout en nous permettant de travailler sur notre projet de création du Media Lab d'Auroville.
www.aurovilleradio/donations
Merci a Vania pour le jingle de la radio.
www.nepsound.com
Roland discusses with Andrea and Renu the fundraising drive achievements so far over half the amount sought has been raised- Its a wonderful feeling to be supported by people globally as well as in Auroville – We have ten more days left to go to achieve our target – The funds raised in this drive will help us achieve the basic expenses to sustain the radio for the year as well as to work towards our future project of creating an Art and Science of Communication school.
www.aurovilleradio/donate
Thanks to Auroville youth and musician Vania for the radio jingle.
www.nepsound.com
Featured today are three radio people whose names are always mentioned as 'instudio'… they are Andrea, Gilles and Yahalom, three anchors of AurovilleRadio; they speak not only about the radio, but also their involvement with it.Tomorrow is Diwali… celebrations include one at Bharat and one at Upasana. The Hibiscus Art Village Project, which will be a residence for artists and craftpersons, calls for artists, performers and creators to participate in its fundraiser presentation to be held next month.
Your focus creates your reality. – William Whitecloud, author of 'The Magician's Way'