Posts Tagged 'Body Awareness'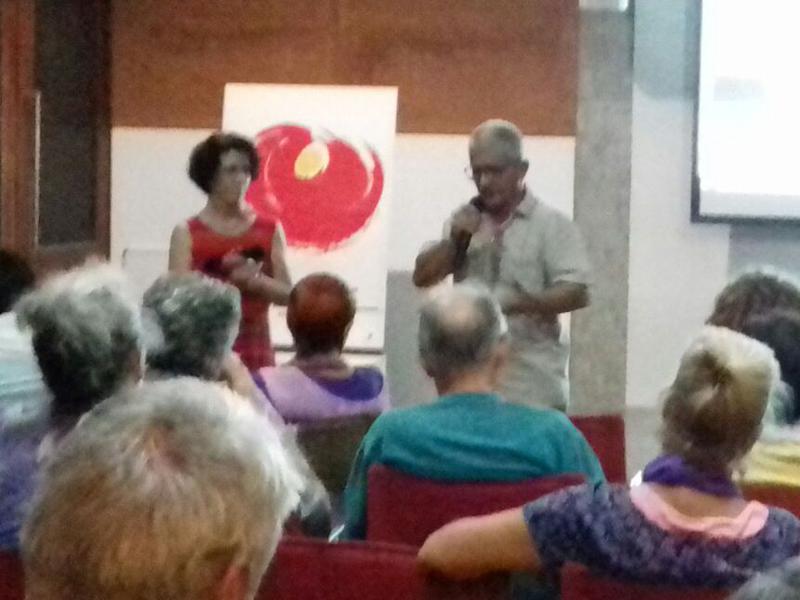 Last night at Bhumika Hall, Bharat Nivas was a special screening of short films: : "A Sacred Message from Colbian Indigenous Tribe"", presented by German Zuluaga from Colombia in Spanish with translation by Stella Rodriguez . Mr.German Zuluaga, visiting guest, has started a Multicultural Community in Sierra Nevada 5 years ago in an abandoned settlement. He started exchanging products and services with the Koggies from a village 5 km away. He wanted to help them to keep their Sacred way of living ,and unexpectedly he has found his own spiritual path.
After the presentation, and screening was a session of questions and answers.
Numerous audience was united in the thought, that that special tribe, which live exclusively spritual life, should be preserved, and kept in peace for the benefit of the future of whole planet.

Another edition of healing frequencies, and we are going back to ancient solfeggio scale by featuring tracks from Gregorian chants, along with orgianl ut, re mi…and other sacred music.
The origin of the ancient Solfeggio scale can be traced back to a Medieval hymn to John the Baptist, and the original frequencies were capable of spiritually inspiring mankind to be more "god-kind".
The original Solfeggio scale was developed by a Benedictine monk, Guido d'Arezzo (c. 991 AD – c. 1050 AD). It was used by singers to learn chants and songs more easily. Today we know the Solfeggio scale as seven ascending notes assigned to the syllables Do-Re-Mi-Fa-So-La-Ti. The original scale was six ascending notes assigned to Ut-Re-Mi-Fa-Sol-La. The syllables for the scale were taken from a hymn to St. John the Baptist, Ut Queant Laxis, written by Paulus Diaconus.
Guido d'Arezzo
The secret meanings of the ancient syllables
Each tone has its own unique potential
As you already know, the syllables used to denote the tones are: Ut, Re, Mi Fa, Sol, La. They were taken from the first stanza of the hymn to St. John the Baptist:
Ut queant laxis Resonare fibris
Mira gestorum Famuli tuorum
Solve polluti Labii reatum
Sancte Iohannes
Literal translation from Latin: "In order that the slaves might resonate (resound) the miracles (wonders) of your creations with loosened (expanded) vocal chords. Wash the guilt from (our) polluted lip. Saint John."
In other words, so people could live together in peace and communicate in harmony about the miracle in their lives, and how God blessed them to produce this "magic", people's true unpolluted spiritual natures required revelation. The above text seems to suggest that Solfeggio notes open up a channel of communication with the Divine.

In the high spirited , intimate space of Adishakti Theatre, classical William Shakepseare's play King Lear is set on stage.
Auroville Theatre group presents King Lear by amazing act of home based actors, along with visiting actors and actresses. Tragedy follows the original language but is set in current time, thus giving actors a freedom to express their characters by their visions. Hard, demanding roles, lengthy time wise has shown the dedication, maturity, and brilliance of the actors.
Classical Shakespeare's tragedy depicts the gradual descent into madness of the title character, after he disposes of his kingdom giving bequests to two of his three daughters based on their flattery of him, bringing tragic consequences for all. Derived from the legend of Leir of Britain, a mythologicalpre-Roman Celtic king,
Due to the restoration work of Bharat Nivas Sri Aurobinod amphitheater, Auroville Theatre Group decided to stage the play at the Adishakti Theatre, Adishakti Laboratory for Theatre, Arts & Research on Edayanchavady Road. Adishakti Theatre with its funder Veenapani Chavla, who was deeply connected to Sri Aurobindo Ashram and Auroville. It is a fascinating place, with utmost respect to vernacular architecture, with reverence towards well being of humans, and nature , yet dedicated and focused in fields of performing arts.

On the 4th of December 2017 in the reading room, at Savitri Bhavan, Dr Nandita Shah shared some of her deep knowledge on the subject of diet and nutrition and the link to many of the diseases such as cancer and diabetes which have severely increased in the last 50 years. She then gives many simple and logical explanations and reasons why we should change the food we eat to be simply more in tune with our instinctual and natural diet, in the same way that all animals instinctively know their natural food, to help alleviate some of these deadly diseases.
Let us all revert back to an organic plant based diet, let Auroville be a place and example to the world for the health and spiritual benefits of this simple shift.
Dr Nandita Shah has just had her new book "Reversing Diabetes in 21 Days" launched in India and published by Penguin Books. It's available on Amazon and will soon be available at the Visitors Centre book shop too.
Her website address is www.sharan-India.org

Full moon it was last Saturday at the Tibetan Pavillion. We experienced ragas sang and played on the Carnatic Veena, a meditative full moon evening with Bruno. Together we dug into the very first principles of Carnatic Music and sang to sense the tonality of swaras on body and mind.
Afterwards Bruno offered us a choice of ragas, krithis and varnams gently plucked on the Saraswathy Veena where Goddess Sarawathy stands for the arts, learning and wisdom.
Thanks for a cheerful full moon evening.
In the name of progress, civilization … lots of damage has been done on this planet.
German Zuluaga, a visitor from Colombia is on the quest to preserve millennium old civilization of indigenous people of Koguis Indians in Colobmia, in the area of La Sierra Nevada.
This morning we had an interesting bilingual conversation (Spanish and English) with German, Stella and Anandi on the topic of preservation of Koguis Indians, and what is actually important in one's life. German outlined spiritual outlook of Koguis Indians system of philosophy, beliefs… He conveys his personal story on happenstance in life that had leaded him to that sacred tribe of indigenous people , and their exclusively spiritual life.

Sweet mix of Afrobeat songs, mostly from East Afrika, with its particular beats of Rhumba, Lingala, Zilipendwa…..

tracklist
Diamond Platnumz – Hallelujah
Rich Mavoko – Rudi (feat. Patoranking)
Jux – Juu
Harmonize – Sina
Aslay – Angekuona
Aslay – Natamba
Saida Karoli – Orugambo
Lameck Ditto – Moyo Sukuma Damu
Harmonize, Rich Mavoko – Show Me
Nandy – Wasikudanganye
Rich Mavoko – Sheri (feat. Fid Q)
Darassa – Hasara Roho
Harmonize – Niambie
Lava Lava – Dede
Patoranking – Love You Die
Ben Pol – Phone (feat. Mr Eazi)
Diamond Platnumz – Eneka
Lava Lava – Tuachane
Rayvanny – Mbeleko
Rayvanny – Unaibiwa
Harmonize – Shulala (feat. Korede Bello)
Rayvanny – Zezeta
Diamond Platnumz – I Miss You
Diamond Platnumz – Marry You
Diamond Platnumz – Zilipendwa (feat. Harmonize, Rich Mavoko & Rayvanny)

In today's news we are featuring short excerpt of interview by D with Yatra Srinivassan and Meenakshi on Yatra's first book YATRA SIRUKATHAIKAL, which would be launch today at 5pm at Ilaignarkal Education Centre by Kavingar and Meenakshi.
Cats invite you to an offering in French (Tuesday 5th December) and an offering in English (Tuesday 12th December) by Yves and the Lotus group on"Progressive Integral Economy- An Economy with Engagement Steps for all"at the Unity Pavilion from 4.15 p.m. to 6.30 p.m. on each day.
The Working Committeei is sharing for your information the attached guidelines for all Higher Educational Institutions regarding remittance of fees in respect of OCI Children studying in India while admission in Higher Institutions of India.
Friday 1st December at 5pm at Ilaignarkal Education Centre DEEPAM KARTHIKAI FESTIVAL We are invited to carry a lamp of inspiration for a greater celebration towards human unity as envisaged by The Mother .
On Saturday 2nd December at 6 pm at Deepam School we are invited once again to Deepam Celebration of Light with children of Deepam School at Aspiration Campus.
On Thursday 30th November at 3 pm, Le Morgan.Self Governance Auroville; today with reading of the Fundation Act.
Friday 1st of December from 5.30 pm to 6.30 pm.at Visitors Centre Open Capoeira Roda Meet the Ginga Saroba Capoeira Group (adults & kids) for its monthly circle . Additionally, join our trial class on Thursday 7th of December at 6 pm, Deepanam School Amphitheater.
All is relative except the Supreme. The Supreme alone is absolute; but as the Supreme is at the centre of each being, each being carries in himself his absolute.
The Mother