Posts Tagged 'Art'
Joyful Circe has payed visit to our studio, and with her we share a conversation which lead from her e childhood spent in Auroville to her music.
Memories of a child growing in a city with red earth, and special energy of the space …. which keeps calling one back.
Circe remembers an Auroville in her childhood very different .." simpler, smaller, and yet distances bigger.. a deep feeling , a sense of one's freedom. Everything was slow, but real…." shares with enthusiasm .
Since her professional path is music, Circe shares some tracks with us, and you can her them spread the interview.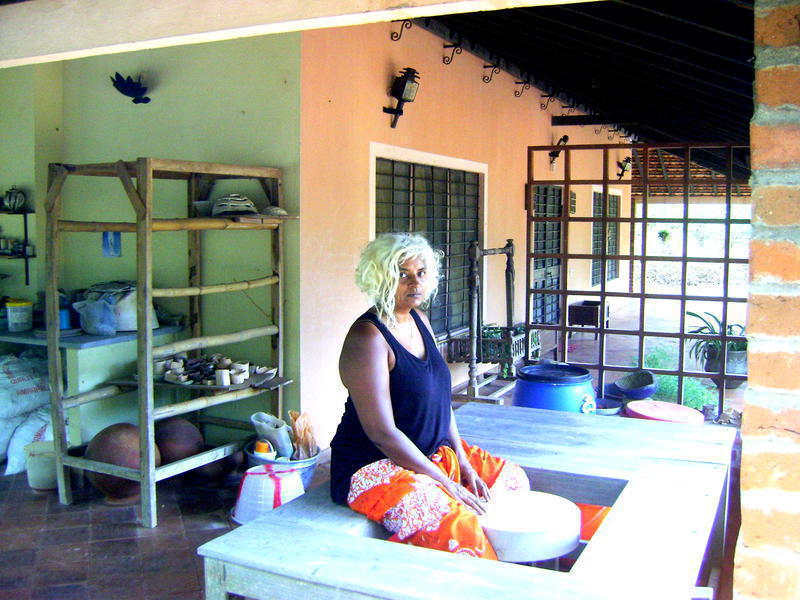 Through talks with Supriya, a ceramic artist, we get to know about herself, her studio and her arrival to the city of dawn.
Pottery is the craft of making ceramic materials into pots or Potterywares, one of the oldest occupations of humankind that involves physical, mental and spiritual activity which can give one great pleasure to give shape to clay and birth of a new life with the help of a wheel and a kiln.

Often mistaken for reggae or reggae en espanol, reggaeton is a younger genre which originated in the clubs of San Juan, Puerto Rico in 1991. It became known as "underground" music. DJ Playero and DJ Nelson were inspired by hip hop and Latin American music to produce "riddims," the first reggaeton tracks. As Caribbean and African-American music gained momentum in Puerto Rico, reggae rap in Spanish marked the beginning of the Boricua underground and was a creative outlet for many young people.
In this musical edition we travel from first tracks, all the way to Gasolina, and a bit beyond, featuring DJ Players, Playero, Don Omar, Rakim Y Kenny, Ivy Queen….

tracklist
Street Mix Dj Playero
Blanco – Sigan Bailando
Maicol y Manuel Le gente sabe
Daddy Yankee Te ves bien
Ruben Sam – Miss Goody Goody
O.G. Black – La predilecta
Buru Fat Z – Pedaleando
Street Mix 2 Dj Playero
Mexicano – No Voy A Parar
Todas Las Tiernas – Yipi Yo
Daddy Yankee -Donde mi no vengas
Falo – Tirame el ritmo
K.I.D. – Yo canto y soy sexy
Daddy Yankee – Suena
Rakim Y Kenny – Si la ves
Don Omar – Dale
Hector Y Tito – Baila Morena
Daddy Yankee – Gasolina
Nejo & Dalmata – Algo Musical ft. Arcangel
Don Omar – Pobre Diabla
Angel y Khris, Ven Bailalo
Baby Ranks, Daddy Yankee, Hector el Bambino – Mayor Que Yo
Daddy Yankee – Ella me levanto
Zion – Zun Da Da
Calle Ciega – Mi Cachorrita
Ivy Queen Yo quiero saber

Exploring ancient , sacred music of the world. Traveling from West to East, from Today to Yesterday, and back….
tracklist
God is sufficient unto me
Russian orthodox angelic song
Libera – You were there
Angelus
I Love The Lord, He Heard My Cry (Old Meter Hymns) Rev Timothy Flemming
Varsity Sing- Indela-Koloi
Meditation Music Of Ancient Egypt]- Sacred Ceremony,
A Ka Dua – A Musickal Celebration of the Thelemic Holy Days
Imee Ooi – Usnisa Vijaya Dharani Sutra
Radiant Heart. Shadi Toloui-Wallace
Shinto Japanese Music
Nepal, Tibet and the Himalayas – Tibetan Chant sung by Dechen
Native American – Music – (Shoshone)
Mayan Civilization Music
Musica Pre Hispanica-El Aguila Blanca
Nyahbinghi Elders Trodding To Zion