Category Archives:
Performing Arts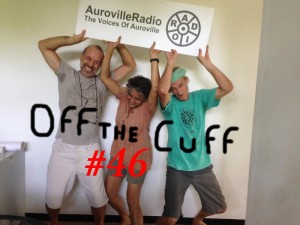 OTC's random topics of the day: Gandhi Jayanti an official holiday but the radio team was busy and preparations for the Film festival, that is opening today, were on-going. Movies from all over the world were collected and it is an exciting moment for all.
Auroville is covered by the major Indian newspapers with positive articles regarding our cultural events and more. It's amazing to see how productive Auroville is. Meanwhile Pour Tous Water has its first birthday and Wazo suggests that BCC & Finance needs a collective re-thinking to look at how to move to a service society and a Fraternal Economy. Renu gives a brief report on wildlife sightings and the magic relation with nature in the Green Belt concerning wasps and bees. The Millidacious play and how to balance the free access to events organized in Auroville and the people who come from outside and the costs faced by the artists?

To support Off the Cuff and the Auroville Radio please visit the page: http://www.aurovilleradio.org/donate
This Friday regardless of our individual distractions we manage to note a few things like the odd coincidence of a computer bug in the Financial service system after Ganesh birthday Puja, a call for new members of the Unity Fund that describes needed skills but seemingly makes no demands for an economic vision or direction. We mention a debate on Auronet claiming that we should cut trees to save water?!! Meanwhile wells along the East Coast Road are increasingly turning saline due to salt water intrusion ... the only potential upside to this disaster is that it may effect the inflated land prices. Where to go for a cheap dosai in Auroville? We let you know and some loose talk on our food spots, and a short feedback on the recent Group Meditation called by the RAS and of course how to slash donate to keep the radio going and to support this and other programs at the Auroville Radio please visit the page: http://www.aurovilleradio.org/donate
Before her departure to pursue higher studies Chandra has decided to share with the community bansuri flute recital last night at Indian Space, Bharat Nivas, Pavilion of India, International Zone. At that occasion she was accompanied with one of her teachers of Hindustani music Bryce from Sri Aurobindo Ashram on bansuri flute, and Devi on veena. Chandra herself was for past three years a student of Pandit Hariprasad Chaura. Ragas and tunes of Hindustani classical music, played with amazing virtuousity were carrying listeners beyond the space and time, revealing ancient spirits of India.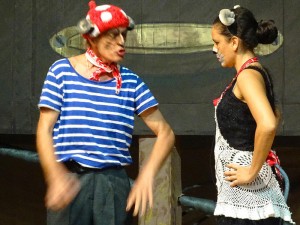 After many months of preparations, rehearsals, mega production of musical Millidacious is on the stage. Simple story by Paul about and around the mouse Mili, a mouse with the soul who can see beyond borders and have a heart to oversee the differences, and always looks for the best in the one next to her; who after all contributes to solve the life threatening conditions, and reunite real love… About hundred performing, many behind and around the stage, a musical kept the audience on seats anticipating the next moment, next song and dance. Millidacious has proven again that our community is very creative, and leaves no one who would like to participate out. Actors are becoming better and better, regardless the age. Songs home made inspire to dance and sing along. Amazing, fun, soulful.
And the proverb If you want to go fast, go alone, if you want to go far, go together applies here as for the story as for the whole production of the musical. Written by Paul. Songs by Paul and Matt. Musical arrangement by Matt. Additional lyrics Clare, Mukta, Swaha. Bast in order of appearance – Aloe, Dinesh, Ahilya, Mir, Krishna, Emanuele, Alyana, Anandamayi, Clare, Jana, Wazo, Kripa, Leela, Jesse, Tara, Pooja, Anadi, Sita, Otto, Hannah, Zohar, Sauman, Maheshan, Eden, Amara, Marissa, Noemie, Mira, Yam, Veronique. Additional cast members – Avvalyar, Gregori, Gugielmo, India, Kalou, Sama, Elke, Elodie, Kaeridwyn, Kilan, Sarah, Suresh, Yogesh, Barath, Claire, Milo, Nadir, Pele, Sudarsana, Zara, Ishan, Mael, Soledad, Surya, Yael, Zoe, Asia, Madu, Thalia. Youth Choir – Abitha, Auroshree, Cameron, Chandra, Daniel, Wurydice, Harsh, Hye Yoon, Janbchup, Manisa, Masha, Priyam Rathna. Production director – Paul Assistant Production Director – Mukta Stage Director – Jesse Choreography – Elodie Costume design and stylist – Jyotis Costume assistant – Gabi, Aurdha, Gabi Set – Nele, Shona, Grazi, Sabrina, Nicole, Tashi, Renu, Wouter Carpenters – Adhi, Prakash, Raji, Suresh, Ayenar Scaffolding – Anad and Matrimadnir crew Make up – Jo, Ange, Nicle, Karen Musicians – Matt – piano, Txuma – bass, Matthia – drums, Andy – rhythm guitar, Edo – lead Guitar, Gregori – keyboards Assistant musical director – Swaha Singing direction – Nuria Sound – Ruben, Antonio, Saga Lighting design – Mahi Lighting crew – Smiti, Shristi, Kumaran, Manjula, Ashwin, Jean Follow spots – Nasim, Dinesh S Prompting – Pala Stund coordinator – Glenn, Hedia Filming – Doris, Francis Graphic Design – Sabrina Illustrations – Shona Catering – Auradha, Angela, Jessamijn Funding – SAIIER and FWE Recording – Auroville Radio
More images here: 
https://www.facebook.com/media/set/?set=a.728958897235723.1073741833.585209978277283&type=1&l=3e73641f33
And here: 
https://drive.google.com/folderview?id=0B2oR-RfsTYbVMGdzZmN5bmJSUlU&usp=drive_web
Mime Troupe of Auroville last night at SAWCHU, Baharat Nivas, Pavilion of India, International Zone shared a short performance dedicated to the Masters of Mime and The Spirit behind the world Metropols. After the performance Drupad informed the audience about the upcoming Mime Festival at the end of November in Auroville.
As usual here are our off the cuff topics for this week. We discuss sludge and the community, Feedback on Auronet, the proposal for entry, the issue of Auroville lands; usage, protection and fencing , the ACUR management, BCC and the Auroville Services. Andrea donates a couple of Galaxies as the universe is very generous and Wazo speaks of Fraternity while we still wait for some audio messages (an added feature on our web-site). Anyone in Auroville is always welcome at the radio to correct our views or explain why things are not the way we happen to see them.