Category Archives:
Performing Arts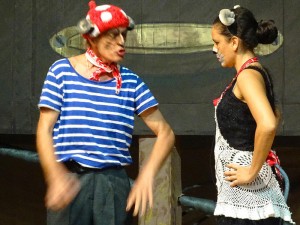 After many months of preparations, rehearsals, mega production of musical Millidacious is on the stage. Simple story by Paul about and around the mouse Mili, a mouse with the soul who can see beyond borders and have a heart to oversee the differences, and always looks for the best in the one next to her; who after all contributes to solve the life threatening conditions, and reunite real love… About hundred performing, many behind and around the stage, a musical kept the audience on seats anticipating the next moment, next song and dance. Millidacious has proven again that our community is very creative, and leaves no one who would like to participate out. Actors are becoming better and better, regardless the age. Songs home made inspire to dance and sing along. Amazing, fun, soulful.
And the proverb If you want to go fast, go alone, if you want to go far, go together applies here as for the story as for the whole production of the musical. Written by Paul. Songs by Paul and Matt. Musical arrangement by Matt. Additional lyrics Clare, Mukta, Swaha. Bast in order of appearance – Aloe, Dinesh, Ahilya, Mir, Krishna, Emanuele, Alyana, Anandamayi, Clare, Jana, Wazo, Kripa, Leela, Jesse, Tara, Pooja, Anadi, Sita, Otto, Hannah, Zohar, Sauman, Maheshan, Eden, Amara, Marissa, Noemie, Mira, Yam, Veronique. Additional cast members – Avvalyar, Gregori, Gugielmo, India, Kalou, Sama, Elke, Elodie, Kaeridwyn, Kilan, Sarah, Suresh, Yogesh, Barath, Claire, Milo, Nadir, Pele, Sudarsana, Zara, Ishan, Mael, Soledad, Surya, Yael, Zoe, Asia, Madu, Thalia. Youth Choir – Abitha, Auroshree, Cameron, Chandra, Daniel, Wurydice, Harsh, Hye Yoon, Janbchup, Manisa, Masha, Priyam Rathna. Production director – Paul Assistant Production Director – Mukta Stage Director – Jesse Choreography – Elodie Costume design and stylist – Jyotis Costume assistant – Gabi, Aurdha, Gabi Set – Nele, Shona, Grazi, Sabrina, Nicole, Tashi, Renu, Wouter Carpenters – Adhi, Prakash, Raji, Suresh, Ayenar Scaffolding – Anad and Matrimadnir crew Make up – Jo, Ange, Nicle, Karen Musicians – Matt – piano, Txuma – bass, Matthia – drums, Andy – rhythm guitar, Edo – lead Guitar, Gregori – keyboards Assistant musical director – Swaha Singing direction – Nuria Sound – Ruben, Antonio, Saga Lighting design – Mahi Lighting crew – Smiti, Shristi, Kumaran, Manjula, Ashwin, Jean Follow spots – Nasim, Dinesh S Prompting – Pala Stund coordinator – Glenn, Hedia Filming – Doris, Francis Graphic Design – Sabrina Illustrations – Shona Catering – Auradha, Angela, Jessamijn Funding – SAIIER and FWE Recording – Auroville Radio
More images here: 
https://www.facebook.com/media/set/?set=a.728958897235723.1073741833.585209978277283&type=1&l=3e73641f33
Mime Troupe of Auroville last night at SAWCHU, Baharat Nivas, Pavilion of India, International Zone shared a short performance dedicated to the Masters of Mime and The Spirit behind the world Metropols. After the performance Drupad informed the audience about the upcoming Mime Festival at the end of November in Auroville.
As usual here are our off the cuff topics for this week. We discuss sludge and the community, Feedback on Auronet, the proposal for entry, the issue of Auroville lands; usage, protection and fencing , the ACUR management, BCC and the Auroville Services. Andrea donates a couple of Galaxies as the universe is very generous and Wazo speaks of Fraternity while we still wait for some audio messages (an added feature on our web-site). Anyone in Auroville is always welcome at the radio to correct our views or explain why things are not the way we happen to see them.
Off The Cuff is growing and growing! It seems that we now have 4 or 5 listeners !...
The Millidacious show is starting tonight and we have a short report regarding its preparation back-stage.
We were told that there is conspiracy already in place for the selection of new members for the next Auroville Council and Working Commitee.
Renu reflects on the importance of representing Auroville values in administration despite the difficulties faced. Services are moving forward in sharing a common place in the Service Area. Wazo proposes that the BCC should present their own report and that the commercial mind set operating there should be changed into a service oriented vision and direction. Solar Kitchen is going to discontinue providing dinner as too few people are present however Andrea mentions that the previously popular Solar Cafe' is closed in the evening and it may be considered to keep it open in the night to serve food.

To support Off the Cuff and the Auroville Radio please visit the page: http://www.aurovilleradio.org/donate
Community is already buzzing - yes, the new musical is coming up, and following is an short interview with Paul, who wrote the story, and music is also "home made" In the musical we will follow the story of a mouse Milli, and her transformation. The project of musical involves many people, beside 100 on the stage and extraordinary back room help. Another few days, and on 25th, 26th and 27th at Sri Aurobindo Auditorium, Bharat Nivas, Pavilion of India. and we will need Free tickets to attend the show, which we will be able to collect from Friday 18th :

http://booking.wattmon.in/
or we can pick them up at Solar Kitchen and Town Hall


audacious
???de???s/
adjective
adjective: audacious

1.
showing a willingness to take surprisingly bold risks.
"a series of audacious takeovers"
synonyms: bold, daring, fearless, intrepid, brave, unafraid, unflinching, courageous, valiant, valorous, heroic, dashing, plucky, daredevil, devil-may-care, death-or-glory, reckless, wild, madcap; More
adventurous, venturesome, enterprising, dynamic, spirited, mettlesome;
informalgame, gutsy, spunky, ballsy, have-a-go, go-ahead;
rareventurous, temerarious
"the audience were left gasping at his audacious exploits"
antonyms: timid
2.
showing an impudent lack of respect.
"he made an audacious remark"
synonyms: impudent, impertinent, insolent, presumptuous, forward, cheeky, irreverent, discourteous, disrespectful, insubordinate, ill-mannered, bad-mannered, unmannerly, mannerless, rude, crude, brazen, brazen-faced, brash, shameless, pert, defiant, bold, bold as brass, outrageous, shocking, out of line; More
informalbrass-necked, cocky, lippy, mouthy, fresh, flip;
informalsaucy, smart-arsed;
informalsassy, nervy, smart-assed;
archaicmalapert, contumelious
"Des made some audacious remark to her"
antonyms: polite

Origin
In this episode we share our observations, joys and apprehensions on random topics such as Sydo's visiting brother, the 908 days to Auroville's 50th Celebration, Wazo explains the layers of festivals as "official" and "underground", how policies sometimes do exactly the opposite of their original intention and solutions to help fix that, our wonderful tech team, the new sludge plant and if our economy is detrimental to best practices, the development ideals we stick to versus what people actually want and more ...