Category Archives:
Performing Arts
In this issue we remember last years event (freedom of expression , Charlie Hebdo), we explore privacy and public information and discuss visions of diplomacy in Auroville in relation with embassies and the International Zone with regard to todays functioning.

To support Off the Cuff and the Auroville Radio please visit the page: http://www.aurovilleradio.org/donate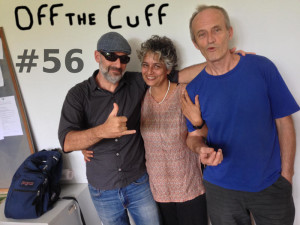 In this OTC; an interview with Andrea by Rai Radio 3 in Italy on the recent emergency FM Setup in Cuddalore that we had the chance and honor to give a hand in setting up. You will hear about how the RAS adapted its schedule not overlap with the yearly Youth Center Christmas Fair, and how units contribute products as well (unlike our architects-old story) to the many requests, and an update on our Fund Drive effort, where we have already begun purchasing some of the essential equipment and we still have a way to go in order to achieve our target 850,000 or 13,000 US $ More on Cuddalore FM: This event received a lot of attention and coverage in newspapers, magazines, regional and national Indian TV channels …and also abroad... yesterday the Italian National Cultural channel (RADIO 3) has dedicated a 7 minutes segment to the emergency radio station set up in Cuddalore. http://www.radio.rai.it/podcast/A46040581.mp3 Fund Drive: We have already begun to purchase needed equipment; a new mixing table has been purchased, a pair of professional headphones have arrived and a new computer! The work load in general is growing at the Auroville Radio. The above situation further highlighted the need for an enlarged and committed radio team, which can only happen by providing a basic support for its members. Please visit http://www.aurovilleradio.org/donate for information on how to contribute by credit card. For transfers within Auroville our account number is #251369
In which we discuss the uses of data, the new decision making process, the various meetings and decisions like the new FAMC mandate, Farm Group feels misunderstood by the BCC, the Youth Center to discuss its destiny, AV50th and other random topics of interest and dis-interest.

To support Off the Cuff and the Auroville Radio please visit the page: http://www.aurovilleradio.org/donate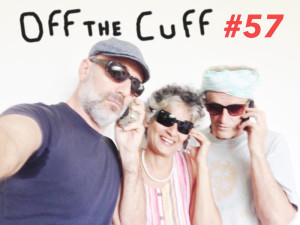 Christmas morning with clear and sunny skies in a very silent town hall we gather to share impressions of the seasons celebration's at home in the cosmos at the recent youth center fair, markets close and distant of evolving personal and general observations and the last week and final call for our fund raising campaign.
Christmas memories, Cosmos, light celebrations, youth center Christmas fair ...

To support Off the Cuff and the Auroville Radio please visit the page: http://www.aurovilleradio.org/donate
We discuss the stuff of the week such as: requests for volunteers in many areas like entry, housing, famc etc and the apparent reluctance to join or take on these jobs, why? Wazo notes that the way we work is not much fun. Some bla bla on the nowhere land of the present direction, the experience of Ptwater towards an Auroville of free services, (our favorite topic) and Renu thinks contributing to the land, all together as a collective is important even if we dont understand todays reality.
On Saturday evening, a small audience gathered to partake in a 45 minute butoh performance in CRIPA. Upon entering, they found a lone dancer, crumpled on the side of the stage area, bare legs splayed below her short black jacket, a bouquet of red autumn leaves sprouting from her pocket.

The ensuing butoh performance, partially planned, partially improvised, included 6 dancers (Sati, Honza, Gorka, Pamela, Kaska and Isa) from Rhizome Lee's Subbody Butoh School in Dharamsala. Gorka is also a musician, and provided most of his resonance from his musical table of wonders, positioned to the side of the performance arena. However, even he took the stage at moments, including a bizarre yet expansive, vaguely operatic vocal solo from centre stage.

The 45 minutes were full of the indescribable. As you will hear in the sounds of the evening, there were moments of silence, moments of vocalization from the dancers, and great crescendos of sound and movement. Upon finishing, the audience was invited to jam and move with the dancers for another hour.

The dancers are here on their South Indian tour and stay in Auroville until Wednesday, giving a few more workshops at Eluciole Circus in Miracle Community.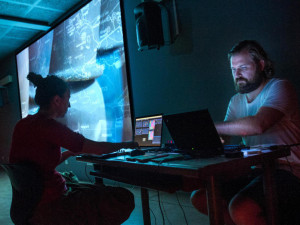 They never met before. He (Kiritan Flux) works as a live visual artist in Berlin. His artistic work ranges from VJ shows at prominent techno events to more conceptual live-cinema performances tailored to their unique local context. She (Chloé Sanchez) travels between Auroville and France where she composes sounds for performing art, sound installation, radio and documentary. Kiritan Flux was creating visuals in a live setting that solely consisted of video footage that was shot in Auroville by his partner Tlalit Segal Raayoni and himself just the day before the performance, while Chloé Sanchez created a soundscape from her collection of audio recordings captured in Auroville over the past years. They met for the first time only on the day of the performance! Listen to the sound part on AurovilleRadio, click top right "play" button. Have a look of the video excerpt of the performance edited by Christoph here : https://vimeo.com/149995178 kiritan flux & chloé sanchez @ auroville from brainfever on Vimeo. Friday, December 18th, 2015 MMC / Cinema Paradiso, Auroville, India total duration of live performance: 45 minutes flux.vision chloe-sanchez.weebly.com tlal.it brainfever.in live performance credits: audio improvisation: chloé sanchez video improvisation: kiritan flux camera: kiritan flux, tlalit segal raayoni production: christoph pohl, brainfever media productions video credits: videography: tlalit segal raayoni, christoph pohl photography: marco saroldi sound recording: chloé sanchez editing: christoph pohl production: christoph pohl, brainfever media productions thanks to: chloé flux tlalit krishna marco auroville art service fabienne auroville outreach media