Category Archives:
Performing Arts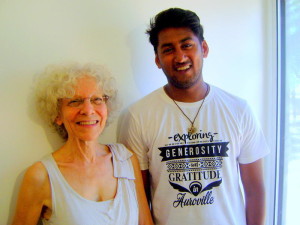 Tonight 5th, tomorrow 6th and after tomorrow 7th May at 7:30 pm at CRIPA Garden (behind CRIPA), Kalabhumi.The Auroville Theatre Group presents All My Sons by Arthur Miller, directed by Jill, the creative director of AV Theatre Group.

This morning we hosted Jill and one of the actors in the play, Nishant Saini in our studio, and the conversation was going on around the play, and Nishant experiences.
Among others Jill on the question of relevance of the play to Auroville says, that she has chosen this play to be reminded on "our share of responsibility ... or what could happened, or what are the consequences of not thinking through ..."

All My Sons by Arthur Miller is directed by Jill , and we will see on the stage Swar, Jill, Shilpi, Vinu Karthick, Nishant Saini, Ahmed, Myrta, Manjula Selvam, Satyendra Kumar, Satish T.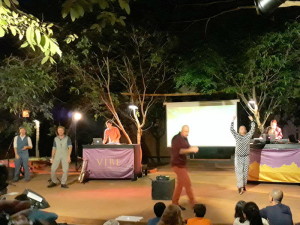 From the last performance within Remembering Veenapani, a month long Festival at Adishakti we have witnessed Massive Vibe Live! concert. As a ground breaking music production, produced and with lyrics by Queen Be. The global tour "Perfect as You Are" they use powerful lyrics, music, magnetizing visuals and dance for a power packed performance. With lively sax, harmonica and hang solos, uplifiting percussion and stunning visual running throughout the show, bringing and atmosphere world-changing lyrical and visual magic. And as the members saying they are the people of the world, who came together and claim their birthright to be powerful... to be of benefit to all. Band John - lead singer, YUK George - sax, US Pete - keys, UK Niketa - dancer, Sweden Arun - percussion, India Vlad - harmonica, trombone, Bulgari, UK Kyle - Visual, Asutralia Crew: Katharina Raysz - direction , Germany, US Asaf Chenner - tour manager, Australia Lizzie Keates - PR and live stream, UK Sonic Omar - PR and social newtoworking, UK Celine Smith - band manager, France, UK http://massivevibe.com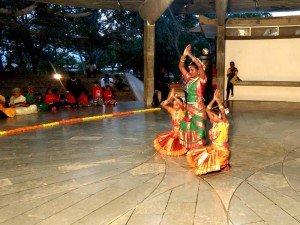 Auroville women celebrate International Women's Day by hosting traditional music, dance and 'kolam' (chalk art) competitions at Swachu Building at Bharat Nivas on 18 March 2017. The United Nations theme for International Women's Day 2017, focuses on "Women in the Changing World of Work: Planet 50-50 by 2030". While the women in cities were occupied in either organizing or participating in various conferences and meetings, Women at Auroville have celebrated the day by promoting the local culture in three forms viz., music, dance, art by spreading the theme of gender equality and women civic participation in the society. Grace, Usha and Mathi from Auroville have taken a lead role in organizing various cultural activities which includes music and dance competitions and also performances. Bregette (from Hollande) has been at Auroville and serving at Matrimandir for five years now and in talking to the Auroville Radio she expressed her excitement of being part of this community in rendering various services mainly to the 'art and culture'. Mayawati, from La Farm has been the instructor for the 'kolam' art competition. Many young girls, students and women participated and filled the floor of the building with amusing and colorful art.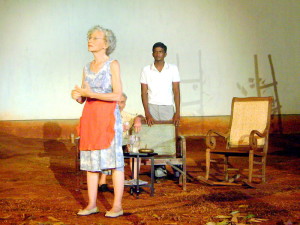 Thie weekend (5th, 6th, 7th) Auroville Theatre Group presents Arturh Miller's play All My Sons at CRIPA's garden in Kalabhumi.
The play is Miller's first great play about family, ethics, money, and love.
Being set at the back of CRIPA, and story is going on at the backyard of family's house in Ohio, to audience brings a certain intimacy , closeness to the family, and involvement to the story.
Despite that is set in years after War II , play does draw the parallel on what is going on at the moment on the planet, and we can easily translate it in every day situations, where the question of responsibility of conscious choice play a vital role.
Amazing acting of Swar, Jill, Shilpi, Vinu Karthick, Nishant Saini, Ahmed, Myrta, Manjula Selvam, Satyendra Kumar, Satish T; under the direction of Jill.
All the actors, regardless being old "cats" or new ones, proved their acting maturity.
Last School Theater presents sequence of Three Masken and Where is Tamanna?; another comedy play written and directed by Dyuman. Three Maskmen, petty clumsy thieves who with their elaborated plans aspire to be big "fishes". Does the complexity of twist and turns in plan bring the wanted result? Play is staged and produced by students of Last School of school year 2016/17, and we have a chance to see some already proven actors, and some good new ones.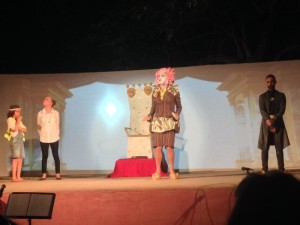 Set in the imaginary City of Neotopia, the play tells a story of a government frustrated by their city's lack of growth. In an attempt to identify the main obstacles to the city's progress, a group of politicians invite in a team of foreign consultants to identify the problem. After an exhaustive study, the consultants conclude that the main obstacle to the city's growth is the citizens, recommending the introduction of a new kind of citizen - Citizen One. Free from the inconvenience of emotion and opinion, Citizen One promises to get things moving again, but things do not go as planned. Photographs by Marco Saroldi here ---- The Office of Progress has been made aware of the presence of a subversive theatrical production. DO NOT WATCH THIS PERFORMANCE SUBVERSIVE MATERIAL TITLE: CITIZEN ONE Citizens are advised to avoid this performance at the following coordinates: WHEN: 8pm, SATURDAY MARCH 4 WHERE: KALABHUMI AMPHITHEATRE You are at risk of being reprogrammed. GRAPHIC MATERIAL WARNING! This post also contains attached graphic material. Do not look at it, do not listen!