Category Archives:
Performing Arts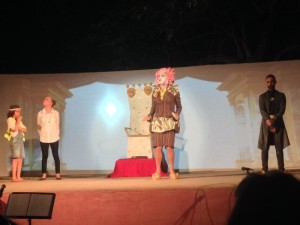 Set in the imaginary City of Neotopia, the play tells a story of a government frustrated by their city's lack of growth. In an attempt to identify the main obstacles to the city's progress, a group of politicians invite in a team of foreign consultants to identify the problem. After an exhaustive study, the consultants conclude that the main obstacle to the city's growth is the citizens, recommending the introduction of a new kind of citizen - Citizen One. Free from the inconvenience of emotion and opinion, Citizen One promises to get things moving again, but things do not go as planned. Photographs by Marco Saroldi here ---- The Office of Progress has been made aware of the presence of a subversive theatrical production. DO NOT WATCH THIS PERFORMANCE SUBVERSIVE MATERIAL TITLE: CITIZEN ONE Citizens are advised to avoid this performance at the following coordinates: WHEN: 8pm, SATURDAY MARCH 4 WHERE: KALABHUMI AMPHITHEATRE You are at risk of being reprogrammed. GRAPHIC MATERIAL WARNING! This post also contains attached graphic material. Do not look at it, do not listen!
Last night performance Park at Adishkati within Remembering Veenapani month long festival yielded laughter from the gathered audience. A Sandbox Collective production directed by Nimi Ravidran on humorous way highlighted human psychology when it comes to ego and possession. Set in the small park of three benches with an inevitable squabble for the choicest of seats by three men Playwright: Manav Kaul Director: Nimi Ravidran Performers: Ashis D'Abreo, Jimmy Xavier, Deepak Subrahmanya Light: Bharavl Sound: Medha Agrawal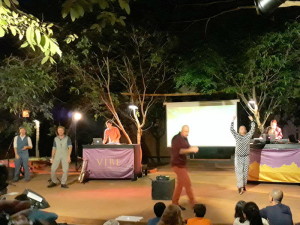 From the last performance within Remembering Veenapani, a month long Festival at Adishakti we have witnessed Massive Vibe Live! concert. As a ground breaking music production, produced and with lyrics by Queen Be. The global tour "Perfect as You Are" they use powerful lyrics, music, magnetizing visuals and dance for a power packed performance. With lively sax, harmonica and hang solos, uplifiting percussion and stunning visual running throughout the show, bringing and atmosphere world-changing lyrical and visual magic. And as the members saying they are the people of the world, who came together and claim their birthright to be powerful... to be of benefit to all. Band John - lead singer, YUK George - sax, US Pete - keys, UK Niketa - dancer, Sweden Arun - percussion, India Vlad - harmonica, trombone, Bulgari, UK Kyle - Visual, Asutralia Crew: Katharina Raysz - direction , Germany, US Asaf Chenner - tour manager, Australia Lizzie Keates - PR and live stream, UK Sonic Omar - PR and social newtoworking, UK Celine Smith - band manager, France, UK http://massivevibe.com
Another event for the "Remembering Veenapani Festival 2017", "Rage & Beyond: Irawati's Gandahari" under the writing and direction of Sanjukta Wagh, with Hitesh Dhutia on acoustic guitar. Sanjurta Wagh says: "Rage and Beyond" is not just my response to the character of Gandhari as she appears in Iravati Karve's "Yugant", a text that was hailed as one of the first contemporary reinterpretations of the Mahabharata by a woman writer in the 1960's. When I enter this text in 2014, I am negotiating with the tremendous ebb and flow that inevitably happens when one tries to embody an archetype, a mythological character that is so deeply entrenched in the Indian cultural consciousness. It is at the same time my interaction with Irawati Karve as an empowered woman, deeply rooted in Marathi tradition, someone who was known for her scholarship and yet sought to have a conversation with the world through her non-academic writing. In this rewriting and embodiment of Irawati's Gandhari, I am trying to keep this complexity alive without the need to either essentialise or glorify either author or her character, by not trying to fill in the blanks."
On the 15th Janurary 2017 at Cripa, Francesca enacted a monologue from Satprem's interview "7 days in India" titled "My Burning Heart", which was directed by Moghan. It was such a great performance where everyone present appreciated the acting as much as the story.