Category Archives:
Performing Arts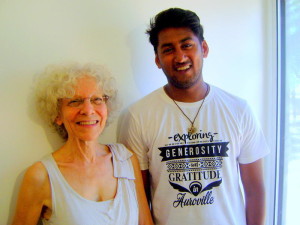 Tonight 5th, tomorrow 6th and after tomorrow 7th May at 7:30 pm at CRIPA Garden (behind CRIPA), Kalabhumi.The Auroville Theatre Group presents All My Sons by Arthur Miller, directed by Jill, the creative director of AV Theatre Group.

This morning we hosted Jill and one of the actors in the play, Nishant Saini in our studio, and the conversation was going on around the play, and Nishant experiences.
Among others Jill on the question of relevance of the play to Auroville says, that she has chosen this play to be reminded on "our share of responsibility ... or what could happened, or what are the consequences of not thinking through ..."

All My Sons by Arthur Miller is directed by Jill , and we will see on the stage Swar, Jill, Shilpi, Vinu Karthick, Nishant Saini, Ahmed, Myrta, Manjula Selvam, Satyendra Kumar, Satish T.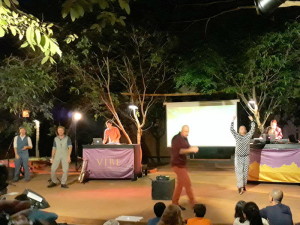 From the last performance within Remembering Veenapani, a month long Festival at Adishakti we have witnessed Massive Vibe Live! concert. As a ground breaking music production, produced and with lyrics by Queen Be. The global tour "Perfect as You Are" they use powerful lyrics, music, magnetizing visuals and dance for a power packed performance. With lively sax, harmonica and hang solos, uplifiting percussion and stunning visual running throughout the show, bringing and atmosphere world-changing lyrical and visual magic. And as the members saying they are the people of the world, who came together and claim their birthright to be powerful... to be of benefit to all. Band John - lead singer, YUK George - sax, US Pete - keys, UK Niketa - dancer, Sweden Arun - percussion, India Vlad - harmonica, trombone, Bulgari, UK Kyle - Visual, Asutralia Crew: Katharina Raysz - direction , Germany, US Asaf Chenner - tour manager, Australia Lizzie Keates - PR and live stream, UK Sonic Omar - PR and social newtoworking, UK Celine Smith - band manager, France, UK http://massivevibe.com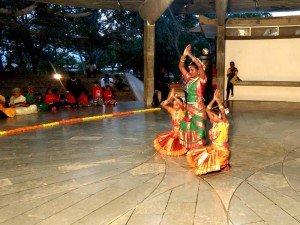 Auroville women celebrate International Women's Day by hosting traditional music, dance and 'kolam' (chalk art) competitions at Swachu Building at Bharat Nivas on 18 March 2017. The United Nations theme for International Women's Day 2017, focuses on "Women in the Changing World of Work: Planet 50-50 by 2030". While the women in cities were occupied in either organizing or participating in various conferences and meetings, Women at Auroville have celebrated the day by promoting the local culture in three forms viz., music, dance, art by spreading the theme of gender equality and women civic participation in the society. Grace, Usha and Mathi from Auroville have taken a lead role in organizing various cultural activities which includes music and dance competitions and also performances. Bregette (from Hollande) has been at Auroville and serving at Matrimandir for five years now and in talking to the Auroville Radio she expressed her excitement of being part of this community in rendering various services mainly to the 'art and culture'. Mayawati, from La Farm has been the instructor for the 'kolam' art competition. Many young girls, students and women participated and filled the floor of the building with amusing and colorful art.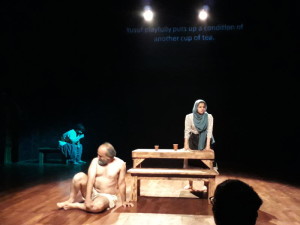 Mein Huun Yusuf Aur Yeh Hai Mera Bhai, a play by Aasaktha, Pune. Playwright Amir Nizar Zuabi, directed by Mahit Takalkar. One of the last performances within remembering Veenapani month long festival at Adishkati last night touched one of painful moments of human history, and as one Palestinian poet points out: These tears that we shed, should be for those still breathing. Story of three – Yusuf, Ali and Nada remembering 1948 when the British mandate ended in Palestine, and the Un was voting on who will control what part of the land... Love story between Ali and Nada, and friendship between mentally challenged Yusuf and Ali, who , as we find out in the end, is responsible for Yusuf's condition. Powerfull story, amazing acting Cast: Ipshita Chakrabory, Ashish Mehta, Iftenda Joshi, Ajeet Singh Palawart, Ninad Mahajani, Mrinmayee Godbole, Sandeep Shikhar, Jayesh Newi, Arpeetta Chogardare, Sagar Deshmuukh, Tejaswini Barve, Alap Vaidya, Hirhsikeeh Pujari, Vinayak Lele. http://adishaktitheatrearts.com