Ten years ago Wellpaper was founded in Auroville by Dany and Orly as a Tsunami relief project. Since then, 4 groups of women from the villages have been trained to make and design products made from waste paper that are sold around the world. People didn't believe this could be a business. Today's celebration thanked to the women who made it possible especially The Mother. Listen to Dany, the cofounder; Mangai, from the first group of women trained 10 years ago; finally to Meenakshi's blessings. Mangai says, "We women want to win!"



In today's news we are featuring an excerpt of Dr. Karan Singh address to the community at Auroville Retreat, at Unity Pavilion, International Zone past Friday at the closure.
Wednesday, 18th March, 7pm Solitude Farm  Cafe present Live Music and Local Food  -  A Meeting of Nordic Hymns and the Carnatic Tradition a vocal performance by Danish singer Hanne Marie le Fevre and Carnatic singer Mahesh Vinayakram.
Saturday, 21 March 2015 at 7.30 pm at Pitanga Cultural Centre, Samasti presents  Students of Nandita Di offering  Barkha Song of the rains,  Songs of the Rains based on Indian Ragas Accompanied on the Tabla by Debasish Dass (Pintoo Da) Sunday,
March 22nd at 5.30pm  at Pitanga "From Music to Silence" Meditative  Concert with Christa Eschmann.

Liberty does not mean to follow one's desires but, on the contrary to be free from them.
- The Mother



The Working Committee invites us tomorrow to a general meeting at 4.30pm at Unity Pavilion to inform us about the topics of various working groups and units/activities that wish to present to the Governing Board and International Advisory Council at their joint meeting on the 14.03.15 in Auroville.
Sunday, 8th  March lecture / demonstration at 5 pm and concert at 7:30 pm at Unity Pavilion on Indian Dhrupad Cello sponsored by the AVI-Cultural Pavilion with Nancy Kulkarni: Cello and Ramesh Joshi: Pakhavaj . celebrating the International
International Women's Day  Celebration o n Saturday, March 7th, from 4.30 pm to 6.30 pm at SAWCHU building, Bharat Nivas .
Saturday, March 7th from 5 to 7 pm at Sankalpa, International Zone celebration of Holi.

Life is the altar of this sacrifice, works are our offering; a transcendent and universal Power and Presence as yet rather felt or glimpsed than know nor seen by us is the Deity to whom they are offered. This sacrifice, this self-consecration has two sides to it; there is the work itself and there is the spirit in which it is done, the spirit of worship to the Master of Works in all that we see, think and experience.
The Synthesis of Yoga
 Sri Aurobindo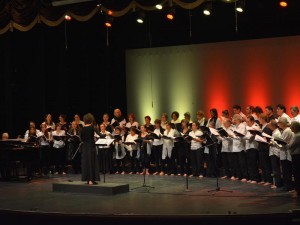 Featuring Divya talking about her experience in is What is Auroville? festival in Chennai just before the Choirs concert on Saturday 7th at Sri Mutha Venkatasubba Rao Concert Hall at Chennai. Ruben shares with us (and You, of course) the already mastered song Siyahamba.
Auroville Retreat with Governing Board and International Advisory Council starts tomorrow and RAS shares with us some updates on web portal ras.auroville.org,in/retreat2015.


Poverty is not an accident. Like slavery and apartheid, it is man-made and can be removed by the actions of human beings.
Nelson Mandela
Tomorrow we are invited to a Chinese Cultural Evening in Auroville starting with dinner at Unity Pavilion, followed at 7.30pm at Sri Aurobindo Auditorium, Bharat Nivas, Pavilion of India, International Zone by Tai Chi Show , Beijing Opera, Chinese folk songs, Chinese Cheongsam show, Chinese Drama stunt,  Sleeves show, Sichuan Opera stunt,  Face Changing.
The Working Committee invite you to a General Meeting on Friday, 6th of March , at Unity Pavilion at 4pm - 6pm, to be informed about the topics of various working groups and units/activities that wish to present to the Governing Board and International Advisory Council at their joint meeting on the 14.03.15 in Auroville.
Tomorrow at 5pm, at Cinema Paradiso The French Pavilion, Auroville International France and Chiru present an exceptional talk by Gilles Boeuf "Biodiversity: From the Ocean and the Forest to the City


" It is therefore through the sacrifice of love, works and knowledge with the psychic being as the leader and priest of the sacrifice that life itself can be transformed into its own true spiritual figure.
Sri Aurobindo
The Synthesis of Yoga