Category Archives:
Commercial Units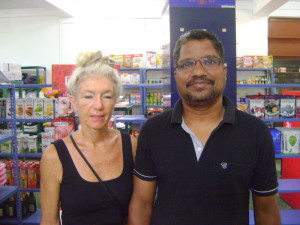 H.E.R.S. - Helath, Education, Research, Service has started couple decades ago with a humble man Vinodh, who passed last year, and left behind him a gap, and unfinished dream. Team of H.E.R.S. started a "paradigm" shift this summer with first finishing the exposed beam , followed by redoing couple of wall , painting the whole space white ( what ultimately brought LIGHT in) .... and added new spacious black granite counter.
In a short interview with Gillian, Tulsi and Roy (team members along with Kumar and three girls) we hear what is going on and what plans they still have ahead of them in order to serve the community as they would like to.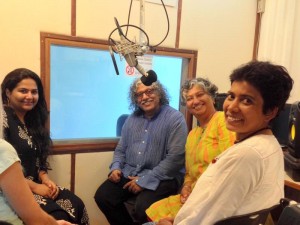 This morning Pushpanath Krishnamurthy, Anjali Schiavina, Devina Singh and Uma Prajapati visited us in our studio to share some exciting news on Fair Trade and the first Twin Towns in this part of the world - Pondicherry Auroville. To support the cause of Fair Trade itself Pushpanath will undergo for a 450 kilometers long walk from Pondicherry to Ooty, passing farms, villages, producers, craftsmen, and other Fair Trade organizations... as he has been inspired by Gandhi peaceful movement, but Push will walk for eradication of poverty through this movement. Walk will start on 20th of November from Gandhi statue in Pondicherry, passing through Auroville on its way. On Facebook: Fair Trade Twin Towns Puducherry & Auroville From the web: "What is Fair Trade? Currently the most widely recognized definition of fair trade was created by an informal association of the four main Fair Trade networks (Fairtrade International, World Fair Trade Organization, Network of European World Shops and European Fair Trade Association). Fair Trade is a trading partnership, based on dialogue, transparency and respect, that seeks greater equity in international trade. It contributes to sustainable development by offering better trading conditions to, and securing the rights of, marginalized producers and workers - especially in the South. Fair Trade organizations (backed by consumers) are engaged actively in supporting producers, awareness raising and in campaigning for changes in the rules and practice of conventional international trade. Fair Trade's strategic intent is: Deliberately to work with marginalized producers and workers in order to help them move from a position of vulnerability to security and economic self-sufficiency To empower producers and workers as stakeholders in their own organizations To actively to play a wider role in the global arena to achieve greater equity in international trade."
Aromatic smell of coffee brought us from the far to see how the roasting of coffee looks like. Marc, who's passionate about this magical and aromatical beans for almost two decades, kindly showed us around and told us what it takes for coffee to be properly roasted. For this you need lots of experiences, and personal insight into it, and surely no computer can match the human instinct. For Marc coffee is much more than just a cup of hot beverage, is the time for dialog, it's a way of llfe in the true spirit, enjoying important simple moments
Tree Care is a unit which take care of the greenery in Auroville, is a work option for the young people that likes to be in the nature. Their team works in a friendship collaboration and they want to transmit the importance of the relation between the green and us. Anadi, Arseny and Julian are some of the team components.