Category Archives:
Evolution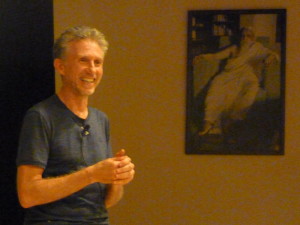 On Thursday the 12th Janurary 2017 Jean-Francois Noubel shared his insights, knowledge and experiences about the implementation of "The Gift Economy" and about the power and necessity of "Collective Evolution" with many helpful pointers and tools.
His approach was so inspiring and perfect for the need of the moment, prioritizing the utmost importance on bringing silence and presence into all of our daily interactions.
Listen to Manoj Das, as he illuminates on the topic 'man in transition' which he redefined as 'transition with a difference'. Manoj Das was addressing the students from California Institute of Integral Studies, CIIS. Visiting Auroville to learn and share knowledge on different aspects of Integral Yoga. The students were in for a treat as Manoj Das, one of the greatest story teller in India was in mood to create deep insights and share remarkable candid moments from international history, most of which unheard of. The atmosphere was kept very light yet profound by the jovial speaker who in his own way, was feeding the curious students with information which suits their endeavor. A mixture of core science, philosophy, history, politics, spirituality, literature, psychology was served in manner of casual interaction, for which he must be truly appreciated. Manoj Das from the Ashram also shared his own personal journey, upto the point he is today in a very frank and modest manner. It was upto the listener to deepen his grasp because the flow of information was truly profound and inspired a spark of true wisdom. Only in Auroville, is this blend of all worlds possible, a true blessing.