Category Archives:
Evolution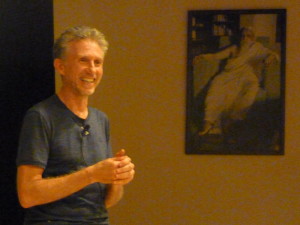 On Thursday the 12th Janurary 2017 Jean-Francois Noubel shared his insights, knowledge and experiences about the implementation of "The Gift Economy" and about the power and necessity of "Collective Evolution" with many helpful pointers and tools.
His approach was so inspiring and perfect for the need of the moment, prioritizing the utmost importance on bringing silence and presence into all of our daily interactions.

Series of lectures by Dr. Sehdev Kumar from University of Human Unity at Unity Pavilion, International Zone BEING & CONSCIOUSNESS subtitled with Bhakti yoga and the Divine Adoration has concluded today.
His last lecture was on : Stepping into the Light of Freedom : Vision of Kabir & Mira

Based on his forthcoming book 7000 Milion Degrees of Freedom, Dr. Kumar presents this lecture series on the nature and mystery of Consciousness with special referencer to the Bhakti Movement, and in the context of studies and research in evolutionary psychology, quantum physics, neurobiology, and new explorations in music.

About the speaker ? Professor Emmeritus at the Universtiy of Toronto, Canada, author of Vision of Kabir, Lotus in the Stone, Matters of Life&Death, Reflection on Bioethics, Law and the Human Destiny and other books. Dr. Kumar is a Nuclea Physicist, and a historian and philosopher of Science, and a Bioethicist, he lectures extensively on topics related to Nature of Mind & Consciousness; a Friend of Auroville.
Listen to Manoj Das, as he illuminates on the topic 'man in transition' which he redefined as 'transition with a difference'. Manoj Das was addressing the students from California Institute of Integral Studies, CIIS. Visiting Auroville to learn and share knowledge on different aspects of Integral Yoga. The students were in for a treat as Manoj Das, one of the greatest story teller in India was in mood to create deep insights and share remarkable candid moments from international history, most of which unheard of. The atmosphere was kept very light yet profound by the jovial speaker who in his own way, was feeding the curious students with information which suits their endeavor. A mixture of core science, philosophy, history, politics, spirituality, literature, psychology was served in manner of casual interaction, for which he must be truly appreciated. Manoj Das from the Ashram also shared his own personal journey, upto the point he is today in a very frank and modest manner. It was upto the listener to deepen his grasp because the flow of information was truly profound and inspired a spark of true wisdom. Only in Auroville, is this blend of all worlds possible, a true blessing.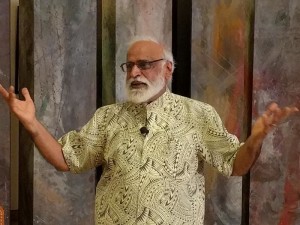 Professor Sehdev Kumar presented the second lecture titled "How Do We Human's Communicate" in a series of four called "The Human Journey Across the Ages, Ecology, Culture and The Self". The presentation gave some very interesting observations regarding social structure, language, and the huge leap of humanities evolution in the last two hundred years.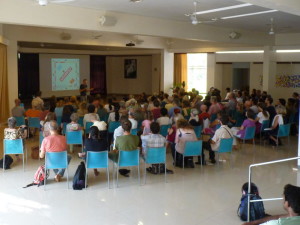 Jean Francois Noubel leads a special gathering at the Unity Pavillion sharing his knowledge, ideas and experience about moving to an Integral Economy.
Now we need to take a deep breath and explore ways to start, to begin, this evolutionary and spiritually economic shift here in Auroville, then the world.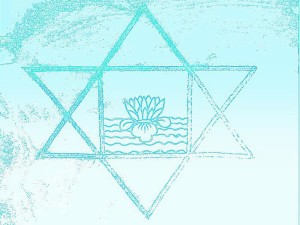 "The Three Steps of Nature" puts forth that in man's evolution there are three successive elements: a bodily life (the basis of our existence here in the material world) and a mental life into which we emerge, raising the bodily to higher uses, enlarging it into a greater completeness, and a divine existence.....which is at once the goal of the other two.
These concepts are explored and explained in depth.
The duration of the reading of this chapter is 35 minutes. Listening could be for approximately 15 minutes at a time, in order to maintain attention and derive the greatest benefit from Sri Aurobindo's writing, as he so patiently describes the Integral Yoga. Of course it may be listened to in its entirety, according to one's condition and attention span.