Category Archives:
Educational Centers
oct 1 muthal oct 12 varai ilaignarkal kalvi niruvanthil, kolu pommaikal vaithu oru anmiga ,kadavul thanmai konda pandikai sirappudan nadakkirathu.ithu miga unnathamana ondru.ithil janaki ammalum,sumithra ammalum sirappu poojai nadathinar.athan anupavangali janki ammalidam irunthu iyyanar petti eduthu, anaivarum ithan payanai kettu makizhungal.matrum ithan pukai padam moolam melum ithanai therinthu kollalam.athu matum indri ithai neril sendru kandu kaliungal.ithu pathu natkal nadakirathu.vanthu kandu kaliungal.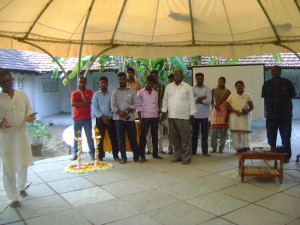 Tranquil sunny ambient of the courtyard of Sustainable Livleihood Institute facilitated the graceful occasion of celebration for one year of existence. And indeed in one year SLI came to life with full force, fresh energy which truly empowered over 1000 participants through numerous programs. Further a strong bridge between rural Tamil Nadu and Auroville is being built with all of that.
Young team of 14 young members energeticaly managing all the programs while they grow as well.
Chandresh shares with us the first upcoming event (connected with the National Knowledge Network) organized in Auroville using the newly laid fiber optic cables on Sanskrit Grammar with the University of Hawaii Professor Rama N Sharma and here at the SAIIER conference room. For Resgistration and details see below.

*A workshop on P??ini

"it is one of the greatest monuments of human intelligence." - George Cardona

Professor Rama Nath Sharma (University of Hawaii) will present a workshop that will allow students already familiar with Sanskrit to dive deep into it's most beautiful and ancient grammatical traditions. P?nini has influenced not just contemporary linguistics but many other fields and is one of the greatest scholars in India's history.

Date: 12-15 November 2015
Venue: SAIIER Conference Room
Pre-requisites: Some knowledge of Sanskrit grammar is required (this is not a beginners workshop)

Registration:

Registration can be done online at http://dl.gt/panini2015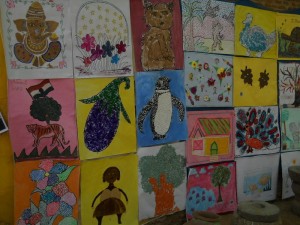 Mohanam Kindergarten Open House celebrated its 13th annual day  on 30th April at Sanjeevinagar. Educationist Meenakshi Akka addressed the gathering and shared her beautiful thoughts about education and culture. The celebration got more interesting with dance performance by the kindergarten students for various different Tamil songs, they also showcase the art works which were done by the students during the whole year. The celebration was a great success by the teachers and the parents.
At the joyful occasion at AIAT New Campus yesterday at Aurobrindavan many dignitary guest were present along with Mr. Achim Fabig General Consul of Federal Republic of Germany. Germany does support AIAT from the beginning, and this new campus has been initiated two years back with over 2,5 crores donated to spent on it.
Those new facilities will offer youth of the region training in fitter and welder trades as well as in mechanical draughtsmanship, following the dual system of German's education.
The campus itself is the first one which use biological waste water treatment along with other sustainable components of the buildings, place carefully in the mango orchard.
Chandra shares her dreams, experience the efforts and help she received to embark to Cambridge University in this short interview and we give you a flavor of her album titled "Raga Offerings" at the end, proceeds from its purchase will go towards her student loans- Tomorrow her she will play a concert in gratitude for all that Auroville has given to her.