Category Archives:
Educational Centers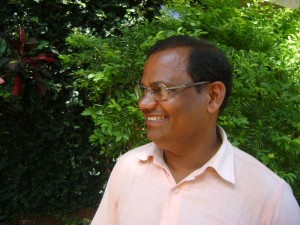 An idea on how education works at Auroville. A talk with Shankar the principal of Akiyam new creation school, he shared his views about how education develops the minds of the children. how tradition and culture emerges together. and what all developments could be made further in the processes of education at Auroville. Shankar also shared his thought about bringing up college into Auroville. In one word he explained education as exploration at Auroville.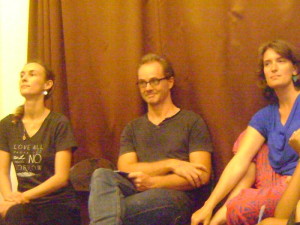 Yesterday's presentation at Futures school on apprenticeship and internship for Auroville Youth brought up quite some of interesting options. Presentation was made in a joint effort by Auroville Youth, Units and Schools of Auroville, and the Auroville Campus Initiative.
Aurevan, Michael, Suryamayi as an Apprenticeship Program Team introduced efforts to design a core program. Lilith Fashion School, Saddhana Forest, Coffee ideas, Unlimited Tamil Nadu, AIAT shortly presented their apprenticeship programs.
Auroville as a hub of many skillful and professorial individuals does offers many options which could be harvested for the benefit of young generation.
oct 1 muthal oct 12 varai ilaignarkal kalvi niruvanthil, kolu pommaikal vaithu oru anmiga ,kadavul thanmai konda pandikai sirappudan nadakkirathu.ithu miga unnathamana ondru.ithil janaki ammalum,sumithra ammalum sirappu poojai nadathinar.athan anupavangali janki ammalidam irunthu iyyanar petti eduthu, anaivarum ithan payanai kettu makizhungal.matrum ithan pukai padam moolam melum ithanai therinthu kollalam.athu matum indri ithai neril sendru kandu kaliungal.ithu pathu natkal nadakirathu.vanthu kandu kaliungal.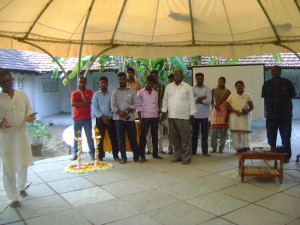 Tranquil sunny ambient of the courtyard of Sustainable Livleihood Institute facilitated the graceful occasion of celebration for one year of existence. And indeed in one year SLI came to life with full force, fresh energy which truly empowered over 1000 participants through numerous programs. Further a strong bridge between rural Tamil Nadu and Auroville is being built with all of that.
Young team of 14 young members energeticaly managing all the programs while they grow as well.
Chandresh shares with us the first upcoming event (connected with the National Knowledge Network) organized in Auroville using the newly laid fiber optic cables on Sanskrit Grammar with the University of Hawaii Professor Rama N Sharma and here at the SAIIER conference room. For Resgistration and details see below.

*A workshop on P??ini

"it is one of the greatest monuments of human intelligence." - George Cardona

Professor Rama Nath Sharma (University of Hawaii) will present a workshop that will allow students already familiar with Sanskrit to dive deep into it's most beautiful and ancient grammatical traditions. P?nini has influenced not just contemporary linguistics but many other fields and is one of the greatest scholars in India's history.

Date: 12-15 November 2015
Venue: SAIIER Conference Room
Pre-requisites: Some knowledge of Sanskrit grammar is required (this is not a beginners workshop)

Registration:

Registration can be done online at http://dl.gt/panini2015