Category Archives:
Healing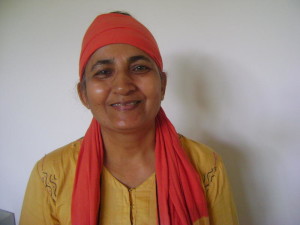 Featuring Dr. Geeta Auropremi who will lead us through ayurveda.
introduction about human being. According to ayurveda human body is a divine being, and ayurved is user guide.
In today's edition Dr. Geeta continues with ayurvedic education with some basic principles, where ayurved asks himself what is aim of our life, and what it takes that we live life happily.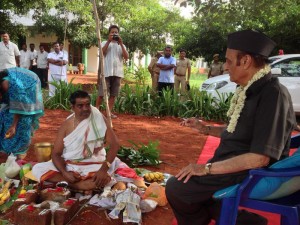 The Auroville Health Service (AVHS) and ARKA have announced that the foundation stone laying ceremony for the 'Assisted Living Home for Seniors' building will happen in the presence Dr. Karan Singh, Chairman of the Governing Board, on Saturday, October 3rd, at 4.00 pm in Arka. This is the recording of the event. We interviewed Manfred & Amarnath of the Auroville Healt Service and Arka's resident (and builder) Krishna Mayer. Click here to download the PDF
A majority of our population and pioneers will be needing medical attention and or assistance increasingly, thus energy, skills and finance are crucial today for the support that will be required in the coming years. Auradha describes her views on health services and the challenges to provide improvements to the health infrastructure of Auroville. She discusses the work at Kailash clinic, the ambulance project, midwifery and the new Auroville Institute of Integral Health to be completed this year and the many efforts needed to complete it.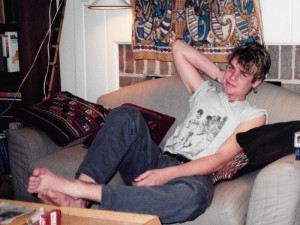 In a windy open field by Sacred Groves friends and volunteers gathered for a small memorial tree planting ceremony for Steven. Steven's brilliance, humor and personality were hard to forget despite his short and colorful life that ended 20 years ago. For those of us that knew him a palpable sense of "at last" was felt, by this acknowledgment. The gentle and willing presence of the Sacred Grove volunteers attending the ceremony, gave me a sense of that impersonal Auroville intimacy which makes this dream eternal. A memory book can be found at the Auroville library. This ceremony took place on Jan 31st 2015.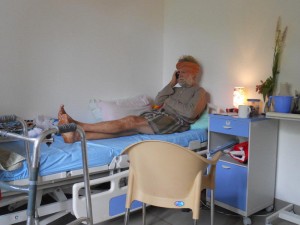 Johnny is recovering at Sante (the building that is about to be inaugurated). Listen to this introduction which sets the scene for his adventure. Stay tuned to hear what happened next ... and hopefully the next time there will be no technical errors.



Kailash Clinic is a huge project and is involved lot of therapist and doctors in different fields. Their aim is to share knowledge to enrich each other, to fuse specialties and treat the patient with different therapies, giving to them a holistic treatment, so they would treat the patient quickly and in many different levels simultaneously. Veronica works like a therapist in Kailash Clinic.