Category Archives:
Volunteers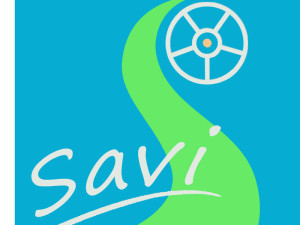 Savi organised a very beautiful program for volunteers for an Introduction of Auroville, called VIP: Volunteer Introduction Program... This Program was lead by Maggie, Boomi and Dominique. They were very dedicated and have put together great effort in this program. Very well picked topics and destinations, awesome food places of Auroville and enlightening and welcoming insights by leading Aurovillians; made this trip a memorable journey of 4 days for all volunteers who participated in it... The program included some movies and video on Auroville's history, group sessions, visits to various communities and an orientation about their activities and also few games and self expression. The activities done during those 4 days included farming, visit to Matrimandir and also visits to some creative and service units of Auroville like Budha Garden, Shradhanjali, Swaram, Solitude farm, Bamboo center, Earth Institute, Food link and Pourtous, Eco service and African Pavillion. And finally, Tibetian Pavillion, where all they did all activities and video were screened. This program was very interactive as well as informative. Movies on Wasteless, Making of Matrimandir; a talk by Manoj on Sri Aurobindo and Mother, question answer rounds made the experience even richer and full of information. In this audio we have archived what each participant experienced in their transformational 4 days experience..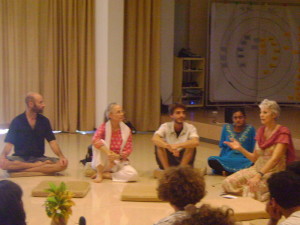 Yesterday evening at Unity Pavilion, International Zone two of our long term volunteers on initiative of SAVI has shared their stories.
Riccardo de Amici and Martine Bastide both in deep concern of our environment, and healthy food which is already a rare commodity on the planet, dedicated their exploration in food production - one in urban gardening, and the other in permaculture way of producing healthy food. Riccardo while he was researching for his master thesis on food production in Auroville, he started to explore urban gardening in the administrative area of Town Hall and Citadine, Martine has fulfilled his long term wish to produce healthy organic food on permaculture desing at Windarra - Terra Soul community.
Both Riccardo and Martine are with us for quite some time, and they will still stay at least for another year, and their contribution to the community is priceless. Both also express their deep gratitude to Auroville, and the community for the moving experience.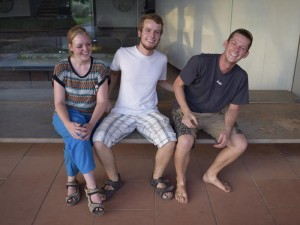 I kept on running into a group of volunteers from Germany at various events. An enthusiastic group, and also very interactive, it was interesting to see how involved they were in all aspects of Auroville. They seemed to be at cultural events as well as ones that delved into policies and economic functioning, I even caught them dancing under the stars.

On further enquiry I found out that they are here as a part of the Weltwärts programme for one year. Here you can hear some of their voices, namely of Darius Meissner, Laura Haslett and Max Broeker. They give us some perspective about the time they are going to be spending in Auroville and all the energy they are going to infuse into this space.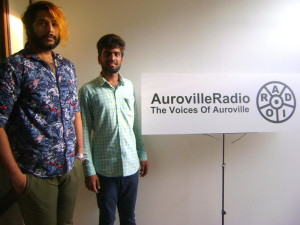 Sachin, an Indian based Korean film actor is currently a volunteer at the Youth Centre, Auroville. His journey to Korean film industry all the way from the Indian Ocean has been discussed in the interview. Mr. Sachin is very much passionate about 'human peace and unity', and that idea has brought him to Auroville to relax and refresh himself from a regular life. He even adds that, if any person wants to spend some time away from the busy city atmosphere without chaos then Auroville is the best choice. He also talks about Korean films, and also spoke few Korean words like 'hello'. He suggests the youth to think beyond borders and put efforts in reaching their goals by streamlining their interests and not deviating from their way.
Samira Bose, our volunteer for past month shares some thoughts on volunteering, AVRadio, Avillians, projects, love and life... Although she appears very confident , calm yet energetic, she admits that at her arrival after graduating from University, was at a confusing threshold of her life. During her first visit to Auroville, she volunteered at Buddha Garden and perceived  the city through rose colored glasses. This time round at the radio, she has managed to peel some layers, and peek closer to what this city with its ideals is about. Although still a bit romantic with a big portion of idealism, she sees the reality of it. With that what she is, and to what she will become, with all her enthusiasm and will to learn, work, and actively participate, she has won the hearts of our team, and radio public, .... a genuine "radio girl", who fell in love with many people, fell in love with one, and fell in love with Auroville.

Dominique from SAVI - service which helps volunteers to find their placement in Auroville services and units shares with updates on the new law requirements on strict visa policy for different types of foreigners. Indian Governement would like to be more strict with visas issued for those who would like to volunteer, and by new policy since June 2015 those who want to volunteer need an entry visa for six months or a year. With tourist visa is no longer possible to volunteer.
Working Committee posted a note on that on 6th of June 2015, and 8th of August in News&Notes.

When one would like to volunteer or study in Auroville , SAVI created a page
www.auroville-learning.net
where one can find all the necessary information, including the visas pages