Category Archives:
Volunteers
We invited Dominique to speak to the radio about her project SAVI and the circumstances for volunteers in Auroville. The zeal and passion for making a difference stands out while speaking with Dominique as she narrate's the challenges and opportunities volunteers possess while contributing to Auroville. She points out volunteers are an integral part of the Auroville story, "We have Auroville because of the volunteers efforts over the years". In this high energy exchange of ideas, she laid out various plans and ideas the community could adopt to safe guard their greatest asset, the volunteer workforce. In the recent past the change in visa policy of the Indian government has made things already tough for volunteers to freely come and participate in the Auroville experiment. She emphasis, the community too has developed some policies which make it difficult for the volunteers to imagine contributing to growth of the community. How have we reached a place where the volunteers are not only, not encouraged, but strangely are sometimes not even acknowledged for their unconditional giving. Recently she made a presentation in the CAT's program, underlining the exact amount of contribution the volunteers make towards Auroville's overall wealth. She has made some ground breaking discoveries and has also developed a detailed plan, to help the community reverse this situation of not being an ideal choice for volunteers coming from all over the world. Auroville belongs as much to them as to the people living here. With this strong determination to cause a break through, she will soon be initiating her LEAD project, to know more, support and contribute towards this endeavor you can contact her on her email- dom@auroville.org.in "when the going gets tough, the tough get going"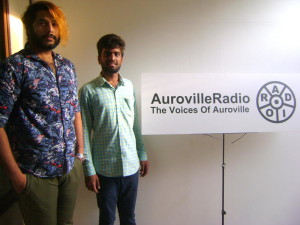 Sachin, an Indian based Korean film actor is currently a volunteer at the Youth Centre, Auroville. His journey to Korean film industry all the way from the Indian Ocean has been discussed in the interview. Mr. Sachin is very much passionate about 'human peace and unity', and that idea has brought him to Auroville to relax and refresh himself from a regular life. He even adds that, if any person wants to spend some time away from the busy city atmosphere without chaos then Auroville is the best choice. He also talks about Korean films, and also spoke few Korean words like 'hello'. He suggests the youth to think beyond borders and put efforts in reaching their goals by streamlining their interests and not deviating from their way.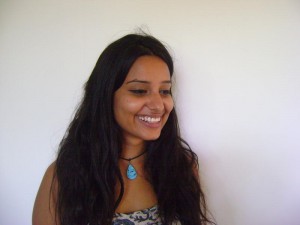 Samira Bose, our volunteer for past month shares some thoughts on volunteering, AVRadio, Avillians, projects, love and life... Although she appears very confident , calm yet energetic, she admits that at her arrival after graduating from University, was at a confusing threshold of her life. During her first visit to Auroville, she volunteered at Buddha Garden and perceived  the city through rose colored glasses. This time round at the radio, she has managed to peel some layers, and peek closer to what this city with its ideals is about. Although still a bit romantic with a big portion of idealism, she sees the reality of it. With that what she is, and to what she will become, with all her enthusiasm and will to learn, work, and actively participate, she has won the hearts of our team, and radio public, .... a genuine "radio girl", who fell in love with many people, fell in love with one, and fell in love with Auroville.
This CAT's meet (Creating Auroville Together) was on the most crucial topic to Auroville, which are the volunteers. As someone once said, without volunteers there would be no Auroville. And for this utmost important service of facilitating the volunteers, we have the SAVI service. SAVI had created this CAT's meet and gave a heart touching presentation on the workings of SAVI to support the volunteers and also an insight into the contribution volunteers are literally making into the Auroville lifestyle, with an underscore that they are being perhaps taken for granted rather than cherished. Who were the first set of Aurovillians, the Volunteers! SAVI team through its members gave a presentation based on facts and figures about their day-to-day working and in a unique manner invited an entire array of real-time sharing from existing volunteers, something the audience could relate to. SAVI pointed out about the stringent rules of the visa process and also some of the rules of Auroville community are not so encouraging for volunteers. They with proper projections proved the actual accounted contribution done by volunteers which is more than 3.5 crores, and a question was naturally left imposing to the participating community members, why so are volunteers preferred lesser than visiting guest in terms of housing and contributions? In simple words why are the volunteers often found in hardships and how can we create resources which give the message of Auroville being a Volunteerland, WELCOME VOLUNTAIRE'. To download the presentation PPT - click here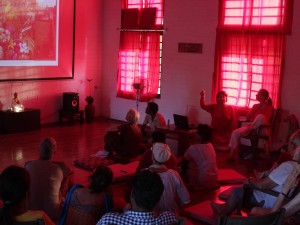 Within the series of True Stories of Volunteers organized by SAVI at Pavilion of Tibetan Culture, International Zone past Thrusday we heard Avigal, long time volunteer with her story on the work with Auroculture.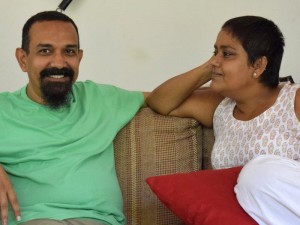 It was the term that Manas Chakrabarti used that caught my attention immediately when I was talking to him about their seemingly radical shift to Auroville. He described themselves as having a 'nobody position', having just shifted out of the urban flux of Gurgaon and being somewhat at the threshold of their integration into Auroville. It was this juncture that I wanted to document, that unique twilight zone between here and there.

Mimi and Manas Chakrabarti hail from Delhi and Kolkatta respectively but lived most recently in Gurgaon. They have traveled extensively and explored the theme of sustainability. Here they talk to us about alternative life choices and what prompted their decision to make Auroville their home.