Category Archives:
Education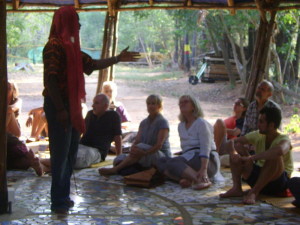 Yesterday early afternoon we had a chance to listen to Dr. Aunkh Chablala talking about the Core of African Spirituality - Consiciounsess and Energy and 13 Whispers. Presetnation took place at International Zone at the space of Africa House, Pavilion of African Culture. After the presentation was a time for questions and answers session. Dr Aunkh Chabalala, Amen-Ra Institute and Infinite Earth, Pretoria, South Africa
Heidi Watts taught in different settings in the United States for decades. Once she was the head teacher of a small alternative school in the US in which she intensively encouraged democractic decision making processes among her students. In democratic schools students make decisions with varying importance and varying methods, depending on the setting and their experience. Group discussions sometimes include the use of talking sticks and exceed the classic majority rule by far. Limits for students' decision were usually around topics of health and safety as well as academic issues.
The students from The Institute of Integral Studies were having a discussion with Aster on various aspects of integral psychology. The common pool of knowledge within the group was incredible and great insights in store.
Heidi Watts and Chris Sperry explored the concept of democratic classrooms over decades in different types of schools in the United States. Democratic schools encourage students to make their own decisions as a student community. This practice cultivates student ownership and student responsibility. In Auroville's Teacher Center both, teachers and parents discussed the chances and challenges as well as opportunities and limits to student decisions. The final conclusion: Let's meet again on that topic!