Category Archives:
Education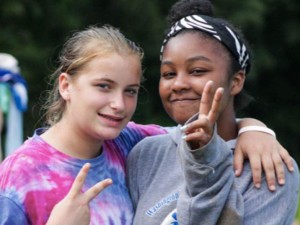 Paula Murphy, who has been practicing as a mid wife for many years, conducted a survey here in Auroville regarding the health and safety of women. Two hundred and eighteen women participated in this and the presentation of the results was given in Saiier on the 16th March by Paula and Michiel Mussies.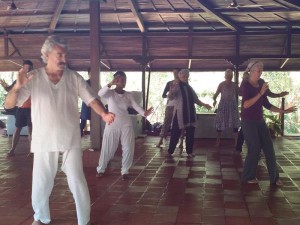 Marco and Krishna offered a valuable workshop for beginners in Tai-Chi-Chuan. The workshop was held at the famous Tai-Chi hall in Sharanga community, in Auroville. The workshop attracted guest and residents of Auroville. The workshop was conducted for 18 days for 3 hours session each morning. One half of the session were dedicated for mediation and Chi techniques and the other half for learning and practicing the 24-forms of Tai-Chi. In an incredible module of teaching, Marco shared his knowledge and guided the students with a masters touch and was very gentle yet vigilant for people's slightest of errors. The workshop was an insight not only to learning of the method but an understanding of Chi which exist in and outside our body, which the Chinese referred to as vital force behind each movement. The Tai-Chi school offers its space every morning throughout the week for people to come and practice Tai-Chi with the masters. Such workshops are unique and life changing for some, as the students attending the workshop give their sharing of experience about the workshop at the end of the interview with Marco. Auroville is truly at the receiving end of a gift the Tai-Chi school and masters like Marco represent.
Heidi Watts and Chris Sperry explored the concept of democratic classrooms over decades in different types of schools in the United States. Democratic schools encourage students to make their own decisions as a student community. This practice cultivates student ownership and student responsibility. In Auroville's Teacher Center both, teachers and parents discussed the chances and challenges as well as opportunities and limits to student decisions. The final conclusion: Let's meet again on that topic!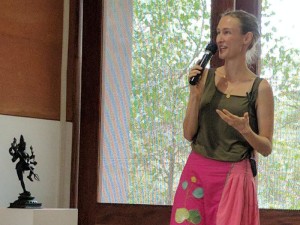 An in depth questionnaire was formulated by Deepti and circulated to others who had been raised and educated in Auroville. This survey captures the voices of 81 Auroville youth over a span of 40 years of educational experiences.
Suryamayi then studied all of the feedback to bring it together in a cohesive manner for this presentation at Bhavisyate on the 14th March 2017.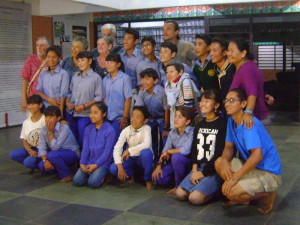 It is moving to see child's sincere and deep gratitude....it does touch one's heart...
And last night at Pavilion of Tibetan Culture in Internatinal Zone we have witnessed that by 15 children from Tibetan Children's Village who have stayed in Auroville for 6 weeks as exchange students. They have learned many new thing, they have been involved in daily life, even volunteered at the 10th AV Marathon, and more. Colorful exhibition with their products, pottery works, and with written letters from each of them clearly express it.
Part of what they have been doing, they presented: from humble invocation song to dance performances (where their playfulness on the transition to adulthood, showed that they are children, youth, as any other)
This year exchanges were fully supported by ex TCV students, Kalsang explained after the presentation.
Divyanshi Chaugh, as a part of her seminar "Integrality in all Spheres of Life", presents Integral Education, with guest speakers Shiva Kumar and Manoj.
We've been to a small ceremony of consecration and celebration at the new Language Lab building in the International Zone on Auroville's birthday. Here's a short interview to Mita, one of the two founders, explaining us about their activity. www.aurovillelanguagelab.org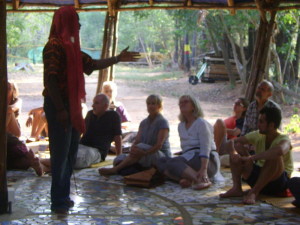 Yesterday early afternoon we had a chance to listen to Dr. Aunkh Chablala talking about the Core of African Spirituality - Consiciounsess and Energy and 13 Whispers. Presetnation took place at International Zone at the space of Africa House, Pavilion of African Culture. After the presentation was a time for questions and answers session. Dr Aunkh Chabalala, Amen-Ra Institute and Infinite Earth, Pretoria, South Africa
Heidi Watts taught in different settings in the United States for decades. Once she was the head teacher of a small alternative school in the US in which she intensively encouraged democractic decision making processes among her students. In democratic schools students make decisions with varying importance and varying methods, depending on the setting and their experience. Group discussions sometimes include the use of talking sticks and exceed the classic majority rule by far. Limits for students' decision were usually around topics of health and safety as well as academic issues.