Category Archives:
Multimedia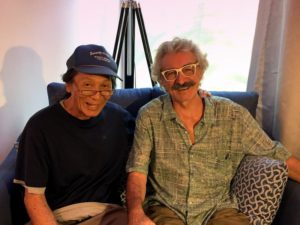 5th edition of Auroville Film Festival is almost here! Starting on 16th of Decmeber will mark the 50th Auroville Anniversary(in February 2018) as being the first cultural event to celebrate the occasion. Marco and Tlaloc share with us some of the details of the festival, which took full two years of preparations. They are still in need for some volunteers in various areas. And once again, the city in Town Hall area will have that spirit of festival festivity which brings the community together either be watching the movies, enjoying music and food, and company of each other. http://filmfestival.auroville.org/category/news/ #Auroville50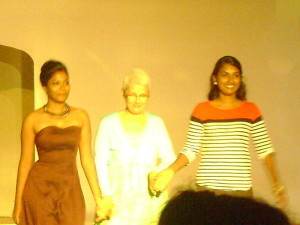 Lilith Fashion Schol 2016 Final Year fashion show of two students - Chandra and Vanitha, each with six pieces of garments, inspired by architecture of Taj Mahal and Antonio Gaudi. Fashion show, and more than just a show - A Journey of Love and Adventure where joint creativity of many avilians has came forward. After short presentation of models on catwalk story continues in the series of theatrical vignette or snippets which further reveals the charism hiding beneath the designs. The beauty of models and designs along with the series of theatrical vignettes, supported with danceable music thrilled the audience. Lilith Fashion School with its founder Christina along with Gabi, Gabi and Alice continues the story of vocational training structure within Auroville offering the opportunity for youngster to require the essential skills of the trade in fashion design and garment creation. Lightning by Dare Devils and Jean art&media by Doris and Frances MC Jesse Auroville Fashion show 2016 photographs by Coriolan Weihrauch / MiA Studio https://www.facebook.com/media/set/?set=a.10153374839054607.1073741875.252745694606&type=3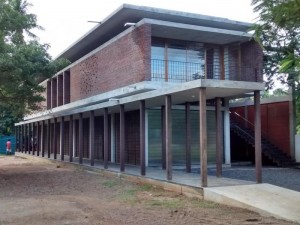 The working unit of Auroville Design Services (AVDZINES) was inaugurated on the 24th of November, Tuesday at 4 pm at the Mangalam campus (between Wellpaper & Bamboo research centre).
The Executive head of AVDZINES - Guna and the Architect of the new wing - Ganesh were found continuously occupied making arrangements for the inauguration at the campus. Many Aurovillians and other Architecture enthusiasts showed their presence sensing every bit of the building.
Guna said, "This is the first phase of the working unit constructed in a year from May 2014 to June 2015."
He also mentioned that the current Graphics section at the Multimedia centre would continue to function, on an office basis.

Listen to Guna who gives more details about the new wing.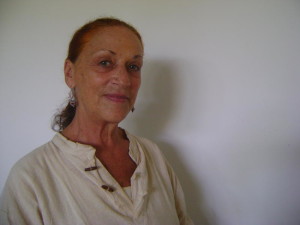 Poumi Lescaut , a regular visitor of Auroville and highly creative human being is searching for beautiful dimension in every being, and tries to bring it up. Versatile artist - dance, singing, painting, writing ... chanting Poumi has recently finished Gaia - a contemporary creating with four shamans, which was also filmed. Poumi si merging creativity with transition in which sacred contemporary dance comes forward with its conscious role.
Poumi invites us to her workshop on Cosmos and Being on 23rd 24th of January between 10am to 1pm at CRIPA. The workshop is dance and improvisation, and the only requirements are that one is physically well and have a spirit of researcher.



Voyage of Poumi's life

In the first part of my life I was essentially a dancer and a choreographer, all though I was painting and chanting…
Starting in Maurice Béjart's company, than had my own company with creations all over (Europe, Mediterranean countries, Africa, New York, Antilles, and a lot in India…)
In India I learned mantras and prayers on the banks of river Ganges, than started a series of cd's focused on Indian spiritual chants and after, Tibetan: "Incantations", "Incandescence", "Hung" and "Rudraksha". The last one just born, is "Malkhout" with texts of Bible, in Hebrew, Greek and Arameen.
I love the sharing of this energy with the audience in concerts, each time happens a deep experience. Different programs are available: centered on a specific tradition or a voyage to all.
I also dance at the end of the program when the place makes it possible…
All my life has been focused on self knowledge and self development through body language and yoga, by teaching classes and workshops. My aim is to bound art, therapy and spirituality (in a cosmic view, I wrote a book about Sri Balayogi: "The Alchemy of Silence").
The chants are inspired by a deep research with great spiritual masters, who gave there assents for singing these texts.
Painting and healing are also important in an other space of my life.
Everything is done to open the hart and to bring peacefulness…
Poumi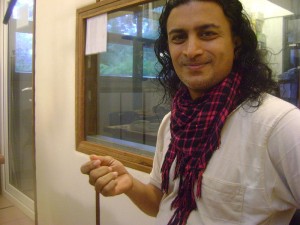 This morning, despite the heavy rain and winds Drupad has visited us in our studio to share with us some thoughts on coming Mime Festival
MIMING FOR THE MASTERS - in AUROVILLE from the 12th to the 24th of November.... which, according to Drupad, will be just a beginning.

This festival is an International Mime Festival taking place for the first time within various mime groups worldwide and within a few states in India. It is a festival in which Mimes and lovers of The Silent Art Form gather together the world over to honour THE MASTERS OF MIME - living and bygone. Conceptualised in Auroville, it is organised by the Bharatiya Mookabhinaya Natya Mahasangha (Indian Mime Federation) in association with various worldwide Mime Associations and Festival Committees. Auroville shall be the Administrative Centre of this Worldwide event.
From the 21st to the 24th the festival in Auroville shall be graced by the Padma Shri Awardee Shri Niranjan Goswami who is the Director of Indian Mime Theatre - Kolkata and also the President of Indian Mime Federation.
Miming for the Masters in Auroville includes:
Recording of Multiple One Minute Mime Videos.
24hr Non - Stop Mime Performance starting from the 17th of November - 6 pm until the 18th of November - 6 pm.
Workshops conducted by 7 Professional Mime Artists during the 12 day Mime Festival.
Living Statue Story performed and recorded on the 21st of November.
Video conference with a Few Masters of Mime.
Three Mime shows on the 21st, 22nd and the 23rd of November.
Information about the evolution of the idea of the festival, the Festival itinerary, Locations of Venues, Pre - Festival open house in Auroville and other details will be posted in the festival page of the website www.mime.org.in on the 7th of November (This Saturday). You can find this information on the same day on its social networking page www.facebook.com/mimingforthemasters Those who wish to be part of this event or would like to know more about it please contact Drupad on +91 9626561256 or send an email to mime@auroville.org.in