Category Archives:
Architecture
Auroville congratulate's and acknowledges Satprem Maïni and his brilliant team as they have done the community proud by completing yet another project and this one in the most adverse condition, known to human civilization. Not only did they complete this marvelous project, they have yet again proved to the community and world at large the possibility and advantages of constructing with Rammed Earth . On completion of the project , the ' World Climate Change Summit ' gave a prize to 'Earth Institute' represented by Satprem and his team, "Green Building Award" for being a role model project, in meter of ' low carbon footprint' and 'eco-friendly' aspects of the project. For photos and more details about the project are available with the institute to explore.
This morning, on October 4, 2015 at 9.30, Dr Karan Singh inaugurated the new site for the archives together with Aurovillians and members of the Governing Board and IAC.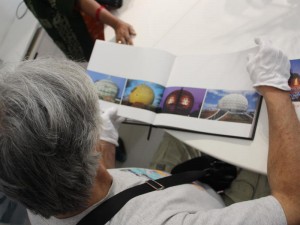 On Saturday, the 20th of December, a varied set of people gathered at Citadines to celebrate the launch of the book on Matrimandir, featuring photographs by Dominique Darr who has seen the Matrimandir evolve right from its days of foundation to the final glory of completion.
The interviews feature Parthiv Shah, a photographer from Delhi involved with the design process of the book; Max, a new member of the AVI visiting the gallery; Ravindra, who's been welcoming people at the Matrimandir since a while; Francine, a photographer and close friend of Dominique; Fredrick, who has been in Auroville since before its foundation and was a close associate of Roger Anger and Devasmita Patnayak, a part of AVI France, who laid the building stones of Matrimandir as a child, and a friend of the author of the book.
These are just a few amongst the countless people who's lives have been touched by the soul of the city, the Matrimandir and share their personal set of experiences and interactions with some of the prominent people such as the architect Roger Anger as well. Set amidst the beautiful ambience of the gallery; respecting the austerity and delicate nature of the book, many people were seen sporting white gloves as they turned the pages of the book that unraveled the mystical creation called Matrimandir.
It was an occasion of triumph, of merriment, as the people of Auroville paid a tribute to Mother's beautiful symbol, her aspiration, her last gift to Auroville.

http://www.auroville.org/categories/6



Yesterday afternoon at SAIIER conference room Spanish architect Lusi Feduchi presented again - this time compiled and revised with feedback from Auroville architects - his Detailed Development Plan for Residential Zone 1 and 2.

This Interactive event was meant for all interested parties - residents to be more informed about the plan in order to approve it. Detailed plans will be available at Town Hall for public viewing
Common feeling of residents was that architects are not familiar with ground reality of the area.
Talk by Ashok Lall took place in Auroville on the 22nd August covering the Genesis of high rise living, 'social health' of high rise living, Limits of density, economics of high rise development, environmental outputs, land utilization and mobility, followed by Q&A with a panel comprising of Sanjay Prakash, Tanmay Tathagath and Dean D'Cruz and Ashok Lall; all well know in India for their work in Sustainable Habitat.

Ashok Lall is an architect from New Delhi, Ex-dean of the TVB school of Architecture - ND, was convener of the Delhi Urban Arts Commission Work group on Energy. His work includes projects like the Indian Institute of Health Management Research, Jaipur; Sehgal Foundation, Gurgaon and Development Alternatives World Headquarters, New Delhi.

He is well wisher of Auroville and has helped with inputs on planning and architecture whenever requested by Auroville. This talk was organised as part of a two day meeting held in Auroville by the Gubbi Alliance for Sustainable Habitat.



Auroville Radio is glad to invite you to listen the Low Cost Housing meeting happening at Arka past monday 12/11/2012. Different architects and engineers from Auroville have met, and talked how to solve the increasing prices of housing, looking at the past and projecting to the future. At the meeting were more than 10 experts involved in different housing fields, from architecture to provision, with different backgrounds and experiences coming from different Communities in Auroville.