Posts Tagged 'Sri Aurobindo Ashram'
Une serie hebdomadaire de lectures par Gangalakshmi (en Francais) de selection d oeuvres sur ou de la Mere et Sri Aurobindo, qui lui semble La Manifestation Supramentale.
A weekly series of readings by Gangalakshmi (in French) from selected works by or on the Mother and Sri Aurobindo.
This week The Mother/La Mere – Entretiens 1957 -58; Le 26 Juin 1957
On the special request from listeners this edition is un cut!!!

Mother's Questions & Answers
July 20, 1955
This week Mother answers, among the questions put to her; questions on seeking after the impersonal, how to escape from other people's influence, how to give oneself to the Divine and therefore to have the Divine give Himself to you, and what is the Impersonal Divine. When Mother speaks about the Impersonal Divine, she explains about the concept of Nirvana. An interesting coincidence is that the readings from Savitri, which will be broadcast around the same time as this broadcast, are from Book VII, The Book of Yoga, Canto VI, Nirvana and the Discovery of the All-negating Absolute. In the last two-thirds of this canto, which will each be broadcast in turn, Sri Aurobindo describes his own experience of Nirvana in detail.
After the English reading of the July 20, 1955 Questions and Answers, the original tape recording of Mother's class in French will be played.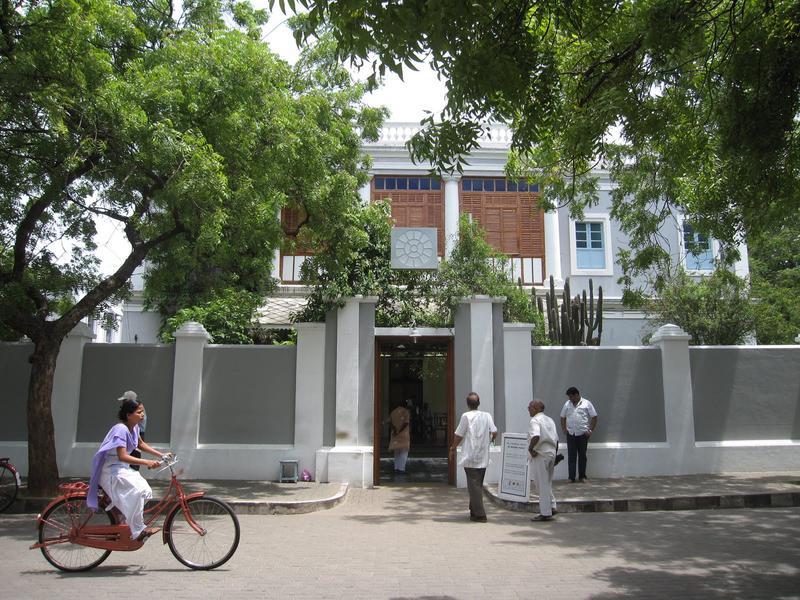 Weekend ahead of us will mostly pass in cultural events, starting Saturday at 8 pm at Sri Aurobindo Amphitheater, Bharat Nivas, Pavilion of India in International Zone with play The Tenth Head, presented by Adishkati. They will continue the next day at 7 pm with two plays Nidravatwam and Hanuman and Ramayana. On Saturday we are invited to Dr. Karan Singh lecture on THE LAST MESSAGE OF SRI AUROBINDO in the Ashram Theatre, Rue Suffren – Pondicherry. Art Chakra on Sunday from 10.30 am on at Kala Kendra, Bharat Nivas, volunteers' performance, presentation.
Life is a perpetual choice between truth and falsehood, light and darkness, progress and regression,the ascent towards the heights or a fall into the abyss. It is for each one to choose freely.
The Words of The Mother, Vol.14
Today's remembering of Professor Arabinda Basu or Arindam-da, as known to many, at Savitri Bhavan in International Zone passed in deep gratitude. In first part we saw a short documentary made by Tatiana, followed by Aster Patel's talk on The Transition of our Time. Remembrance, attended by many, brought up some sharing, starting with Arabinda's son Robert, his close assistant Mousumi Mukherji, and others. Professor Arabinda Basu born in 1918 – 2012 was well known in Ashram, Auroville and abroad as scholar on Sri Aurobindo's teachings.
On Wednesday November 13th, 2013, all are invited to an Information GM on Koodam at 4.30pm, Unity Pavilion (International Zone). On the Friday, November 15th, Cafe Auroville – unlocking Auroville to the youth of the world – takes place, also at the Unity Pavilion. Organized by SAVI it starts at 2pm, On Saturday 16th at 7pm Twilight Beats (Pondicherry) present Raga Pushpanjali Tamil Devotional Songs on the Mother & Sri Aurobindo by Vocalist Sam Terris (Miresh) and on Keyboard Sharan, with Shiva Raman on Tabla. This at CRIPA in Kalabhumi. On Sunday the 17th at 6pm we are promised a beautiful Karthigai celebration by and at Deepam
The Grace is equally for all. But each one receives it according to his sincerity. It does not depend on outward circumstances but on a sincere aspiration and openness. Words of The Mother, Vol. 14 **************************************************************************************** On 17th November 1973, the Mother left her body. She was ninety-five. Many among her children were deeply shaken for the time being. But they realise now that she is always present amidst them.**************Both at home and abroad, the devotees see the Mother in their dreams. They feel her presence, listen to her message and get inspiration and instruction in their work. They firmly believe that the Mother will return in a new form. Meanwhile her mission is getting quietly fulfilled more and more. When Sri Aurobindo left his body the Mother said, "Nothing has changed. All that Sri Aurobindo has said is true, time will prove it." On the Mother's withdrawal, her children are carrying on her work repeating the same dictum "Nothing has changed." *************************************************************************************** On 17 November 1973, the Mother laid down her residual human body while she continued to exist forever in a body consisting of a supramental substance. The supramental substance as worked out by the Mother is a material substance – otherwise the earthly revolution would have no meaning – though it is composed of a substance more refined than the Matter known to us. Generally speaking, the Gross Matter of our Mother the Earth is still in the process of transformation. This process is now in an advanced stage thanks to the avataric Yoga of Sri Aurobindo and the Mother. When gross Matter will have become sufficiently subtle and receptive, i.e. transformed, the mature souls, ready and waiting in their soul-world, will descend and incarnate in it. The formation of their bodies will be moulded by the existence of the Mother's supramental body, the prototype of the new species. -Georges Van Vrekhem: The Mother – The Story of Her Life
'
Auroville Marathon 2013 – Run for the joy of Running. The sixth edition of the Auroville Marathon will be held on February 10, 2013. This year, we'll have over 3000 participants from Auroville, the neighboring villages, Sri Aurobindo Ashram and from other cities in India as well as outside India. The Marathon will start and finish at Auroville Visitors Centre. Listen to the interviews with the organizing team members Chandresh Patel and Balaji. Please click here to download a document with information about the event.
The Sri Aurobindo Integral Center of Education organized a concert in the Harmony hall with Christa Eschmann at flute, Richard Hartz on piano. They played Johann Sebastian Bach, Christoph Willibald Gluck, Wolfgang Amadeus Mozart, Franz Shubert, Karl Kreith, and Willem Popp .Christa Eschmann studied flute at the music schools in Hanover and Bremen, with the completion of the teaching diploma and artistic maturity. She attended master classes with Peter Lukas Graf and William Bennett and dealt with early music.
In addition to teaching she performs as a concert flutist in various ensembles. Some works she has premiered or been written for them (Ladislav Kupkovic, Michael Doernberg, Gnther Wiesemann and others). As part of a German-Japanese cultural exchange, she was a member of the "Trio Hanover" invited to a four-week tour of Japan. In the cast, she traveled to Iceland with accordion. In 2008 she was together with her colleague Moto Harada guest at the International Contemporary Music Festival in Daegu / Korea where they with the "Trio Rosenstock" brought several works premiered. She works with actors and painters. Richard Hartz is long time member of the Sri Aurobindo Ashram in Puducherry.
In the upcoming series of events for the Russian Pavilion in International Zone Victor offered Music of the Soul – mantras and sacred songs devoted to the Mother and Sri Aurobindo to Auroville. The musical event was hosted by Pavilion of Tibetan Culture, where its hall offered and intimate, yet very acoustic space for Victor's vibrant and powerful voice, educated in classical opera singing. Mantras and sacred songs sung in that manner gained a new dimension, slightly resembling on church coral singing … made souls resonate
At Savitri Bhavan is open the exhibition THE TEACHINGS OF FLOWERS – THE LIFE AND WORK OF THE MOTHER OF THE SRI AUROBINDO ASHRAM. In today's news we feature interview with Shraddhavan at the occasion of the Mother's Birthday. Tonight On the eve of the Tibetan Dragon year 2139 at Pavilion of Tibetan Culture in International Zone at 6.45 they prepared a meditation for peace starting with the gathering of Tibetan Chanting by the visiting Students from Tibetan Childrens Village School from Dharamsala followed by a meditation.
Surrrender: the decision to hand over the responsibility of your life to the Divine. This is done either trough the mind or the emotion or the life-impulse or trough all of them together. The Words of The Mother, Vol. 14
"You can easily make a speech using flowers. For instance, I have noticed that this can effectively replace the ambiguous phraseology of the ancient initiations, or the old Vedic images, which no longer hold meaning for us. Flower language is much better because it contains the Force and is extremely plastic since it is not formulated in words, each one is free to arrange and receive it according to his own capacity. You can make long speeches using flowers."
The Mother