Posts Tagged 'Gardens'
We did of VOX POP on water shortage in Auroville., trying to find out the level of awareness amongst the population.
Most are aware that we are facing sever water scarcity, and they do perform small steps to conserve water in their houses,
Somebody said. "…humanity tends not to look at the conservation until it is a disaster …"

The Working Committee informs that the next meeting of the Governing Board of the Auroville Foundation is scheduled for August 13 and 14.
The Working Committee share The former members of the International Advisory Council sent us the attached letter to all Aurovilians.
Water Groupn informs that we are in the worst Tamil Nadu Drought in 140 Years, Reservoirs 81% down. Auroville Water Table Falling at 50cm a month.
What each of us can do to save the water……
Wednesday 19th July at 5 pm Hall of Peace, Unity Pavilion Korean Tea Ceremony With Tea-master Jeong Ok. Kim from Korea together with Kyong Hyon Lee, Mi Kyung and Jeon.
This soul of desire is a separative soul of ego and all its instincts are for a separative slef-afirmation; it pushes always openly or under more or less shining masks, for its own growth, for possession, for enjoyment, for conquest and empire.
The Synthesis of Yoga by Sri Aurobindo

Few days back working groups announced the water crisis, and pleaded the community to be careful in usage of our water. This morning we hosted Tom and Ing-Marie from Water group with updates, and currents situation on water .
Tom in details explains where do we get our water from, and what would be the steps in extreme situation or crisis, in which we are headed if there would be no rainfall in near future. Ing-Maries shares some tips on how to save water, with emphasis that those, and more, are available on the web page of Water Group.
The group sees future of our water in rain harvesting.
Still, situation is severe, and it will take an awareness, and committed acts of each of us to face water crisis.
RAS shares with us following:
Total 243 registered residents have participated in the online and manual voting. The quorum has been reached.
Answers count:
YES – 196
NO – 47
Result: The new Method of Town Planning  is ratified.  81% of 243 voters approve Proposed Restructure of Town Planning in Auroville.
On May 22, Residents' Assembly Service member, Inge Rieck, announced her resignation from the Service, to pursue other projects within the community.
May 12, 2017, Stephanie announced her resignation from the Funds and Asset Management Committee (FAMC).
The Matrimandir Team informs us that Matrimandir will be closed to visitors for urgent renovation and repair works from 5.6.2017 to 5.7.2017. Matrimandir reopens for visitors concentration from 6.7.2017.
The Visitors Centre Cafeteria and the Dosa Corner will be closed from Monday 29th of May to Friday 2nd of June included for a well deserved break and some maintenance work.
Darkali Fitness Track is closed from 29th May till 3rd June.
Tanto Auroville Main road will be closed from Monday 29 May till further notice .Their ten years old oven needs to be redone .Tanto ECR will stay open during all this period.
La Piscine will be closed for the Teams' annual Tour from Thursday June 1st, and they will re-open on Monday June 5th at 12 noon.
The heart is in direct communion with the human soul, and when the heart speaks, even with the resistance of the head, something inside you changes; your heart opens another heart, and true love is possible.
Don Miguel Ruiz
Sarah arrived in Auroville as one of many Weltwaerts volunteers from Germany, and has decided to work with plants, since that is her passion, and maybe her future line of work with environmental science. Most of time here she spent at Botanical Garden continuing with the work of a garden someone started last year., and as she mentions, some one will continue after her …
Sarah compiled booklet, which supposed to be the first one in the series, on Local Medicinal Plants in Tamil Nadu. That one is focused on healing skin problems with local plants.
So many possibilities, and freedom to chose , would be high on the list of things Sarah like about Auroville, followed by her good relationship with Makachi, a Tamil woman with an enormous knowledge on plants and their uses, who generously shared her knowledge with Sarah…..

Travelling on the winds of the change through landscapes, reaching out for light, and sun which conjures the new day … languages of the world remembering the future, holding still their breath in silence knowing that the end is not near….
tracklist
Hawkwind – Wind of Change
Brian Crain – One Morning in June
Luciano Berio – Thema
Pink Floyd – Sysyphus
Psychic TV – Set The Controls For The Heart Of The Sun
Entheogenic – Body of Light
The End's Not Near by The New Year
Delerium – Eternal Odyssey
Tipper – Dead Soon
Delerium – Returning featuring Kristy Thirsk
Conjure One – The Garden
Delirium – Silence
Steven Wilson – And End to End
Steven Wilson – Twilight Coda
Brian Eno – An Ending (Ascent)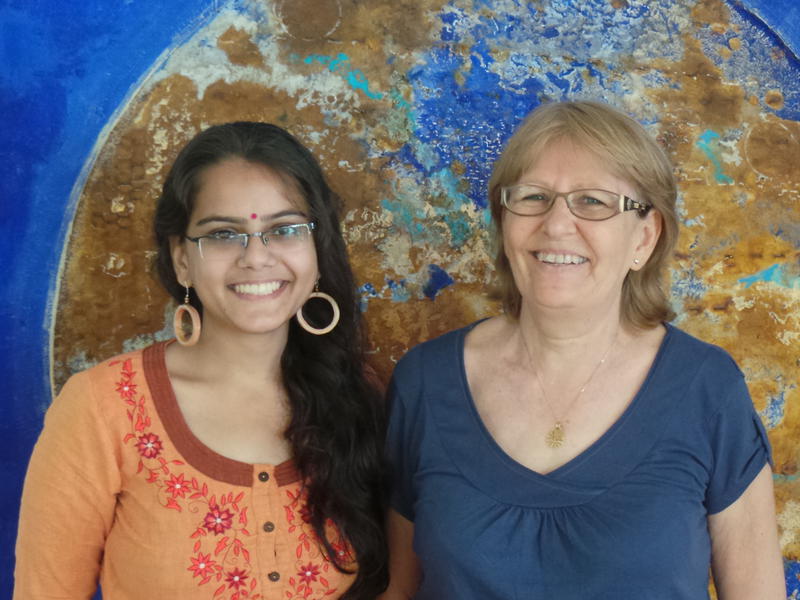 A new study group has been inspired, to brainstorm and create a resolute economy structure for Auroville of the future. Spearheading this endeavor is Jaya and Divyanshi, in collaboration with other team members. We have a tendency of approaching economy in a very logic frame of mind, based on financial rules and principles and tend to have rigid parameters, here we have a refreshing new approach to economy with spirituality at its base, guided by the principles of only The Mother, and fundamentals derived from interpretation of the Matri-Mandir gardens. Yes! the Matrimandir gardens is like a matrix in its own, gifted to us by the Mother and can bring enormous insights into designing of lifestyles and ecosystems, as Jaya elaborates in this interview. They propose, for an out-of-the-box solution is required to shape an economy, which should have no parallel in the world, as it should very well be like an invention, such is the theme set for Auroville. It is an interesting and thought provoking point-of-view where you have flowers, gardens, spirit and feelings as a vocabulary to design an economy which serves the people rather than an economy designed to enslave the talent and power humans can produce. This group has started off with small steps but with great intensity into research and problem solving methods, starting right from the micro level and building up the economy story.
Anyone listening to this interview and is related to Auroville economy must consider offering time and energy to this special group, determined to achieve The Mother's Dream, "Money is no longer the sovereign lord of people"
CAT10- was organized on Mother's birthday to reflect on the 'Joy of building a green universal township: Auroville'.
Luigi and team had created this presentation based on the vision of the Mother of an eco-friendly city the Earth needs.
It was a very harmonious presentation and was explained in much detail to inspire deeper insights.
An innovative presentation style, with 4 panelist from various fields and having pioneering experience in Auroville, to discuss and comment on the presentation content as it moved along from topic to topic. Due to late start, the presentation was cut short but the passion and enthusiasm with which Luigi and panelists presented was abundant. There were many aspects to take away from this presentation, like the suggestion to 'remove the internal fences between communities to concretely foster human unity ' or to increase the use of creepers in a maximum effect manner or use applied research in making internal spaces, external facades and terraces more energy efficient in order to develop greener landscapes including vegetables cultivation.
The entire evening and the audience response was very pleasant, ideal to discuss Mother's vision in action.
Thank you Luigi, the panelists, the participants and the 'CAT's' to co-create this safe space of reflection on what holds Auroville to the past and what opens to the future.
Tuesday, January 31st at 4 pm at Unity Pavilion -'The Auroville Foundation Act', 1988 – (CAT 08)
The Appeal Process is approved! Residents Assembly Service has registered 237 votes (214 – yes, 23 – no) which are only 13.8% of our population (1718 registered residents):
Monday January 30th at 7 pm at The Matrimandir Garden of Unity we are invited to the "Man, sole awake …" – selections from Savitri
On Wednesday 1st of February At Solitude Farm : A TRIBUTE TO PASTORIUS
Thursday, 2nd- February at 3:30 pm at Citadine Art Gallery CHIRU Auroville Conversations – Vikram on "Collaboration instead of Competition in Physical Education and Exploration
Ultimate Frisbee – 7th annual Auroville Hat Tournament on the 4th & 5th of February.
Go forward calmly and firmly, not attached to success, not disturbed by unsuccess; my divine help will then never fail you
Sri Aurobindo