Posts Tagged 'News'
In this Interview, Samira Bose, an upcoming artist as well as a former Auroville Radio intern talks to me about her forthcoming projects, her art and of course, Auroville.

On the occasion of International Yoga Day, I talk with Ashesh Joshi who released his new book 'Introduction to Integral Yoga' in Savitri Bhavan. In this interview, Joshi discusses why he felt compelled to pen this book, his work in Auroville and the world running workshops and finally, the power of Integral Yoga.

Poppo Pingel is a celebrated architect, who came to Auroville in 1968 for the inauguration as the German delegate. In this interview, Pingel talks about his passion for archeology that stayed with him throughout his life, but found an outlet in Auroville. He describes his various findings from his very first excavation attempt to his recent discoveries as well as the challenges that accompanied them. Additionally, he discusses the archeological park he established (which is situated on Crown Road between Solar Kitchen and Visitors Centre) and explains why he chose to create a 'park' instead of a conventional historical site.

We've been to a small ceremony of consecration and celebration at the new Language Lab building in the International Zone on Auroville's birthday. Here's a short interview to Mita, one of the two founders, explaining us about their activity.
Mr. Laksminarayanan, former AD panchayat, Govt. of Tamil Nadu, & Currently liaison officer, SLI ( Sustainable Livelihood Institute ).
He has over 40 years of experience in working with the grassroot governance institutions. He delivers a powerful presentation, educating the locals upon the up coming panchayat elections. Mr. Laksminarayanan emphasis on the fact that every voting member is a part of 'graham sabha ' and in turn has judiciary powers of the elected panchayat official, if required so. He educates, that Tamil Nadu has had a history of local panchayat governance right from 700 A.D. , and points out to various policies for qualification and disqualification of elected members which have been made clear, even in that era. He emphasis on the role of the Graham Sabha and highlights to the fact, every voting member is automatically a member of the graham sabha and has judiciary powers over the elected members and can bring them to accountability if required. Mr. Laksminarayanan dwells upon these serious issues with a rather jolly mood and reminds the people that, gone are the days when elected members of panchayat can favoritism of any kind and the elected members must work diligently to make sure all the basic needs of villagers are met. He is responsible in his professional life, to have lead and caused up to 31 panchayat elected official, to be disqualified and resign.

For the first time, Auroville celebrated the Pongal Thanksgiving Festival traditionally. Pongal was celebrated at Friday in front of the solar kitchen. As it was organized by Tamil people and some Auroville units, the city got an authentic glimpse of Indias most important festival. A Soundcollage with Soundscape, music and interviews.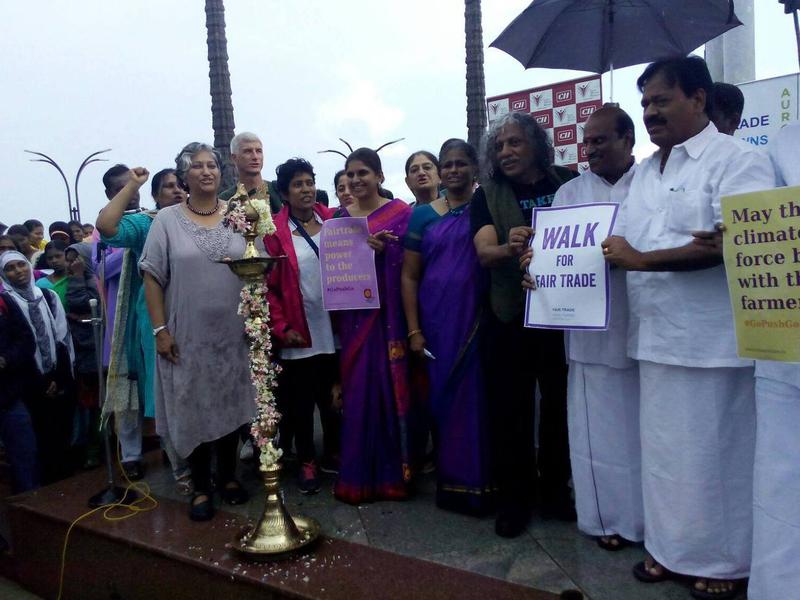 'Go Push go' were the words heard from the group of people supporting Pushpanath for the 450 km long walk, which commenced from Gandhi Thidal in Pondicherry on the 20th of November, Friday.
The intention of the walk is to create awareness about climate change and support the newly proposed Fair Trade Twin Towns – Pondicherry and Auroville.
Even though the 64 year old activist has 'ageing legs', as he said, the 'extra-ordinary' downpour of rain, in fact encouraged him more for the walk, as the cause for the same was more important and needed for the living community around the globe.
The first stop being Auroville, we saw Push sipping cups of chai and grabbing some pieces of cake at the Visitor's Centre. Listen to what he has to say about the incredible journey and his ideas of climate change.
Join hands with him by knowing more about his stops between Pondicherry and Ooty, his final destination. The walk ends on the 10th of December!