Posts Tagged 'Waste'
Luca from Eco-Pro gives a presentation on the cycle of food and compost. Firstly he talks about urine, its properties and its various uses, and later in his talk he presents his new project about a new type of waterless toilets.

On Saturday 8th April The Trashband performed making sounds and rhythms only using everyday items we find in our garbage…… plastic and glass bottles, tin cans, rubber balloons and more. It was a very lively and humorous show with the underlying message to keep our world litter free.

"Your 5 minutes of attention can save the planet 500 years of decomposition time, WASH YOUR PLASTICS BEFORE YOU THROW"
Auroville is full of Culture, Education and Celebration, one of the few places on earth where not only we deal with our waste consciously but can create ways to have fun with it. Auroville radio met up with Palani and Kali who took charge of Ecoservice Unit from January 2016, keeping Auroville 'LitterFree' every single day.
In this program Palani and Kali share with us real-time facts and figures from last year, speak about the recent Kottakrai clean up campaign, share with us various myth and truths about the Ecoservice, draw comparison with their peers from Pondicherry, Villupuram and Chennai and bring our awareness to various DO's and DONT's that we can follow in order to minimizing "Our Waste" ending up in landfill. The Ecoservice was segregating the community waste into 60 categories last year, have now upgraded their process and are capable of segregating the total waste collected into 82 categories. No one else does that. The unit is working relentlessly and is coming up with unique and creative solutions to tackle the challenges of waste management. One of the main tools they are employing is to stop waste at it's source, by educating the community to make conscious choices in a way which will enable them to consume healthily and demand recyclable packaging for products. It can seem like just a job but what makes it successful is when your passion can make it into a challenge to do better. Encouraging the community to literally "talking thrash" to have a better future for all of us.
During the Litter Free Auroville 2017 Ribhu (from Wasteless) and Marc (from Upclycling studio) gave a very inspiring talk explaining the current waste management systems in our country and how it is affecting the environment. It started with a movie 'Trash to Treasure, about upcycling and recycling'. Then they talked about how it has become a need to change this system as soon as possible otherwise all of our lands are gonna be converted into a big dumpster. The talk was actively joined by many people.
Litter Free Auroville is an initiative put forward in order to eliminate waste from Auroville by using creative means. The first day we witnessed performances where plastic and other waste products were used as instruments. The exhibitions also opens up an array of creative ways these wastes can be used innovatively. We also spoke to the organizers of the event who gave us further clarity on the aim behind the initiative.
For more details on the event, do check out the link:
http://artservice.auroville.org/programs-litter-free-auroville-2017

Ok talks about how to make Auroville litter free by accumulating waste and using it innovatively. She talks about her workshop that involved making cushions out of plastic. In this interview Ok further talks about the idea behind Upcycling Studio, challenges faced and her aspirations.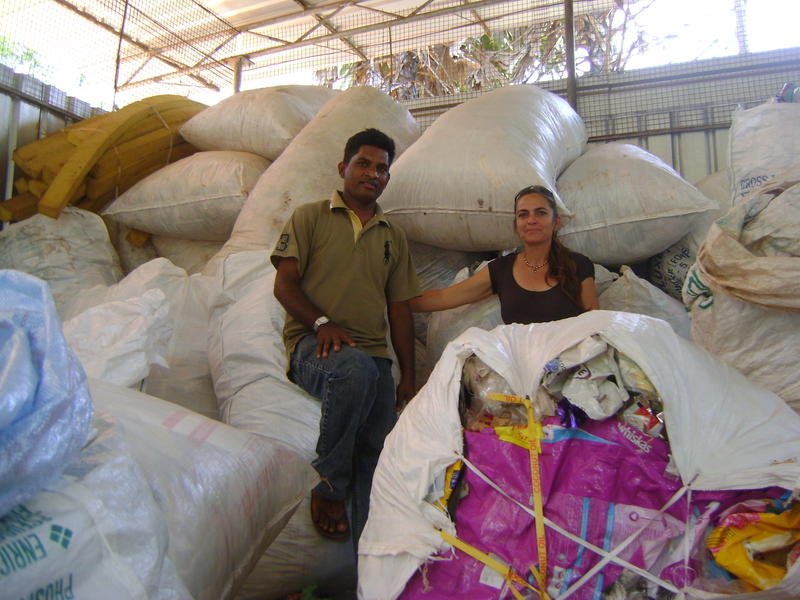 In this program Kali and Palani from Auroville Eco Service remind us the dos and donts of waste segregation to help them reduce our environmental impact.
You will also learn more about their commitment goals and ideas to make Auroville an example of waste treatment in India.
To organize a pick up call Palani at 9443535172
More info at https://www.facebook.com/Ecoservice

Today's meeting at SAIIER's conference room organized by TDC/L'Avenir d' Auroville, and presented by Jan was trying to point out that city does need move from ad hoc situation of building (as it was done in past) to an urban region with proper planning, starting with infrastructure. In regards to it also the sewage system has its own place, and for many reasons should be put in place quite soon.
Jan presented one of the possibilities for the common waste water treatment of Residential Zone 1 and 2, which is clearly not in favor of the community.
Since GOI grants were allocated to deal with those problems , and since the population of the Zone is rapidly growing , a solution needs to be found.
After all, water is life, and water contaminated with too many of e.coli can be devastating for the population, apart from many other unwanted ingredients.
TDC announcement
During recent years considerable funds from GOI and other sources have been invested to develop the Sector 1 and 2 of the Residential Zone. As new residences have been built, roads and the technical infrastructure for drinking water supply and electricity network have been expanded.
Similarly we would like to build up a waste water management system which is able to deal with the increasing demand. The system should be ecologically sound and provide recycled waste water for irrigation in parks and gardens. A detailed study was carried out to compare different options and determine the best suitable technique.
The proposed design consists of a sewer system which connects to a single treatment plant. The treated water undergoes further purification and is then pumped back into the communities to be used for gardening. The sludge, separated during the treatment is post- processed at the treatment plant and can be used as compost in parks and gardens.
In the first phase communities along the Vikas Radial are connected to a main sewer that runs along this Radial. A second sewer will be built along the Samasti-Solar Kitchen Radial and the remaining communities are connected in the following phases. The project is expandable to serve the entire planned population of these two sectors of the Residential Zone.