Posts Tagged 'Matrimandir'
Pongal is a harvest festival dedicated to the Sun. The day marks the start of the sun's six month long journey northwards (the Uttaraayanam). This also corresponds to the Indic solstice when the sun purportedly enters the 10th house of the Indian zodiac Makara or Capricorn. Pongal is a four days long harvest festival celebrated in Tamil Nadu.
On Friday, 19th of January at 4pm at Cinema Paradiso (Town Hall) "Ecology in the Anthropocene Human evolutionary heritage facing recent environmental challenges" (Presentation and Discussion) Join us on Dr. Mark Frenzel from the German Helmholtz Centre for Environmental Research.
On Friday, 19th January at 7:30 pm at Pavilion of Tibetan Culture – Taiwanese Culture Night.
Matrimandir on Tuesday 16th, Pongal Karinal day will remain open from 6am to 8 am and from 4.30 to 8 pm only for Aurovilians and Newcomers.There will be no visitors' hour and no visits for Auroville schools and children either.The Park of Unity will remain closed from 8 am to 4.30 pm.The Visitors Centre will remain closed for the day.We regret very much the inconvenience.Happy Pongal!
The Solar Kitchen and La Terrace will be closed on 15ht and 16th,
Auroville Bakery & Garden CaféWill be closed on Tuesday 16.th and they are asking you to collect your Tuesday order(s) on Monday 15th
PTDC will be closed on 16th, and they wish us Happy Pongal.
All Yoga is in its nature a new birth; it is a birth out of the ordinary, the mentalised material life of man into a higher spiritual consciousness and greater and diviner being.
The Synthesis of Yoga
Sri Aurobindo

On the 19th September 2017 at the Unity Pavillion, CAT (Create Auroville Together) invited Deepti to give a presentation on "Sri Aurobindo's perspective on the Universal Mother". It was such a beautiful and alive sharing, really felt and enjoyed by all present.
Acceptance, Surrender, the Sunlit Path.

Une série hébdomadaire de lectures par Gangalakshmi (en Français) de sélection d?oeuvres sur ou de la Mère et Sri Aurobindo, qui lui semble La Manifestation Supramentale.
A weekly series of readings by Gangalakshmi (in French) from selected works by or on the Mother and Sri Aurobindo.
This week Sri Aurobindo?s Savitri, ? Le Testament de Sri Aurobindo by Satprem; Livre I, Chant IV La Connaissance secrete
On the special request from listeners this edition is un cut!!!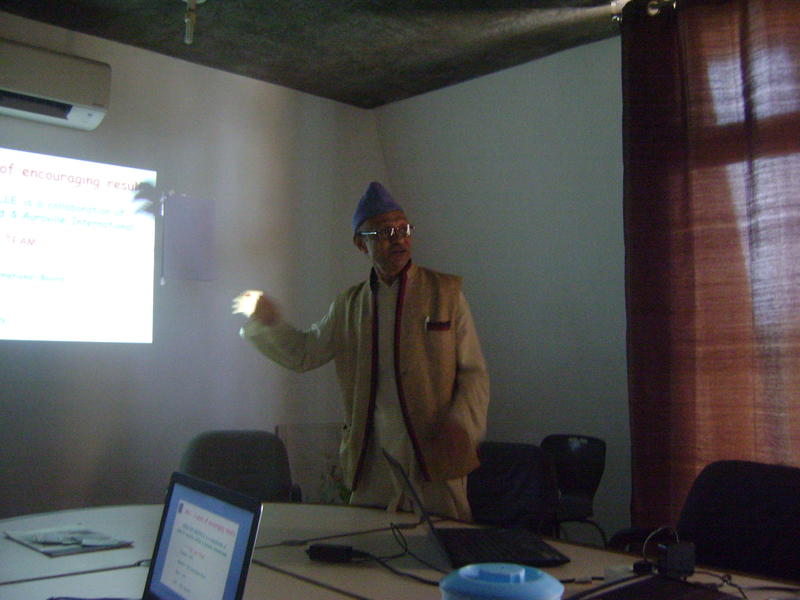 After three successful years, Acres for Auroville stepped into the 4th phase of its journey today on the 15th August, the auspicious day of the Independence Day of India and the birthday of Sri Aurobindo. We had a presentation for the Auroville's 50th birthday shown along with a healthy discussion amongst the Aurovillians and Aryadeep, Mandakini(who was available on Skype), Sigrid, Marco and Priya, on the land of Auroville.
Check out more on
https://www.aurovilleradio.org/uniting-for-aurovilles-land/

Shraddhavan, an author and Project coordinator at Savitri Bhavan talks about how things unfolded and brought her to Auroville, her initial days here, Sri Aurobindo's epic Savitri and a sweet message for the 50th Anniversary of Auroville.

RAS shares – According to the community's Participatory Working Groups system, a number of working group members are replaced: the Auroville Council – 3 members; the Working Committee – 3 members; the Funds and Assets Management Committee – 2 members. This year we're also selecting a new Town Development Council (l'Avenir d'Auroville).You're invited to participate in these important events by nominating those community members that you think could be potential working group members and/or participants of the selection process.Please note, that the deadline for nominations is Saturday, August, 5..
The Working Committee says that the next meeting of the Governing Board of the Auroville Foundation is scheduled for August 13 and 14; with reports from working groups and/or individuals.
Annapurna News Letter #4
La Piscine The Life Saving Certification Course dates have been changed to August 4 – August 7.The Coach from Rashtriya Life Saving Society has also informed us that anyone who wishes to get only First-Aid Certification may do so by attending the first 2 days: August 4 and 5. The cost of First-Aid Certication only is Rs. 2500Both Life Saving and First Aid certificates are recognized internationally.
To do yoga, one of the most important things to achieve is to get rid of all attachment to the past.Let the past be past and concentrate only on the progress you want to make and the surrender to the Divine you have to achieve.
My blessings and help are always with you.
With love.
The Mother
10 January 1967 
Vol.15

How it feels when you finally 'realise' that this is what you've been looking for…
On Tuesday, 18th April 2017, SAVI hosted a volunteer presentation in Tibetan Pavillion, two volunteers Jyothirmayee and Mayank, working in "Kenji's Japanese Carpentry workshop" shared their life experience and how Auroville managed to give them what they have been looking for their whole life. They shared how they managed to deal with all the problems , how they managed to keep their basket full of questions aside and have an empty basket for answers on them. Jyothirmayee told a story how she felt magic happening when her 40 year plan started in like a snap. Mayank shared his love for wood, how they speak to him. After years of struggle inside out, they found something they have been looking for.
All you need to do for yourself is keep cleaning the stream of your flow and to put mind, body and heart in harmony and the magic will happen. This is how one can find that one "thing" they are looking for.
The applaud at the end of each talk spoke how everyone was so deeply touched by their stories.