Posts Tagged 'Radio'
Bow Wow-Basketball
silento-whip
Mindless Behavior-Hello
Mindless Behavior-My girl
Chris Brown- Run it
Chris Brown-Wall to Wall
Chris Brown-Kiss Kiss
Bow Wow-pupy love
Bow Wow- like you
Chris Brown-grass isn't greener
Chris Brown-New flame
the chain Smokers-paris
Taylor Swift- Bad blood
Ariana Grande- problem
the chain smokers – just like this

Rock playlist please enjoy 😉
tracklist
Arctic Monkeys – Arabella
Arctic Monkeys – R U Mine
Arctic Monkeys – Fluorescent Adolescent
Red Hot Chili Peppers – Can't Stop
Bring me the Horizon – Drown
Guns N' Roses – Sweet Child O' Mine
Bring Me The Horizon – Throne
Bring Me The Horizon – Avalanche
Arctic Monkeys – Do I Wanna Know
Bring Me The Horizon Happy Song
Bring Me The Horizon – Shadow Moses
Bring Me The Horizon – Doomed
Arctic Monkeys – I Wanna Be Yours
Red Hot Chili Peppers – Californication
Bring Me The Horizon – True Friends
Bring Me The Horizon – Follow You
Bring Me The Horizon – Sleepwalking
Bring Me The Horizon – Can You Feel My Heart
Following is an interview or conversation between Surya and Kenden. They were talking about life in different places and how it is to be different.
Auroville was born on 28 February 1968. Its founder, the Mother, created the Auroville Charter consisting of four main ideas which underpinning her vision for Auroville. When Auroville came into being, All India Radio (AIR) broadcast the Charter, live, in 16 languages. Aurovilians apply the ideas of the Auroville Charter in their daily life, in policy-development, and decisions, big and small. The Charter thus forms an omnipresent referent that silently guides the people who choose to live and work for Auroville.
The Auroville Charter
Auroville belongs to nobody in particular. Auroville belongs to humanity as a whole. But, to live in Auroville, one must be a willing servitor of the divine consciousness.
Auroville will be the place of an unending education, of constant progress, and a youth that never ages.
Auroville wants to be the bridge between the past and the future. Taking advantage of all discoveries from without and from within, Auroville will boldly spring towards future realisations.
Auroville will be a site of material and spiritual researches for a living embodiment of an actual human unity.
During the Auroville inauguration in 1968, youth from 124 different nations and 23 Indian states, deposited a handful of their native soil into the Urn, a marble clad structure in the form of a symbolic lotus bud, located in the centre of the Amphitheatre (see photo). The Auroville Charter – handwritten in French by the Mother – rests along with this soil, sealed in the Urn, as a powerful message and promise.

Montell Jordan -this is how we do it
Bruno Mars – thats what I like
Bruno Mars -perm
Bruno Mars – Versace on the floor
TLC -Creep
Jackson 5 – ABC
New edition – Candy girl
New edition – Cool it now
New edition -Mr telephone man
New edition – stand the rain
Jagged Edege – Lets get married
Jagged Edege – Where the party at
We, Yona and Leela, are two Future School students who came to do their first week of volunteering in the AV Radio. We learned to make play lists, edit recordings and for the day before our last we went to two schools in order to ask a couple people the same questions about a hot topic in Auroville at the moment, SUMMER!
No one can escape the heat, not even with the latest rains (which we are all extremely grateful) so we decided that instead of trying to forget about or ignore the weather, we will bring it up and see what people have to say.

Desmeon – Back From The Dead
Desmeon – Hellcat [NCS Release]
Fetty Wap – Trap Queen (Crankdat Remix)
Hermitude – The Buzz feat. Mataya & Young Tapz (Official Audio)
Heuse & zeus x Crona – pill
it's different & Taptone – Peace Of Mind (ft. Josh Rubin)
JJD – Adventure [NCS Release]
Jo Cohen & Sex Whales – We Are [NCS Release]
Major Lazer feat. Wild Belle – Be Together (Gioni Remix)
MAX – Home (it's different Remix)
RetroVision – Heroes [NCS Release]
Ship Wrek – Pain (feat. Mia Vaile) [NCS Release]
Vanic x Tove Styrke – Borderline
Bad decisions x Rodjar – sorry Justin
Balazars – Polaris
Cash Cash – surrender
Clean Bandit – Rockabye ft. Sean Paul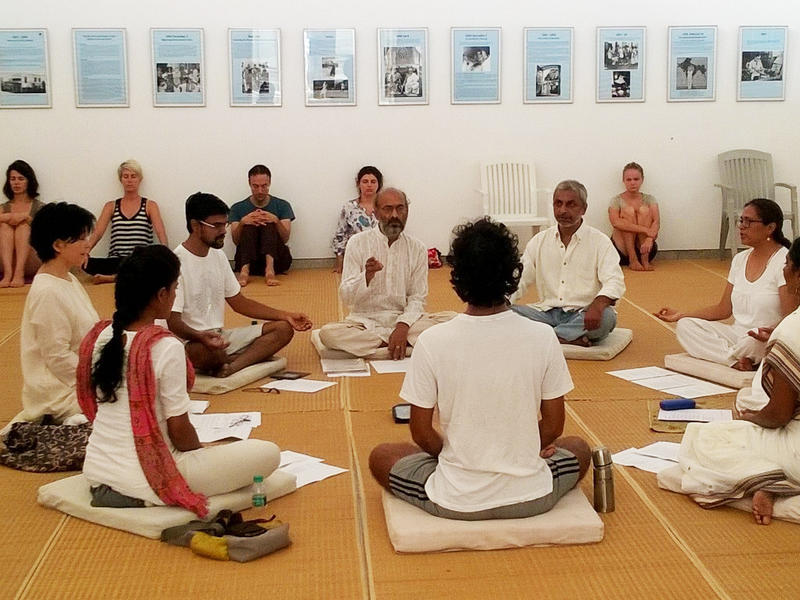 On the occasion of the third International Yoga Day (June 21st 2017), the Dakshina chanting group of Auroville brings you some sonic excerpts of their hour long Sanskrit shloka chants from Savitri Bhavan, Auroville, 7-8 AM.
Let's enrich ourselves and intensely aspire in the Light of Integral Yoga as we listen to Sri Aurobindo's Gayatri mantra and mantras dedicated to The Divine Mother — Devi Stuti and Aum Anandamayi and the beej mantra.
Om Namo Bhagavatey Sri Aravindaya.
Dakshina Chanting Group of Auroville received 12 weeks of 'Know Your Rhythm' training programme from Arnab B. Chowdhury before we went onto this special chanting session.
members of the Dakshina chanting group:
Aravind, Bom, Di, Hemant, Meera, Mona, Renu, Siddhartha and Arnab
Here are some sonic excerpts (3:22 minutes) from the Vedas, Bhagavad Gita and specific Mantras dedicated to Sri Aurobindo and the Divine Mother
On the occasion of International Yoga Day, I went to the Ilaignarkal Education Centre to witness the all day yoga celebration. In this segment, I interview Meenakshi and Anand, the principal organizers of the event as well as two participants. Tune in for the inspiring account of the Centre's efforts to disseminate Indian history and culture to the youth as well as Anand's haunting and beautiful Vedic hymns.